If you're looking for new social media post ideas, utilize holidays to take funny photos or recognize specific members. Fun photos can be a great way to increase your Facebook Reach and industry holidays are a great excuse to recognize certain members.
Holidays Chambers Must Know About:
These are either federal holidays, obvious holidays, or they're just really niche, like Small Business Saturday.
Jan 1 – New Year's Day
Jan – 3rd Monday – Martin Luther King Jr. Day
Feb 14 – Valentine's Day
Feb – 3rd Monday – Presidents Day/Washington's Birthday
Mar – 2nd Sunday – Daylight Savings Time (Spring Forward)
Mar 17 – St. Patrick's Day
April – based on March equinox – Easter
May – 1st full Week – Small Business Week
May – 2nd Sunday – Mothers Day
May – last Monday – Memorial Day
June – 3rd Sunday – Fathers Day
July 4 – Independence Day
Sept – 1st Monday – Labor Day
Sept – week of Sept. 10 – Chamber of Commerce Week
Oct – 2nd Monday – Indigenous Peoples' Day (previously known Columbus Day 🙄)
Oct – 3rd Wednesday – Support Your Local Chamber Day
Oct. 31 – Halloween
Nov – 1st Sunday – Daylight Savings Time (Fall Back)
Nov – 4th Thursday – Thanksgiving
Nov – Friday after Thanksgiving – Black Friday, Buy Nothing Day
Nov – Saturday after Thanksgiving – Small Business Saturday
Nov – Monday after Thanksgiving – Cyber Monday, Green Monday
Nov – Tuesday after Thanksgiving – Giving Tuesday
Dec 25 – Christmas
Additional Holidays by Month:
These include a mix of holidays I think would be fun to promote on social media, as well as holidays that are job/industry related (like National Pharmacists Day) that may spur a member visit 😉.
US Patriotic Holidays & Military Anniversaries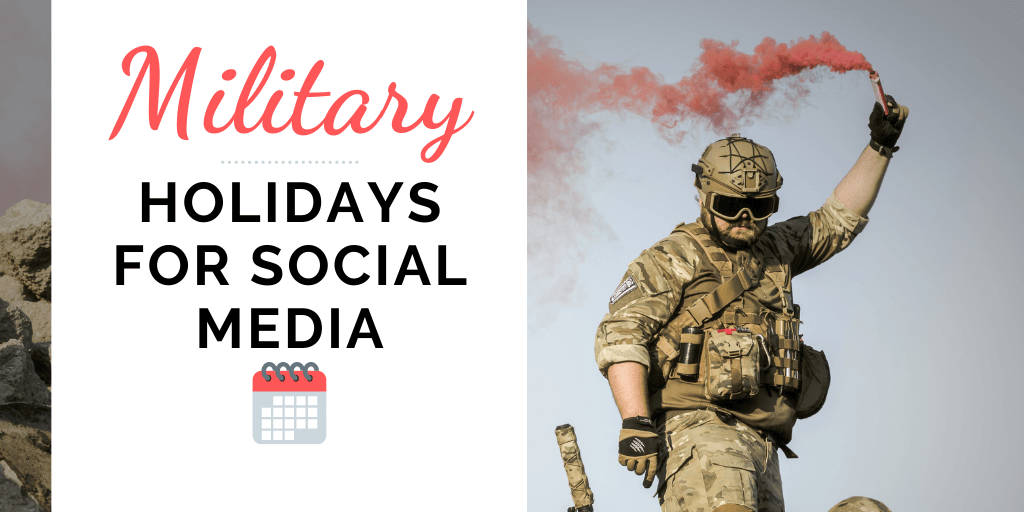 For you chambers that are intertwined with a military community & affiliated membership groups. (Source)
Feb 3 – Four Chaplains Day
Feb 19 – Coast Guard Reserve Birthday
March – Month of the Military Caregiver
March 3 – Navy Reserve Birthday
March 5 – Seabee Birthday
March 13 – K9 Veterans Day
Mar. 29 – Vietnam Veterans Day
April – Month of the Military Child
April 5 – Gold Star Wives Day
April 14 – Air Force Revere Birthday
April 23 – Army Reserve Birthday
April 30 – National Military Brats Day
May – National Military Appreciation Month
May 1 – Loyalty Day
May 1 – Silver Star Service Banner Day
May – 1st Thursday – National Day of Prayer
May 8 – VE (Victory in Europe) Day
May – Friday before Mother's Day – Military Spouse Appreciation Day
May 13 – Children of Fallen Patriots Day
May – 3rd Saturday – Armed Forces Day
May – last Monday – Memorial Day (Decoration Day)
June 6 – D-Day
June 14 – Flag Day
June 14 – Army Birthday
June 23 – Coast Guard Auxiliary Birthday
June 25 – Anniversary of the start of the Korean War
June 27 – National PTSD Awareness Day
July 4 – Independence Day
July 27 – Korean War Veterans Armistice Day
July 29 – Anniversary of the Army Chaplain Corps
Aug 3 – Coast Guard Birthday
Aug 7 – Purple Heart Day
Aug 8 – VJ (Victory over Japan) Day
Aug 29 – Marine Forces Reserve Birthday
September – National Service Dog Month
Sept 11 – Patriot Day
Sept 18 – Air Force Birthday
Sept 21 – POW/MIA Recognition Day
Sept – last Sunday – Gold Star Mother's & Family's Day
Oct 13 – Navy Birthday
Oct 26 – National Day of the Deployed
November – USPS deadlines for military Christmas holiday mail
November – Military Family Month
Nov 10 – Marine Corps Birthday
Nov 11 – Veterans Day
Dec 1 – Civil Air Patrol (USAF Auxiliary) Birthday
Dec 7 – Pearl Harbor Remembrance Day
Dec 13 – National Guard Birthday
Dec – a Saturday (changes) – National Wreaths Across America Day
Dec 28 – Anniversary of the Army Chaplain Assistant
---