One of the easiest ways to fluff up your social media calendar is to post on holidays. You can find specific holidays to promote a chamber member (like promoting your local bookstore on National Book Lovers Day), post a fun picture of your staff celebrating, or sharing a resource to help others learn about the issue. I also like to track job-related holidays as a reminder to reach out or recognize specific members.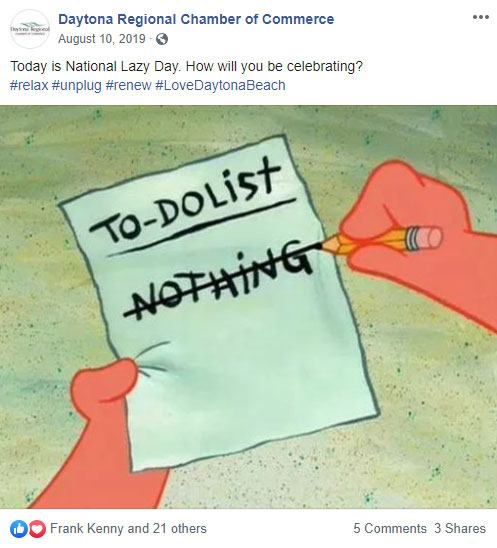 Here's some August holidays that I thought would be a good fit for chambers:
Days
1st Tuesday – National Night Out

Looking for a new community event? Consider hosting National Night Out to "promote strong police-community partnerships and neighborhood camaraderie"

August 4 – National Coast Guard Day
August 5 – Work Like a Dog Day

Technically you're supposed to celebrate by working hard, but I choose to take it as an excuse to dress your dog up.

August 7 – Purple Heart Day
2nd Saturday – National Garage Sale Day

Promote or host a community yard sale

August 13 – Left-Handers Day

An odd way to recognize any staff or volunteers that are left handed

August 16 – National Tell a Joke Day

What a great excuse for engagement bait! Caption your chosen image with "What's your favorite joke?" and hopefully you'll get more comments on your post.

August 17 – National Nonprofit Day
August 21 – Senior Citizens Day

Share a list of chamber members that offer senior discounts or your favorite resources, like the local Council on Aging.

August 26 – National Women's Equality Day
August 27 – National Just Because Day

In case you need an excuse to reach out to your chamber members.

Friday before Labor Day – National College Colors Day

Have your office staff wear their favorite sports team and snap a photo.

August 31 – National Matchmaker Day

This is meant for romantic matchmakers, but what about Business matchmakers?!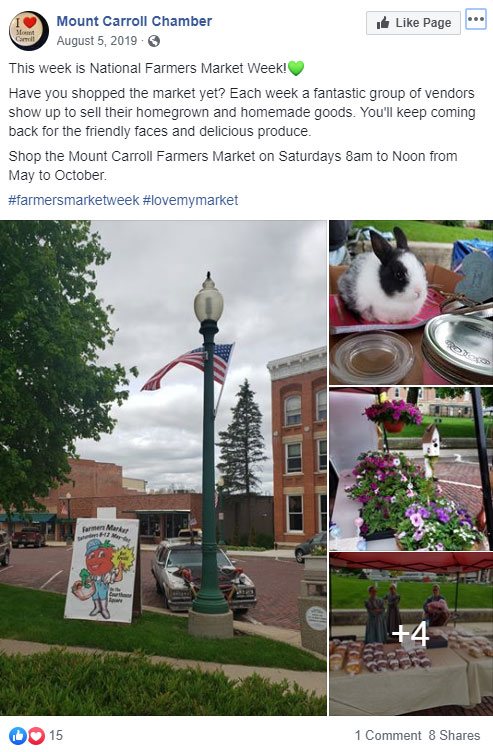 Weeks & Month
1st Week – National Farmers Market Week
August 19 – Sept. 5 – Drive Sober or Get Pulled Over

This campaign happens through labor day, but you could also share other vacation or driving safety tips.

National Wellness Month

A great time to launch a chamber wellness program!

Black Business Month
National Back to School Month
Information from (and even more holidays listed at) NationalDayCalendar.com.