Disclaimer: This page may contain affiliate links, meaning I earn a small commission on direct purchases through them. You do not pay any more because of it. Please see my Privacy Policy, etc. page for more information. Thanks for your support!

I've tried out numerous types of events for Small Business Saturday, and in 2017 I tried a raffle using receipts from members. It's been a while since then, but I've seen similar questions come up, so here's about how I did it.
"We are going to have a raffle for receipts from local businesses this season and if anyone can share how they have done it. We would really appreciate it."

-Crystal M.
Outline of steps & considerations:
Check state guidelines about legality raffles

We had to allow people to enter without a purchase/receipt

Logistics

What defines a single entry?
What's the deadline to enter?
When & where can they enter?
When & where will you announce winners? (this will likely be in the fine print)

Plan for prizes & donations

Reaching out to members
benefits of donating a prize
acquiring items – do you have to pick up?
Is there a benefit for entering the contest?

Plan to get entrants
First, Don't Break the Law…
…knowingly?
Obviously I'm not a lawyer.
At best I'm vaguely aware that raffles (or some variations of contests) might be illegal? Do some research with your state to see what's okay.
I found Rafflecopter to be pretty useful, and they even have a Sweepstakes Terms and Conditions Template Generator which was majorly helpful. Basically, it's the fine print to make your event legit.
One thing I remember from doing this is that we had to do some form of "No Purchase Necessary."
So for that, if someone asked, we allowed them to put their name & contact info on a piece of paper and added it to the receipt entries. If it makes you feel better, only 1 of 27 people asked to do this.
Logistics / Basic Event Info
Before you can start gathering prizes & asking for help, you'll want details ready.
I like to make a flyer first and pre-plan answers for the basic questions:
Who is this for?
Who does this help?
What's in it for me?
Where can I enter?
Where do I learn more?
When can I enter?
When do I find out who won?
Why would I enter?
How can I enter?
Then I start thinking about what I need help with. This way I can provide the flyer to members as I'm asking for donations.
I've seen chambers do entries for every $15 or one entry per receipt with $10 minimum. I've seen both receipts only from members and receipts from any local business. It's up to you to decide what best for you now. You can always change it next year.
Member Support
My plan was to need as little as possible from my members. I wanted prizes donated in-kind, and I wanted a print sponsor to help me with flyers & stuff. I also collected logo items, coupons, magazines, and event flyers to stuff the tote bags we got from American Express.
If possible, have your event webpage and/or flyer started before you go to members. This will save you from everyone asking you for more info about the event, and they may even help promote it for you.
Again, answer anticipated questions in your reach out email:
basic event info
how the event helps them
Why would they want to sponsor or donate prizes
What you need
When you need it by
You'll get more stuff from people you wouldn't otherwise here from when you primitively answer their questions.
Think about it. They're a busy owner/manager/whatever. They are not going to take the time to reply back to ask questions on something they don't immediately feel will help their business.
I've also heard of chambers getting a paid sponsor for their event, and using the money as cash prizes. I would imagine they got much more reach & engagement for this than I did.
Example: Little River Shop Hop
For our event, we collected receipts for one month, dated starting on Small Business Saturday. We counted each receipt as one entry, regardless of total spent. We also accepted receipts from any chamber member listed on our website.
When people brought their receipts to our office, we also gave them a Shop Small totebag filled with freebies from members.
Throughout the event, I added any members that donated prizes to our website.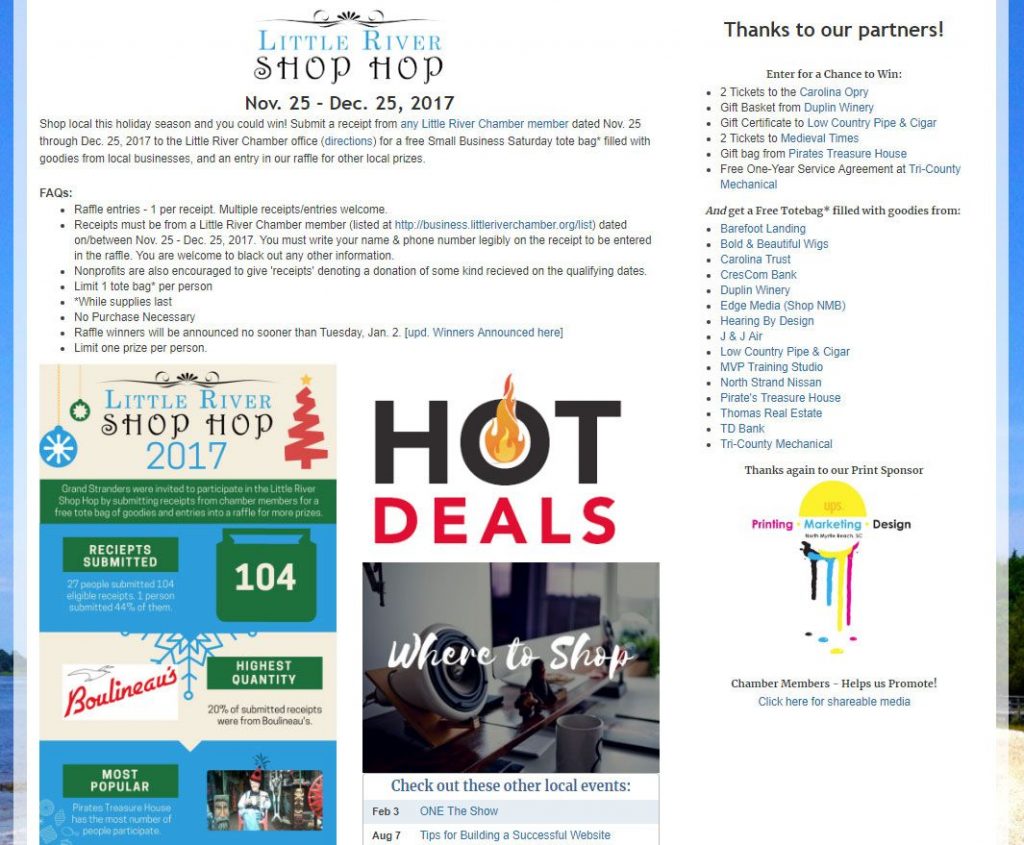 At the end of raffle we contacted winners directly & shared on a Facebook post, tagging which businesses donated prizes. I highly recommend doing a Facebook Live for this if possible.
After the event, I made an infographic for use in our newsletter and board report: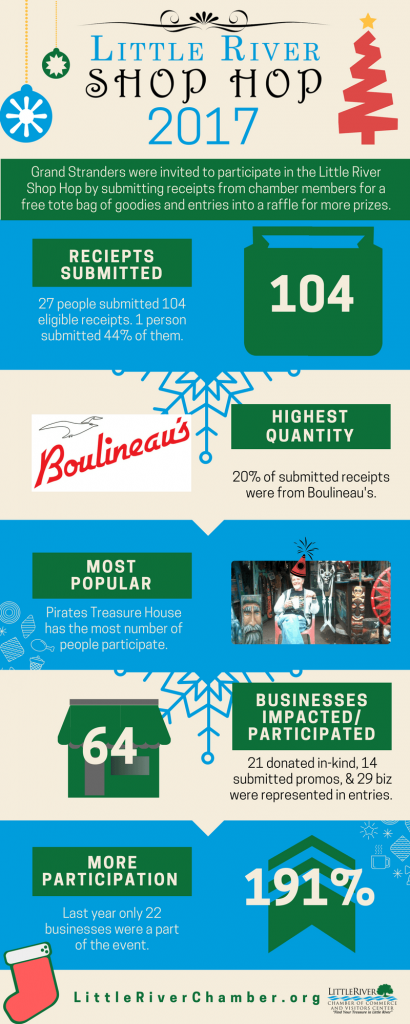 Some quick FAQs on this graphic:
Our chamber has 3 staff & 300 chamber members
Most of our member 'participation' is from donating logo items for tote bags & prizes.
Highest Quantity versus Most Popular – a few people turned in multiple receipts from Boulineau's (sort of a grocery store meets beach store)
We only had 27 people enter. That's more people than when we tried an in-person, day-of event, so it's not that bad. But I also wish I knew about getting a sponsor for cash prizes sooner.
Promote Your Event
You know that quote "if you build, they will come?" Yeah, that's NOT true.
I recommend modifying my free ribbon cutting checklist as a start. It includes basic things like:
email your members
create a Facebook Event
put it on social media
create a press release
For this event we also created a brochure that was available at no cost for chamber members to give out. On it I included:
event info (how & why to win)
Deals listed on our website by members that overlapped with entry dates
Events listed on our website by chamber members (I started with holidays events first & then filled with photos & unrelated events)
5 Reasons to Shop Small (honestly this was for filling space)
Our print sponsor's logo
Our logo & contact
Shop Small logo
I also recommend putting together a media package for your event.
The easiest way for me to do this is create a DropBox folder that I link to publicly on my website.
Then as I create a new piece of content or ad, I copy it to that folder. That way if they want something different, they have access to everything we've made. My more 'robust' media kits include:
event logo
chamber logo
word doc w/ basic event info
previous event images that we have rights to
any additional press releases
any flyers, branded social images, etc.
any videos or radio ads if available
I usually give the same link to sponsors and media partners so everything's in one place.
Again, the goal is to make it as easy as possible for them to share. People are much more likely to do things for you if all they have to do is copy & paste.
Yay, Deadlines
Once you have an idea of where you want to advertise (yes, including paid advertising), start making yourself some deadlines! In case you didn't know, I'm one of those people that only gets things done if there's a deadline assigned to it.
Consider: what you want to promote when, when do you need stuff by, and when will you provide stuff?
While you need some basic marketing pieces ready at first, you need to ask for donations pretty soon. Anything in print or that's paid will likely have deadlines sooner than posting on social media.
Don't forget – what are all your marketing pieces all linking back to? Answer: your website. So get your event webpage up first and keep it updated!
Here's a breif look at my first timeline:
Initial flyer & webpage – asap
Contact members for donations/promos – Oct. 16 | Remind Oct. 30?
Receive Shop Small tote bags – mid/late Oct
Announce Small Biz Saturday Station – once rec'd
(Members) Submit deals/events for brochure AND gift certificates – Nov. 3
Send brochure to print by Nov. 7 | Receive by Nov. 21
(Members) Submit Promo items to chamber by Nov. 17
Email members ads, event info Nov. 20
Stuff tote bags: Nov 21
Contest Dates: Nov 25 – Dec 25
Winners will be announced Tuesday, Jan. 2nd.
Any smaller pieces, like social media images, didn't make it to my deadline list. Just figure out the bigger things or dates that affect multiple people. Don't forget to plan around any days you're closed for the holidays!
I hope this helped you think through planning a shop small raffle to support your local businesses.
Comment Below: What did I leave out? or What is your event like?