Most chambers of commerce flock to ConstantContact as they give Chambers of Commerce free access their Pro Plan in exchange for promoting their services to members. If you're looking elsewhere, I have also found Mailchimp to be very affordable and still compatible with ChamberMaster. And most recently, ActiveCampaign will likely start to trend with their new chamber program.
In fact, my chamber has gone over the free chamber tier for ConstantContact (mostly thanks to festival vendors), so I have considered moving.
Because of this I considered moving to a fancier option that had more behavioral options to create triggered emails, but ultimately decided against it. Mostly I wanted it to sync to Chamber Master – and ConstantContact & MailChimp have been growing their abilities. So I can still do at least some triggered actions in both.
I also think either of these are relatively easy to use, but whatever you're currently used to will always be easier. Anytime you have to change any software, there will be a learning curve, but there is help & tutorials for both on their respective sites.
So since I wanted to stick to what I know – ConstantContact or MailChimp, I wanted to see how comparable they were.
What I look for
Marketing automations: welcome emails, list segmentations, lead magnet delivery, etc.
Multiple lists/email segments
Integrate with my CRM (you might need to check directly with your CRM)
Affordable (doesn't necessarily need to be free if it's worth it!)
Analytics / tracking / reporting
Has tutorials (knowledge base) that I can quickly look up the answer to most of my questions.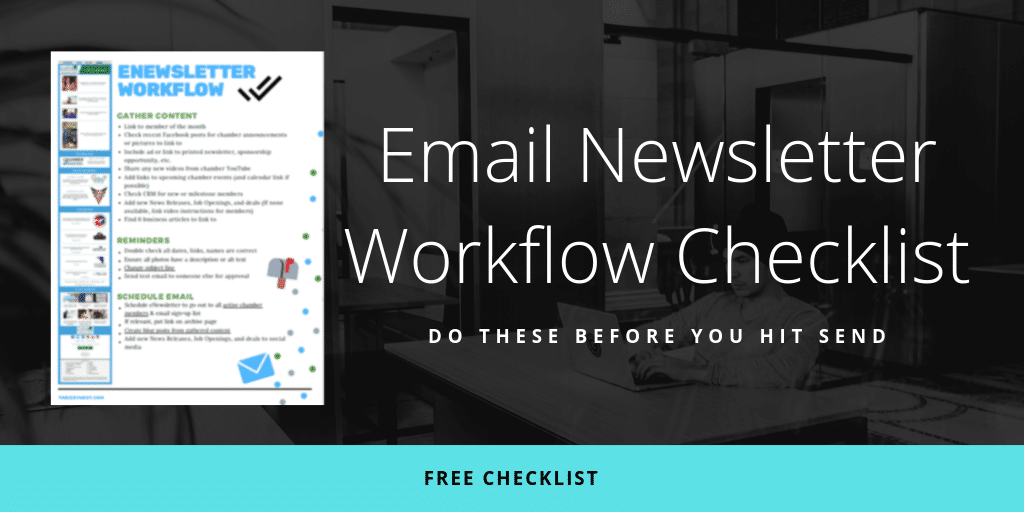 Constant Contact vs MailChimp vs Active Campaign for Chambers of Commerce
This is not a full list of ALL features of the platforms (see more: Constant Contact | Mailchimp | Active Campaign). I just list out the key ones I look for, and some chamber peers have mentioned they use. Some people like an all-in-one platform so they have to learn less things (like a social media scheduler or survey platform). I prefer to look for advanced automation options I can't get elsewhere.
Features
Constant Contact
MailChimp
Active Campaign
Cheapest Price (For Chambers)
*Prices increase based on the number of contacts you have.
Free (for chambers) Plus plan up to 5,000 contacts
(then $125+ /month)
Free features up to 1,000 email sends.
Standard Plan starts at $20/month
Free Pro plan up to 10,000 contacts
(then $229+ /month)
Audience/List max
5,000 contacts
1,500 contacts & 1 List
10,000 contacts
Landing Pages (for lead magnets, etc)
✔
1
✔
Pop-Up Forms
✔
✔
✔
Tracking & Reporting
✔
✔
✔
Resend to Non-openers
✔
✔
✔
Single-Step Automations (ie: welcome email)
✔
✔
✔
Automations Map
❌
❌
✔
Multi-Step Custom Workflows (ie: nurture campaigns, onboarding series, etc)
✔
Upgrade to Standard
✔
Subject Line A/B Testing
✔
Upgrade to Essentials
✔
Dynamic Content (any email content that changes based on the subscribers' data, preferences, and behaviors.)
✔
Upgrade to Standard
✔
Tags & segments
✔
✔
✔
Contact Profiles
✔
✔
✔
Support & Knowledge Base
✔
✔
✔
Event Marketing/Registration
✔
❌
❌
Basic Social Media Scheduler
✔
Upgrade to Standard
✔
Surveys
✔
❌
❌
Member Discounts
Up to 25% off when they sign up for a prepaid plan
No, but free for anyone up to 1,500 contacts
20% off for 3 months for new Plus plans and above
*prices updated March 2022. Email me at [email protected] to alert me of changes.
Okay, but which one should I use?!
Ultimately, I stuck with ConstantContact for my chamber, despite now paying for it, since I thought it was worth the cost of not having to rebuild my funnels, retraining staff, & other changes by switching to a new platform.
After all, the best tool for you is the one you'll use.
However!
As a blogger & non-chamber, I've started with MailChimp to save money. And it's an easier 'sell' to small businesses as they can get started free, and I really like being able to help members with questions.
But now that I can afford it, I plan to upgrade to Active Campaign because I'm really envious of their advanced automations options.
I think if you're looking to change platforms anyways – or are just getting started – I recommend ActiveCampaign. With 10,000 contacts you'll be able to stay on their free plan for longer and there are some really amazing automations you can do with them that are not available with other providers.