While your chamber's YouTube channel isn't the biggest priority, you know that it can help you with your mission & goals if you use it right. In this post I outline how to set up your account right, give you some specific ideas for content, and walk you through some best practices.
If you can consistently follow these practices when you do use your YouTube channel, then you will be well on your way to growing your subscriber count in no time.
This is a long post by design. Feel free use the table of contents to jump to the section you need, or bookmark this page so you can come back again. I also recommend downloading my free YouTube/Video batching checklist.
Walking the Talk
I started recording this video series in October 2020. Before then my chamber youtube was primarily just used for video storage. As I implement the things I'm learning about & sharing, my goal is to hit 100 subscribers and double our monthly views by October 2021, a year later.
For transparency sake, here's my stats:
| | | | |
| --- | --- | --- | --- |
| | October 2020 | April 2021 (halfway point) | October 2021 |
| # Views | 257 | 1.4k | 3.5k |
| Watch Time | 6.7 hours | 34.1 hours | 66.4 |
| Subscribers | 53 | 66 | 100! |
| Average View Duration | 1:33 | 1:22 | 1:09 |
| Impressions | 2,167 | 6.8k | 18.6k |
| Impressions CTR | 2.0% | 4.4% | 3.7% |
| Top traffic source | External 119, YouTube Search 49, Suggested Videos 28, Playlists 18, Channel Pages 14 | External: 937, YouTube search: 196, Suggested Videos: 82, Browse: 76, Direct/Unknown: 68, Channel pages: 23, Playlists: 16, End screens: 7 | External: 2,159, Suggested: 585, YouTube Search: 305, Direct/Unknown: 120, Playlists: 111, Browse features: 97, End screens: 40, Channel pages: 15, Other YouTube: 12, Playlist page: 8, Notifications 2 |
April 2021 notes/thoughts:
I'm disappointed my subscriber count isn't higher, but my number of views has increased much higher than anticipated.
The decrease in average view duration actually doesn't upset me as most of our videos are only about a minute long.
I am reminded to judge myself against my past – not what others are doing.
Best playlist by views: business spotlights.
Best playlist by watch time: Member Orientation.
Top search: little river south carolina (city & state).
Top end screen element: best for viewer.
Start Your YouTube Channel Right
1. Connect or Create a Chamber Google Account
PLEASE create a Google Account for your chamber. Just trust me.
You want to do this before creating your YouTube page (if possible) to save yourself some future headaches.
You want your YouTube channel to be "Owned" by this Google Account.
For an a step by step walkthrough, see my post How Setup Your Chamber's YouTube Channel to either make sure your existing YouTube account is connected to the right account OR to create a new YouTube Channel. This tutorial also includes:
2. Edit Your Channel
YouTube Channel Customization
Login to YouTube Studio. Click on the magic wand for "Customization" on the left sidebar. This section will cover Layout, Branding, and Basic info.
Customize as many applicable items as possible. Don't forget, you can always make changes in the future!
Under "Layout"
I highly recommend customizing your YouTube Channel layout/profile. That way when new or protentional subscribers land on your channel, they're more likely to actually engage with it (subscribe or click on a video) instead of hitting that back button.
Layout: Choose a channel trailer for people who haven't subscribed

Personally, I would record a video about 'what does the chamber do'

Layout: Choose a channel trailer for returning subscribers
You have quite a few options for Featured sections. What I like to do is create strategic playlists and these here as sections.
Under "Branding"
Just like you do with your Facebook Page or Twitter, you want to really brand your account.
When someone lands on your YouTube Channel, you want them to know it Yours, and you want them to want to subscribe.
For example, TubeBuddy is obviously a pro and should subscribe to them if you want to get better at YouTube: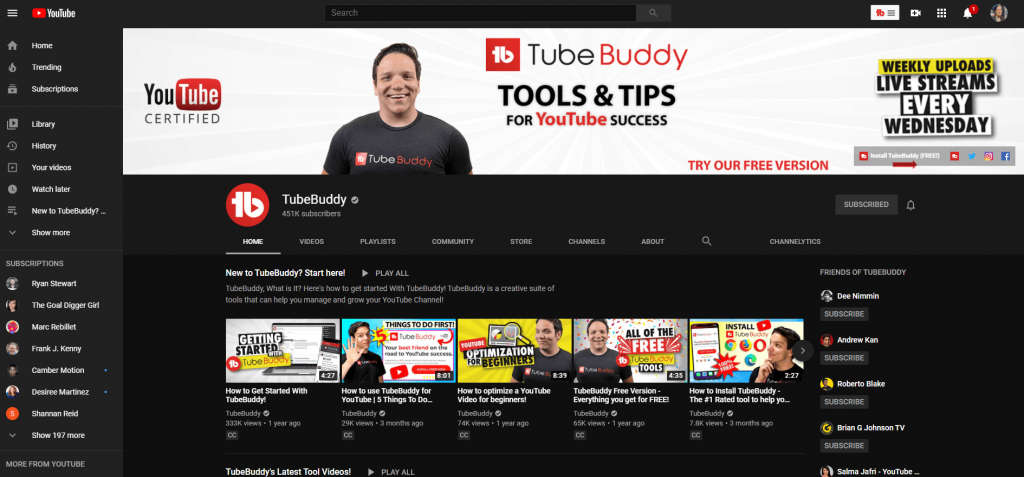 On a another hand, Fort Worth Chamber has taken the time to showcase some nice photos of their area:

Make your profile picture your logo (here's how to make it fit)
Create a cover photo just for YouTube as noted above.

Use the reccomended size it tells you (currently 2048 x 1152). To do this in Canva, you would choose 'Create a design' and '+ Custom dimensions.'

If you want you can add a video watermark, but I usually do this by individual video since some of my chamber videos are already branded.
Under Basic info
While not many people will click on the 'About' tab, you still want to follow best practices and fill out as much as possible.
Just like personal branding, you want to draw people in and make them interested about you. And the way you do that is by telling them 'What's in it for them.'
Fill out your channel description and put the most important thing first. Try to naturally answer who you are and how you can help them.
Claim your @handle
Claim your YouTube handle, just like you would with social media. This will give you a prettier url to share (https://www.youtube.com/@theizzywest instead of https://www.youtube.com/channel/UC3jH4g45BPKaTmIQE76R2NA).
Pro tip: if you set up automations, you might need to come back to this page to copy the ugly part of the original channel ID instead of the pretty handle. Test both as things are always changing!
YouTube Channel Settings
You should still be in YouTube Studio. This time, look on the left sidebar and look down for the gear icon for Settings.
Under 'General'
Set your national currency.
Under 'Channel'
For Basic Info, set your Country of residence and add keywords. These keywords are for you channel, so think of what you would want to show up for if someone was to search YouTube for a certain phrase.
To get you started, you should at least be including your organization's name, your area name (like City, State), and other phrases specific to your organization.
For Advanced settings, I recommend the option to 'No, this channel is not made for kids.' You're not putting out inappropriate content, but your videos are not being made specifically for kids.
If you have a Google Ads account, go ahead and link it here.
For Feature eligibility, complete any account requirements to enable these features. This is basically like being an account in good standing.
For 'Upload defaults'
Under 'Basic Info':
To save yourself time when uploading videos in the future, you can pre-input items that you might otherwise end up repeating. You will still be editing this section for every video you upload, so you'll be able to delete or customize it each time.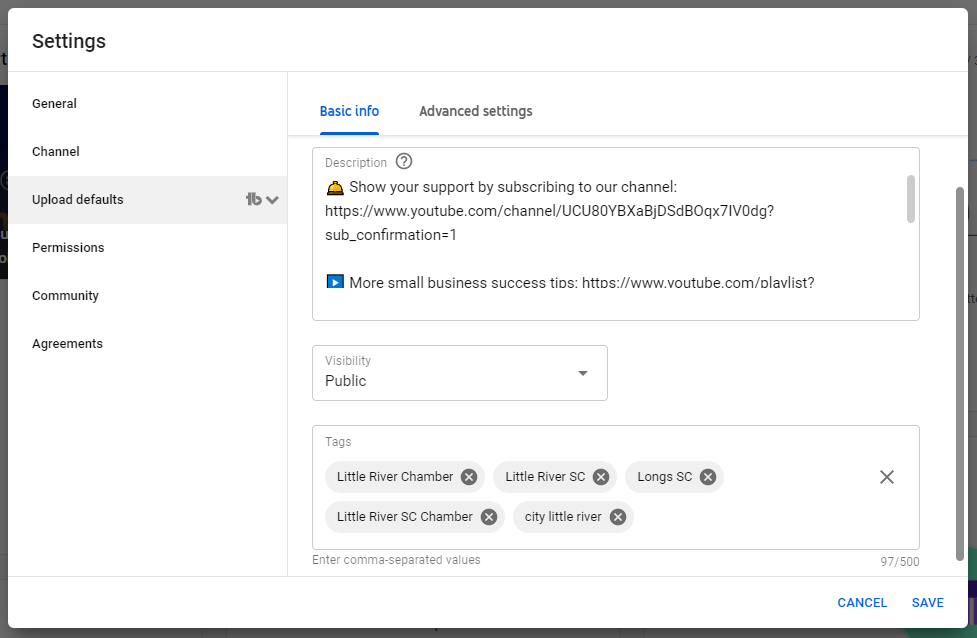 Title – I personally have blank as mine vary greatly.
For Description, I prefill placeholders I put in every video. This can be your subscription link, hashtags, or even prompts to remind yourself to add a topical link. See Descriptions on this page for more info.
Visibility is likely Public.
Tags I again repeat for what is uniformly relevant for my chamber. For example, I'll put 'little river chamber' but not 'social media for small business' because less than half of my videos are about social media.
Anytime you find yourself repeating a phrase or task, go back and update this section.
Under 'Advanced Settings':
For License, I leave 'Standard YouTube License' because we purchase many of our videos. The other option is 'Creative Commons – Attribution' which basically means you're allowing anyone the right to reuse & edit that video. If your video is not 100% original & yours, do not select that option. More info here.
For Category, I have 'How to' selected because I publish a lot of educational videos. Other relevant options might be: Travel & Events, People & Blogs, News & Politics, Nonprofits & Activism.
Languages should be obvious.
For Caption Certification, there was not a lot of guidance so I usually select 'This content has never aired on TV.'
Comments are up to you. The only option I do not advise is allow all.
Hold potentially inappropriate comments for review will at least filter anything really inappropriate, but can still allow spam.
Hold all comments for review can improve the quality of comments on your videos, but how often are you actually going to do that?
I don't care for disable all comments because as a marketer that's valuable engagement. But if I'm honest with myself, I've never gotten a relevant comment on my YouTube's videos so it really wouldn't affect much.
The checkbox for users can view ratings for this video is for the bar that shows you how many people like & dislike a video you're watching. Similar to comments, it likely won't make much of a difference for my small channel either way, but I tend to allow it because again it is valuable data to me (even if it's bad).
Under permissions:
If you click through to the link provided, this is where you can add Users to have access to your YouTube account without giving them your Google password.
Under Community
For Automate Filters
I haven't had to use this section, but I'll go over it for the sake of being complete.
Moderators would be useful people in the community that you want to help you manage comments.
Comments from 'Approved users' would automatically be published regardless of your filter settings.
Hidden users are blocked from commenting on your videos.
Blocked words will filter comments on your videos. Any comments with the words you list will be held for review. If you're just worried about inappropriate words, then just set your comments visibility to 'Hold potentially inappropriate comments for review' from the previous steps. I've gotten pretty lucky with no rude comments, and just the odd spam that gets removed before I even get to see it.
I choose to select the checkbox for Block links. This means new comments with hashtags & urls will be held for review (unless they're a moderator or approved user). Again for my chamber specifically, the only links I've seen in comments have been spam so far.
For Defaults
Again for the reasons above, I choose the 'Hold potentially inappropriate' option for each of these.
Now make sure you hit save! …and maybe take a nap after all that.
Content Ideas for Your Chamber YouTube Channel
1. Video Content with a purpose
Look. You can promote your channel all day, but if your videos aren't actually interesting or useful, then there's no point. Be a resource people want to subscribe to. As Meredith Marsh puts it, you want your videos be "viable, searchable, findable, watchable, subscrib-able, and upsell-able." Okay, so I paraphrased a little bit.
Basically you want your videos to be stuff your ideal audience is looking for, and you want your video to show up for that search. It should also be interesting enough to watch, and it should get them to want to subscribe to you as a resource. Besides, isn't that the type of channel you'd rather promote?
When you can, strategically plan your video content to for:
Viability: Create videos on topics that you *know* people are watching on YouTube
Searchability: Do quick keyword research to see what words people are using to find videos on YouTube

TubeBuddy is an invaluable tool for keyword research and has many on-video resources.

Findability: Optimize every video you upload for the search terms your ideal audience is searching for on YouTube
Watchability: Be sure to keep your videos to the point. They don't have to be short, but they do need to hold the viewer's interest.
Subscribability: Provide so much value in each video that viewers want to hear from you again… and hitting "Subscribe" will be a no-brainer!
So I'm not saying you can't post other videos that you know you need – even if it won't get big numbers. Just have different expectations for their performance.
2. Plan some initial content
Okay, let's start with some obvious topics & ideas.
Area videos/promos – videos about your area will likely perform very well, and can be used by you or others to promote your area to new residents & visitors.
Member orientation – record a digital member orientation.

I recommend breaking these up into different video segments so you can send people the YouTube link for specific parts. For example, people always ask me how to update their business directory listing. So this is a separate video that I can send them a link to instead of watching an hour-long event.

Business spotlights – chances are you've already started doing this, so download your Facebook lives and adapt them for (or just straight upload them to) YouTube.
Chamber intros & ads – these are the ones that may not be popular, but they can be handy to have, as well as introduce the chamber to protentional members & your community. Not enough of us are telling our community who we are & what we do.
Business tips – these might be lunch & learn recordings, but I also use a lot of the videos in Franks Content Marketing Bundle, as well as some that I made non-dues revenue off of.
Don't know how to create videos? It's easier than you think:
Note: it probably won't hurt to publish a few initial videos at once, but publishing videos consistently can also benefit your channel. Feel free to schedule a few out ahead of time. For example, I sit down quarterly & schedule videos to post once a week for the next 3 months.
3. Create a Welcome Video
While I recommend watching these these chamber promo videos for some inspiration, I also don't want you to get ahead of yourself.
The goal of your welcome video is not to convince them on being a chamber member.
While I like welcome videos that introduce your organization to the viewer, the goal of this video is actually to get them to subscribe to your YouTube channel, or otherwise engage.
Chances are most of your YouTube viewers are not excising chamber members, but we do want to be available to them, and want to encourage their interest in us.
They've found you on YouTube, so engage with them on YouTube. Don't immediately try to get them off the platform or sell them a membership. That should happen more naturally later in the membership. Aka in future pieces of content.
Strategically creating a welcome video for your YouTube channel will probably be easier to wrap your ahead around once you start regularly posting to YouTube because then you'll be able to better understand & focus on the value you're bringing to platform.
Until then, I think it's fine to use your token pro-chamber video if you already have one available. But start thinking about creating a new strategic video to create.
4. Finding More Content
Of course you want a good bit of your videos to be unique & created by your chamber. But I understand you can't do it all. You can purchase some content. Yes, I said purchase. I've mentioned before, I think it always a smart investment to buy services/software/etc. that would save you staff time.
Here's a few different options:
Go back and download Facebook videos & upload to YouTube
You don't always have to interview members yourself – allow them to submit videos for you to publish
Republish your podcast or radio ads as videos
Record events – especially zoom webinars
5. Create Playlists
As you publish videos, I recommend creating playlists. Your playlists should make sense to your audience. They can also be things your ideal audience is searching for. Feel free to get a little salesy in a benefiting way. Examples:
Member Orientation or Make the Most of Your Chamber Membership

(saying "new" may turn off existing members that need a refresher)

Businesses in [City Name]

(instead of just "business spotlights")

Quick Tips for Business with Less Than 5 Employees

(Being more specific than "Business Tips" piques their interest)

Why Would You Join XYZ Chamber?

Instead of just "Member Testimonials"
Once you have published a few videos to your playlists, you can edit your YouTube page to promote what you think is most relevant.
Your playlists may change over time as you have more videos to choose from.
It's okay if a video is added to more than one playlist.
I also have a playlist called "TV" that is private. We have a smart TV in our lobby that has the YouTube app. I sign in & show this playlist on loop.
Getting Your First 100 Subscribers
Lots of people are interested in 'YouTube money' because we see it as free money, but that's not really the case. As of writing, you need 1,000+ subscribers and 4,000+ watch hours in the past 12 months to even be able to apply for YouTube's monetization program. In my opinion, that takes a lot of resources to build up the kind of content to reach those kinds of numbers.
While it's not impossible, I would still prefer to focus on a more realistic goal first – 100 subscribers.
I have two simple reasons for this. If you can't event reach 100, then you won't be able to get to 1,000. And more actionable, 100 subscribers is the milestone to get a custom YouTube url.
That being said, if you're not working towards a milestone for a reason, then your subscriber count doesn't really matter. Your per-video analytics are what matters. If you're following best practices, putting out original quality content, and engaging viewers – then your subscriber count will go up anyways.
1. Step 1 – Ask
It sounds easy, but sometimes we forget to start with obvious. So ask people to subscribe to your channel BUT ask specific people.
You want your YouTube subscribers to actually be interested in your channel. While emotionally we want those numbers, logically we want our subscribers to actually watch the videos we post.
So feel free to ask your board members, ambassadors, and volunteers to subscribe to your YouTube channel.
And don't forget to ask during the video, if you're taking the time to make extra edits. Asking people to like, comment, & subscribe during your video does actually make them more likely to do so.
2. Promote Your Channel
You can also promote your YouTube channel on other social media platforms, your email list, and other mediums. After all, your followers have shown they're interested in you.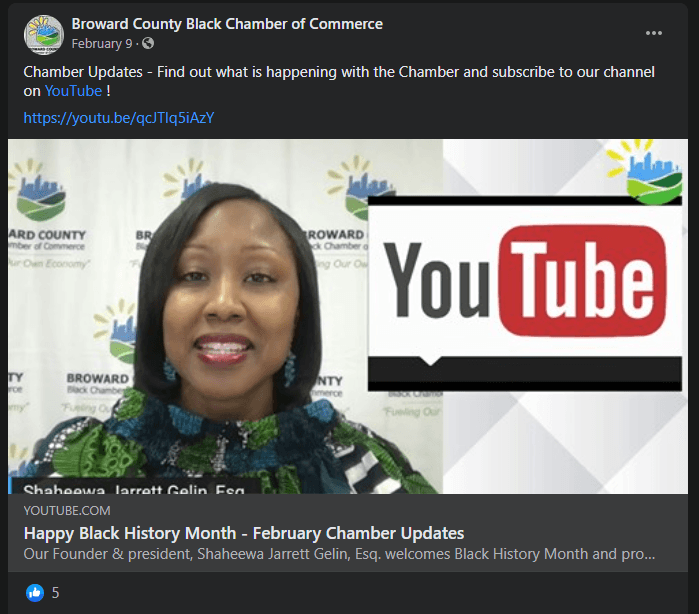 In the 'optimizing your videos' section I'll also mention asking for likes & subscribers. This is a great way to promote your channel to people already watching your videos and converting them into subscribers.
3. Actually use & promote your videos
While you do want want to optimize your videos to be enticing to people already on YouTube, personally I think you probably made that video for a reason. So use it.
In my chamber's email newsletter, I usually include a link to my newest blog posts & videos. For the videos I will link to either the Facebook video OR the YouTube video – whichever one is more important to me at the moment.
In this blog post, I took a webinar we hosted and recorded so I had a YouTube video. Then I transcribed it into an article. This will slowly help improve video view & subscribers – but it's also good for my website as people who watch even part of the video will spend more time on our site.
4. Optimizing Video Content
If you're prioritizing growing your YouTube channel, there are some ways you can edit your videos to perform better. I recommended making a few strategic video edits:
Add a hook at the beginning
Overlay any graphics you can to help add visual interest
Create a reusable outro to add in asking them to subscribe
[YouTube only:] Include your YouTube end card
(Don't worry, there's some tips without video editing coming up.)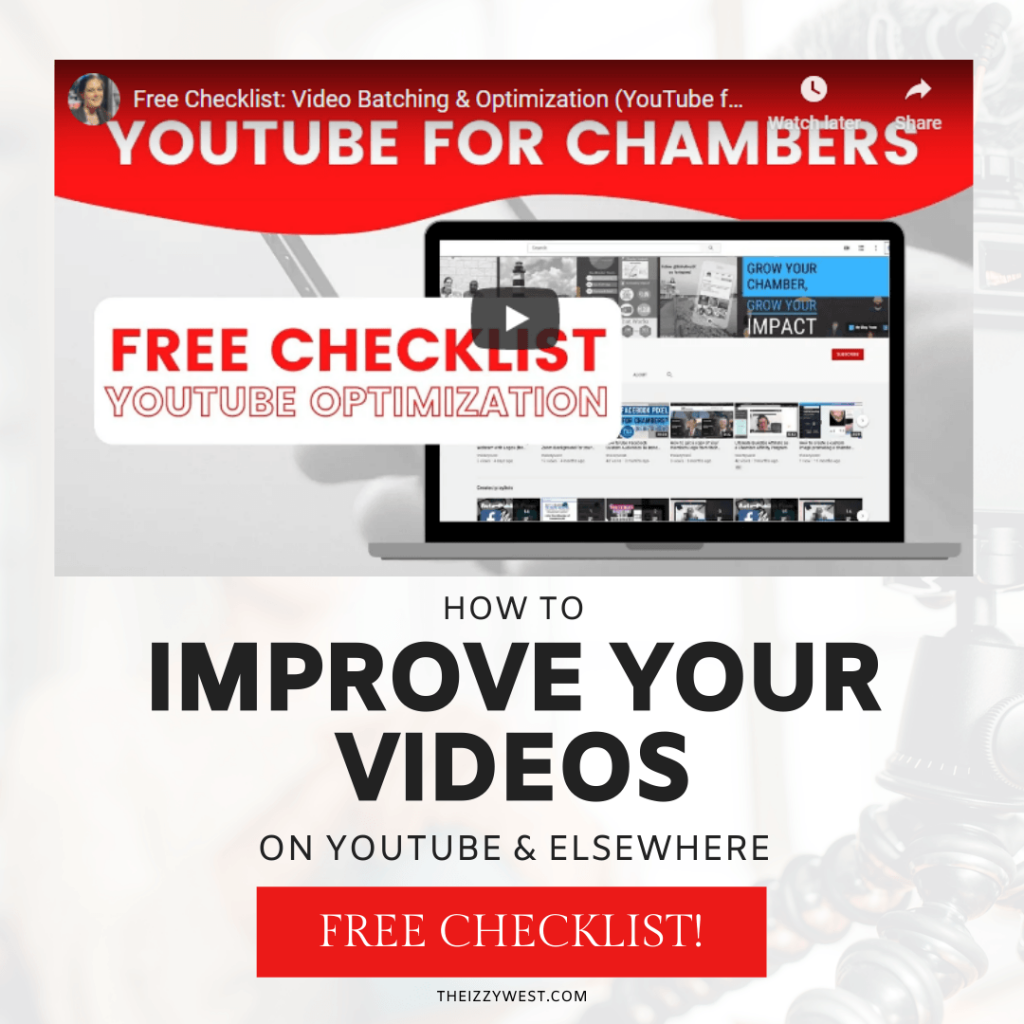 Add a Hook
Use a 'hook' at the beginning of your video. Your goal for this hook is to make them want to watch the whole video.
For example, for many tutorial videos they'll say 'In this video, I'll show you how to [specific fix] in [specific program/thing].' If that's what you Googled – then you're definetly watching that video.
So think about your content (especially a longer video). Why would they actually want to watch it? What's in it for them? Explain that to them.
It may to be easier to record a video pitching the hook after you have the rest of the video content ready. Then when you in your video editor, move this clip to play first.
Add Graphics & Overlays
To get people to watch more of your video, you need to add visual interest. You can do this by shooting from different angles, changing the crop or zoom, or adding graphics & overlays.
In this example, I recorded a chat over zoom, and created images in Canva to type out the question being asked.
Outro
Save yourself some time by creating a video that you can use in mulptile videos at the end asking people to like, subscribe, & comment. If you're watching my "YouTube for Chamber" videos, you'll the same intro & outro being re-used.
After your outro, add your YouTube End Card:
YouTube Endscreen
At the end of some YouTube videos, you'll notice they promote relevant videos by the same person. These are YouTube Endscreens or end cards.
You can create a background graphic for your YouTube Endscreen in Canva, but you will need to add it to your video before uploading it to YouTube.
5. Optimize Video Posts
Basically, these are tasks you use to optimize your video post on platforms like Facebook or YouTube, without doing any extra video editing. Many people underappreciate this step, but it's actually very important – after all, you still need to get people to actually click and watch your video.
Headlines
Test out your headlines with CoSchedule
Description
Start with writing a description that explains your video, but also naturally uses any keywords you want it to rank for. You should also include any links (or tagged Facebook pages) that were mentioned in the video.
I try to take it a step further and put a link to the next video that keeps the viewer on the same platform. This is a win-win as YouTube wants people to stay on YouTube and I can increase my number of views on other videos.
Thumbnails
For many places you upload a video, they allow the option to upload a custom thumbnail. Doing so can greatly increase the chance of someone actually clicking on your video to watch it. The biggest tip I have here is not to repeat your exact headline.
Free: Video Checklist & Batching for Time
If you haven't already, get a free copy of my YouTube Optimization Checklist / batching task workflow. Here's a video showing you what you'll get: