People are always looking ahead, trying to guess what the new thing will be. What will be the next Facebook? What will we do now that Facebook has cut Pages reach? Before you jump onto the next new thing, I think we should 'get good' at what we already have (and our audience is already on). My solution? Facebook Events.
Obviously, this isn't an all-in-one solution, but I have had some most excellent statistics with this. To better compare apples to apples, here's a screenshot of the numbers from a Facebook Event and the Facebook Page that hosts it.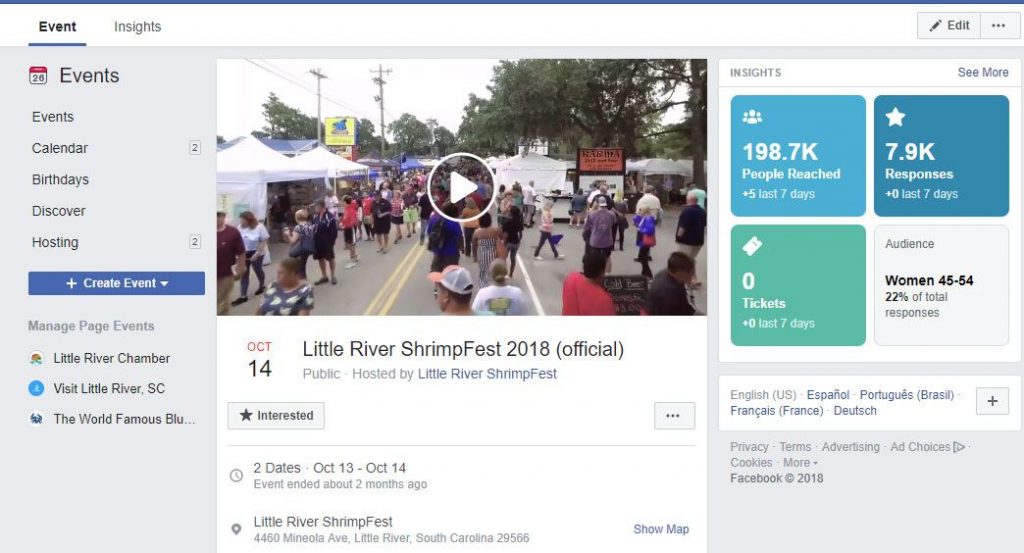 Stat Comparisons
Total Reach: Page – 296,878 | Event – 198,700
Hypothetically, the Page is lookin' good, right? Well, let's dig deeper.
Page Posts Reactions, Comments & Shares – 2,051 | Event Responses – 7,900
Wow, what a difference! (I went back to Page > Insights > Posts > and added the numbers for 'Reactions, Comments, & Shares' for the first number.) So this isn't quite apples to apples, but they're both engagement. Another thought is to compare the 7,900 Event Responses to Followers/Likes, which is still only 3,869 (with only 495 New Followers).
Reach per Post: Page – 7,421 | Event – 28,385
Plus, the Reach (or even Engagement) Per Post is even better as I posted to the Page 40 times and in the Event only 7 times.
Benefits of Facebook Events
(That Your Page Doesn't Get)
Reach new audiences (show up on Discover Events, etc.)
Get new Page followers (with only 2 clicks)
More engagement
Better engagement – people are more likely to ask questions and make comments in an event that they wouldn't just post on your Page.
People interested in an event will get a notification every time the host Page posts inside the Event
Facebook automatically sends day-of reminders (a big help for our smaller events)
Option to add a co-host (more options for the other page to engage the audience than just a tagged post)
Other pages can add your event to their list without being tagged/involved
Sell tickets without leaving Facebook (we use EventBrite)
Using Both a Facebook Page & Event
Huge combined stats
Both are taggable on Facebook
You can go Live in either (learn more)
You can create a Frame either by your Facebook Page or exclusively for those in the Event (again, see my Facebook Live Guide)
Schedule posts ahead of time
Upload eye-catching cover photos or videos
Invite friends to either (but better chance for Events)
So obviously you'll still want to keep your Facebook Page to be able to set up Events. And I still recommend posting normally to your page. My bigger point here is that if you're not using Facebook Events to promote your events, then you're missing out on new attendees/customers, and some great engagement.