If you work live video into your marketing mix and livestream regularly, you're guaranteed to grow your audience. While marketers are too busy analyzing TikTok to talk about it, Facebook Live is still a popular and great way to engage your audience. Live videos can drive about 3X more engagement than regular video uploads (source). In order to get the best results from your livestream efforts, here are some tips to promoting before you go live for maximum viewership.
Schedule Your Live Video and Make it an Event
You can turn on live video and start streaming any time you have something to share with your members or community. But you'll get even more people to watch if you plan it ahead of time and make an event out of it. Let people know when and where you're going live and what they can expect by joining.
Share this message everywhere you communicate with your audience, including your email list and social media profiles. For even more viewers, create a countdown to the event. This will give it a sense of urgency and remind people to tune in.
In Facebook, you can now even schedule a Facebook Live or create a live video event that allow you to announce the live video – but within the same post that they will come back to watch when you do go live. This will help you compound your engagement as opposed to scheduling an announcement like you regularly schedule posts (which can still be a good thing).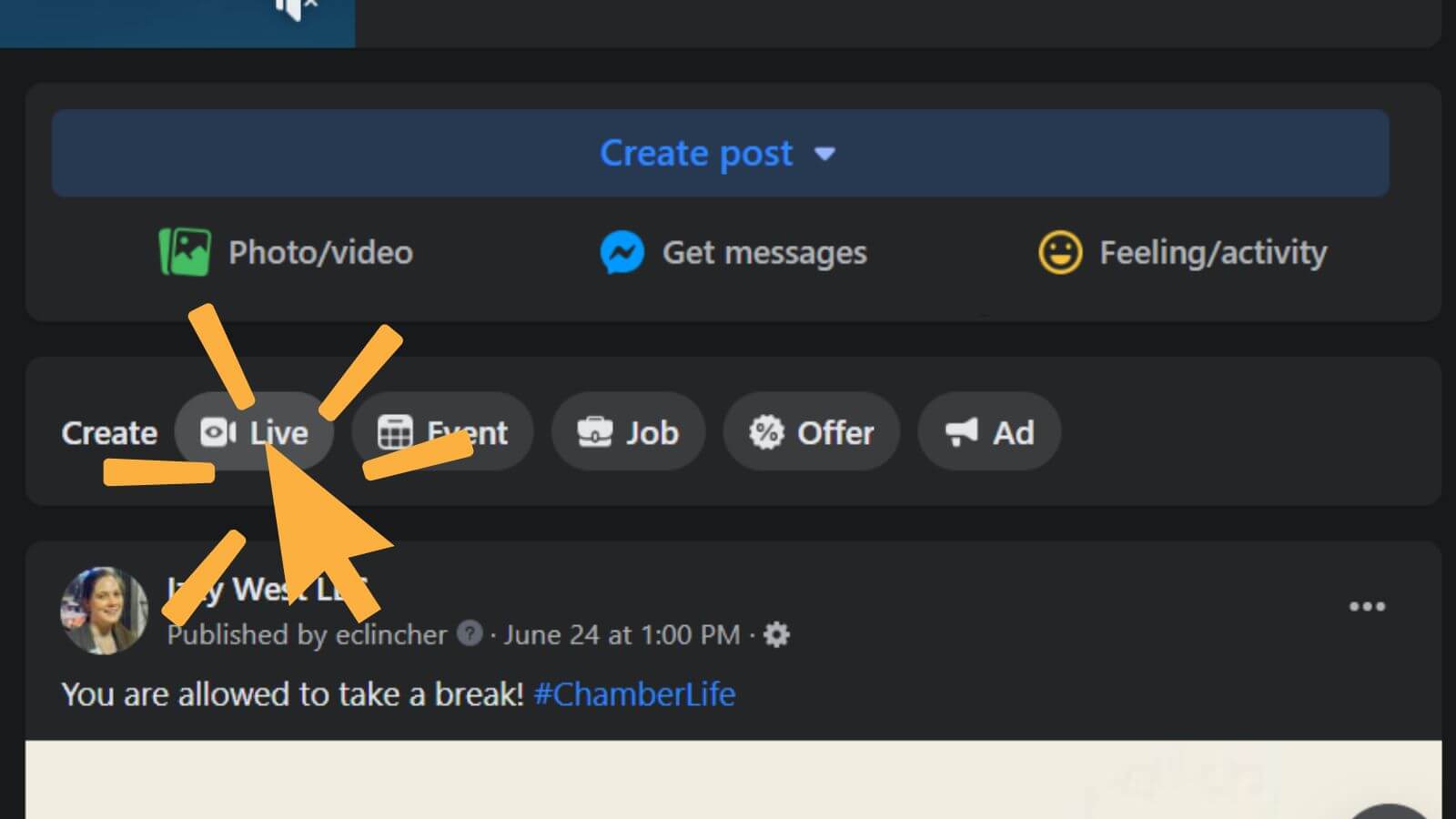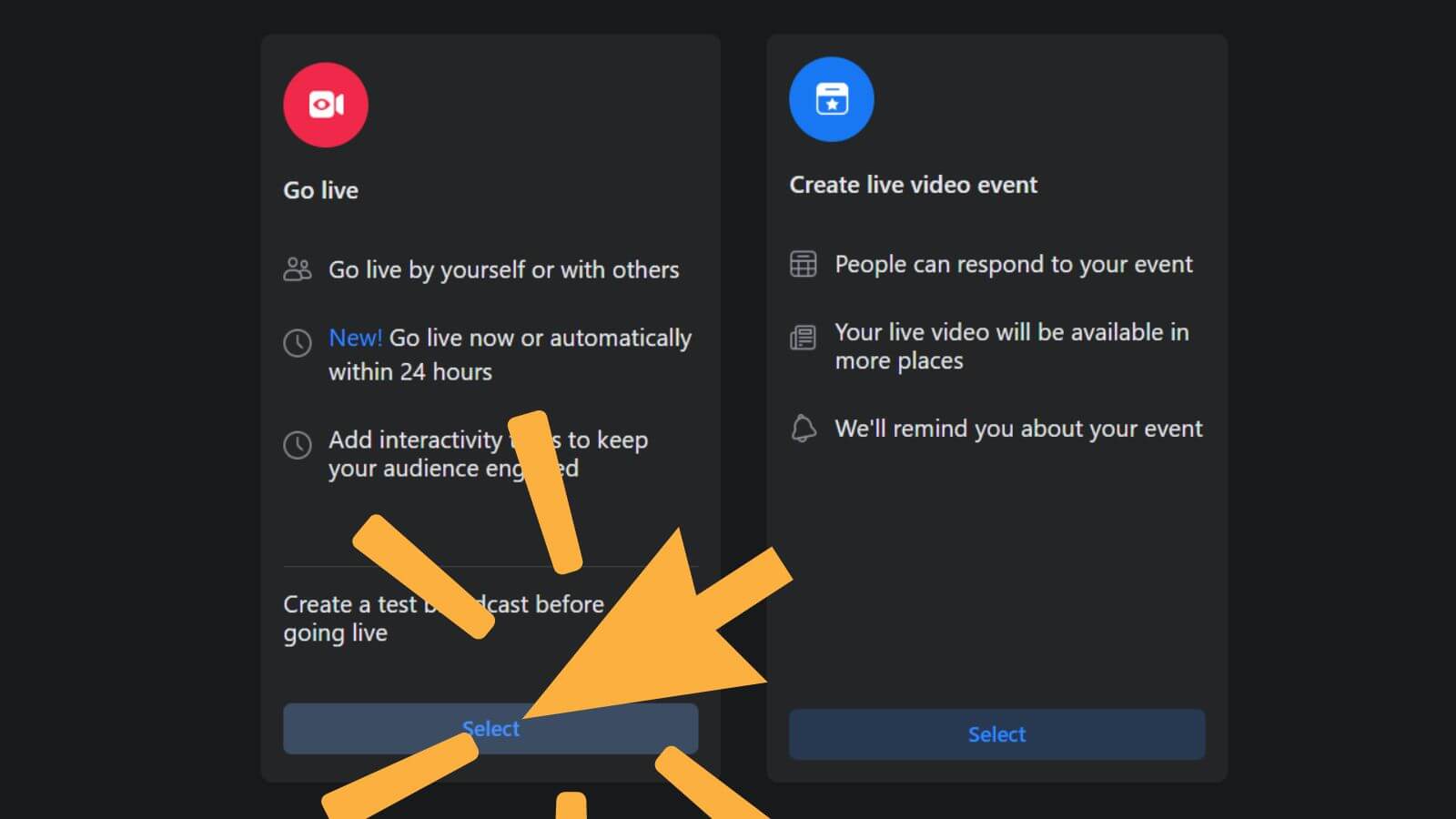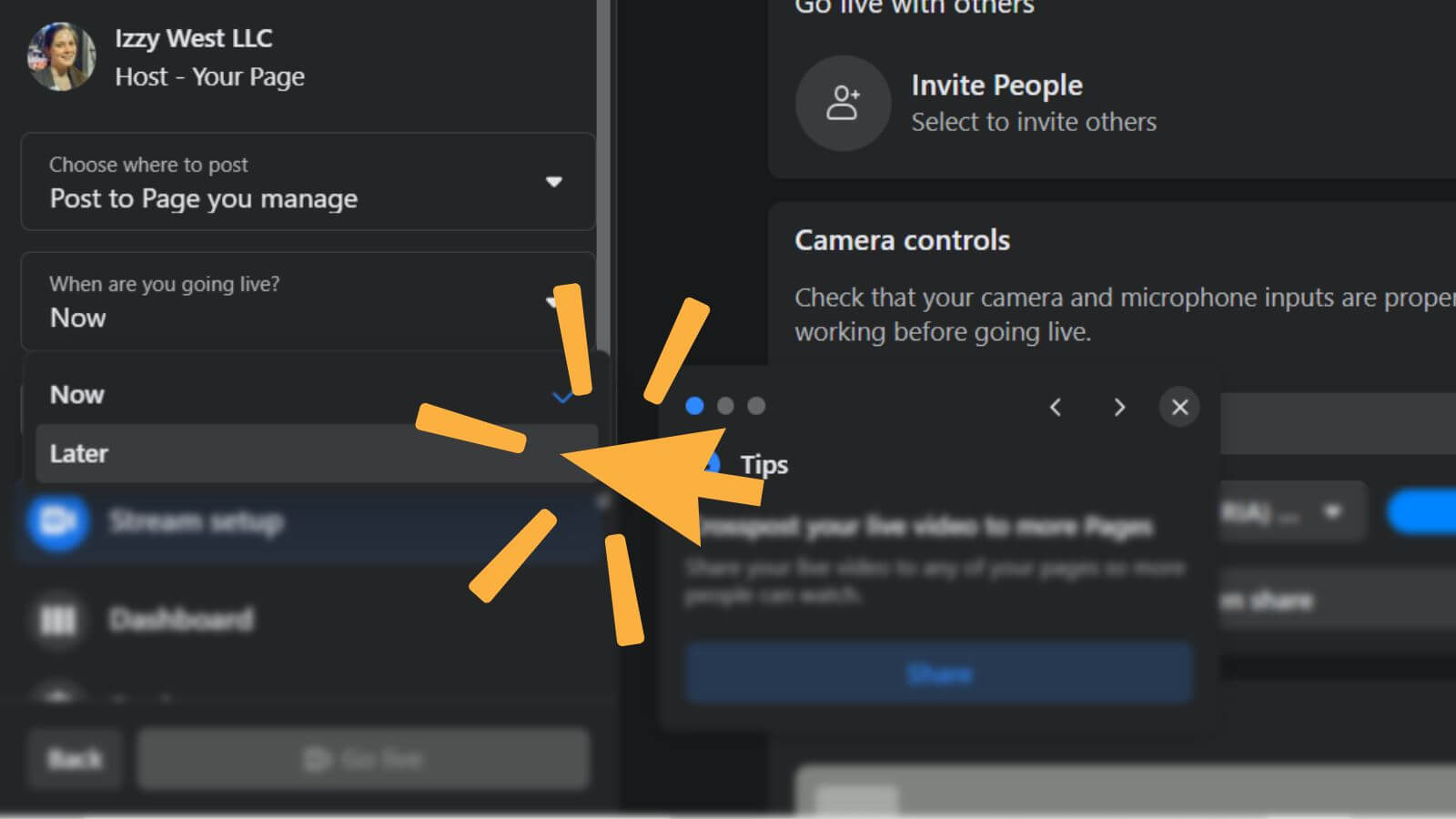 schedule-a-facebook-live1
schedule-a-facebook-live2
schedule-a-facebook-live3
Note: If you're going to use a third party tool like Switcher Studio to go live, then I recommend scheduling the livestream through that tool, not directly on Facebook/YouTube/etc. This should also create the live video announcement that allows people to engage with the post before you even go live.
You'll want to do this about 24 hours in advance.
Create a Good Description
Write a description that tells people concisely what they can expect from your livestream. Discuss the topics you'll cover. Try to make it enticing, emphasizing the benefits of joining you live. You may also want to emphasize the interactive aspects. For example, tell them you'll be taking questions and answering them live.
Recommended: YouTube for Chambers
Use Hashtags in Your Description
On social media platforms like Facebook and Instagram, people will be searching for videos to watch using hashtags. Check out trending hashtags in your niche and use a few relevant ones in your description, and your stream is more likely to be seen by people searching for those terms.
Recommended: How To Use Hashtags For Your Chamber
Send an Email Blast
Now here's where my opinion differs. Most marketers say that every time you go live, let your email subscribers know. Tell them when the event is happening and give them a link so it's easy for them to join.
If you do, make sure the subject line explains that you're telling them about a live event. The body of the email should give them a quick rundown of the topics you'll be covering.
However, I think chamber of commerce are already sending more emails than most businesses, so I disagree for us specifically.
I think if you're going to go live for a ribbon cutting, then just add it as a line in the email promoting the ribbon cutting – "For those of us that can't join us, you can watch the ceremony live or as a replay on the Chamber Facebook Page here" and just link to your page. This is a great way to include the above advice, but still prioritize the more important promotions.
For other live videos, I think it just depends. If you think it warrants an email blast, then you're right. If you think it doesn't, then you're still right.
Think about other ways you might promote the live videos in email. You might just link to it in your next email newsletter, with a short text recap for those that can't open Facebook at work.
Simulcast
Simulcast on multiple social media platforms live so that you can get people following you everywhere. They won't have to switch to another platform or account to enjoy your content.
For this, you'll need a third party tool like Switcher Studio that allows you stream the same live video to multiple platforms at once.
For most small chambers, this feature alone is likely not worth the investment. If that's case I still recommend downloading your Facebook Live video later and uploading the recording to your YouTube channel.
Make Your Video Interactive
The more interactive your video is, the more people will want to join and engage. They can talk to you, ask questions, comment, and become part of your content. This is one of the major reasons why live video is quickly becoming the new and improved form of video marketing.
The easiest way to do this is to ask questions live and ask people to put their answers or questions in the comments. For this, you probably need another person watching the comments for you to and repeat them back to you when they see one they like.
If you're feeling a little more advance or have some extra prep time, you can prepare on-screen polls or pop-ups to visualize the questions you'll ask live. For both of these, you still need to acknowledge some of the live comments – people will stop engage if they think they don't matter or you don't care.
If you have a lively downtown, then another idea I've seen is the chamber went live in a local spot and said where they physically were, and the first person to physically get to them and say the key word got a free prize (probably free tickets to an upcoming event).
If anyone remembers this or has done it, please send me the link so I can embed it here!
The downside to this one is that you need to be in a good time & place that someone will actually show up. Even still, there is a lot of 'free time' while you're waiting for someone to come, so prepare to fill the awkward silence.
Top Takeaways
If nobody's watching, then there's no one to engage with. So work to increase the number of live viewers, and then find ways to interact with them live.
Schedule and promote your video in advance to improve the number of live viewers.
Write a good description that makes people want to come back and watch when you're live.
Find ways to make your livestream interactive to increase engagement.
Next: