Disclaimer: This page may contain affiliate links, meaning I earn a small commission on direct purchases through them. You do not pay any more because of it. Please see my Privacy Policy, etc. page for more information. Thanks for your support!

By Jason E. Ebey, IOM
As we have navigated 2020, virtual events have become almost second nature. In looking toward 2021 with the hope that we will find ourselves in a world where in-person events and programs are safer and more easily conducted, we still need to consider virtual and hybrid options and how to make them successful and not simply afterthoughts.
Often, hybrid events can be more challenging than either in-person or virtual only events because hybrid require the best of both worlds and unless we are providing the best of both, our members, sponsors, and attendees will know it.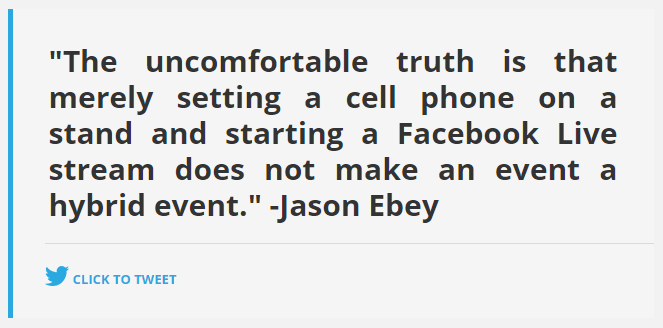 If we are to have hybrid events, planning must be done which aspires to have an exceptional in-person and virtual experience. With regard to the virtual aspect of the hybrid experience, there are four components that need to be evaluated.
1. Determine Your Audience
Are you looking for mass distribution of the virtual component without registration or a fee associated? Or are you looking for this to be an event with registration/payment?
Some programming will lend itself to providing the Chamber with an opportunity to provide relevancy and viability to the Chamber itself to your community as a whole.
Other programs and initiatives will need to be viewed through the lens of membership benefits, and these must be considered in terms of whether they would best be presented as value added content or content for which registration/payment is required.
2. Determine Your Platform
If you are looking for mass distribution (either to the public or to your Chamber membership) without registration, consider a platform such as StreamYard or Switcher Studio which will allow you to broadcast via Facebook Live but in a more professional manner than simply with a cell phone camera.
StreamYard tends to be better executed when each speaker has their own camera and lends itself better to an all virtual, rather than a hybrid event. Switcher allows for any iPhone or iPad to serve as a camera, while one device additionally serves as the "production panel."
As I'm sure everyone is aware by now, Zoom offers both Meeting and Webinar options. You need to select your option based upon the engagement you want from your attendees.
Remember that if you are only offering your content to your Chamber membership, you will need a platform to house the event virtually that is able to allow for members-only access.
Additionally, if you are planning an event in which registration will be necessary or in which the viewing capacity is limited to those who have paid, you will need a Zoom or other application.
You have multiple options for how you will take registration funds. You may process those through your website or member application and then send the link via email. You can use PayPal tied to your Zoom account; EventBrite and similar sites offer booking and payment services which relieve you of that facet of the planning.
3. Determine Your Experience
Think of all the virtual Zoom and virtual experiences you have participated in this year. I'm sure there have been some really good ones and some not so great ones. You wouldn't want to spend an hour or more looking at the back of someone's head yourself. You surely don't want your attendees doing that either, especially if they paid registration fees.
As I stated before, you cannot simply set up one iPhone and call one camera at the back a video experience. While I suppose it is, it isn't one you want your attendees talking about later.
Ideally, you will want multiple camera angles with one dedicated to zeroing in on the speaker. Multiple cameras are ideal. A dedicated camera zoomed onto your speaker is necessary.
Consider which platforms allow for attendees to see any slides the speaker uses as if they were there in person. Those attendees who will be viewing via video should feel as if they are there in person, as much as possible. Giving them a closeup of the speaker is vital.
Consider the engagement you want to foster between your speaker and your attendees.
Do you want attendees to be able to ask questions from their virtual environments? StreamYard has that capability while Switcher does not. Zoom Meeting allows for interactions, but Webinar only allows for conversation via the Chat box.
4. Determine Your Sponsorships
Just because your event is a hybrid model does not rule out sponsorships. In fact, you have now widened your platform and your potential reach.
Sponsors may have the ability to expand into a larger audience and a broader target market via your event or program. Keep this in mind as you create the benefits for your event and as you price those sponsorships.
Recommended: Benefits You Can Still Offer to Virtual Event Sponsors
Going forward, we see hybrid programming as a part of our new normal. Learning how to create and execute successful hybrid models will be beneficial to both Chambers and their members.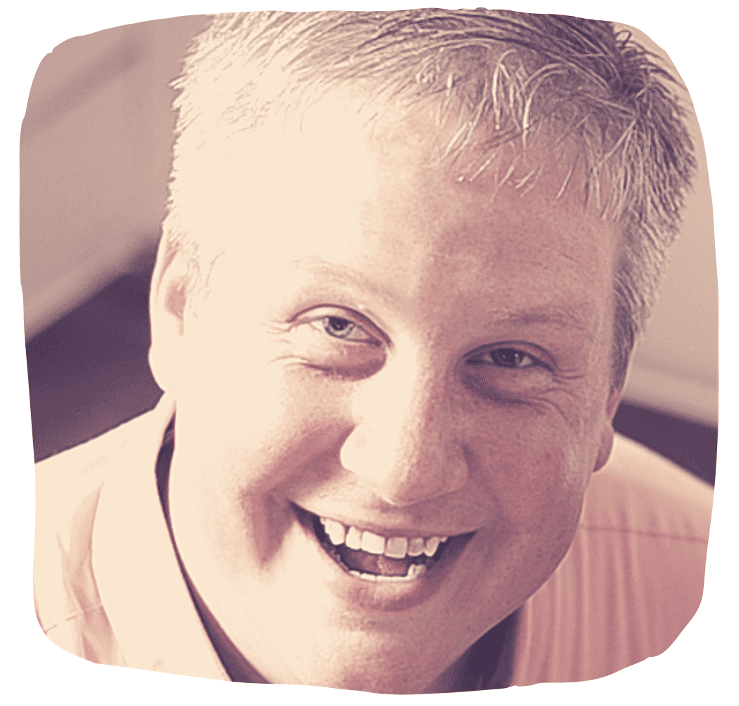 Jason E. Ebey, IOM
Principal Consultant & CEO, YGM Total Resource Campaigns, LLC
Jason E. Ebey, IOM, has a passion for Chambers of Commerce and has been leading chambers of commerce for nearly two decades. He believes in the positive power and influence chambers can have in their communities.
Jason joined YGM Total Resource Campaigns, LLC in 2012 and became CEO after he purchased the company in mid-2015. Because of his travels and his work with chambers across the country through YGM, Jason has the pulse of changing trends in chamber management and fundraising.
He understands the needs of chambers and their members. His knowledge base easily translates into moving groups of new volunteers to dedicated chamber advocates. He is able to provide chambers with innovative approaches to fundraising.
Jason has completed the United States Chamber of Commerce Institute of Organizational Management (IOM) and is working toward his master's degree in non-profit administration and management.
He has been the President and CEO of three chambers – ranging from chambers where he was the only staffer to those where he supervised seven staff members. He also led the Government Relations and Communications division of another chamber.
Jason enjoys navigating life with his wife Brittany and their four children.
Interested in sharing your knowledge? Click here.
Next: