Networking events offer an excellent opportunity to meet new people whom you can form mutually beneficial relationships. As more and more of the business world goes online, you will likely find yourself attending (or hosting) a virtual networking event at some point. Here's how you can prepare – whether your attending an event soon or you're planning your own virtual networking event.
Know Your Purpose
Before you go, clarify your purpose for attending the event. What do you hope to gain by meeting the people you'll meet there? This will determine how you'll present yourself, who you want to meet, and how to follow up with them.
For example, if your goal is to get new clients, you'll want to prepare to explain the benefits of using your service. You'll also want to create a target client profile, so you know which attendees have potential.
Recommended:
If you're hosting a virtual event, I think the same rule of thumb applies – know your purpose. Why are you bothering to host the event? Most likely you're not hosting an event for just for the sake of having an event and seeing people. Know your why, and promote it. You'll get more attendees if they have a reason for attending.
Test Your Tech Tools
Long before the event, make sure you know how to use the tools.
If you're meeting over Zoom, arrange a Zoom call with colleagues and friends, and familiarize yourself with its features. For example, you'll need to know how to mute yourself when not speaking. You may also want to show someone your website or a document, so you'd need to know sharing features.
If you'll be attending an event on Blitzr, you can login & test your video & microphone at anytime. If you're an attendee, join the event on-time as many hosts will talk you through some other features. Event planners, create a video tutorial that introduces your event or platform or attendees so they feel more confident. Example:
Recommended: Tech Trends for Chambers
Regardless of your role or platform, you'll need to make sure your internet speed and computer are sufficient as well.
Do Your Homework
Attendees: Do some research before you attend so you can make the most of it. Try to find out who will be attending. Research them on LinkedIn or using Google search. Look for news articles or press releases. Find out what organization they work for and find a picture so you'll recognize them.
You should also know about the event itself. Who's organizing it? If there is a speaker or presentation, research that as well. If the event is based around a specific topic, read up on it.
Event Hosts: Check who has registered for your event. Can you gear your topic or examples to better represent the people you know you'll be talking to? Make it a point to know who your sponsors and first-time attendees are so you can make it a point to talk to or introduce them.
Get Your Story Straight
Prepare an elevator speech. This is a short story of about 3 sentences that explains who you are, what you do, and how you serve people. It should focus on how you benefit others. You'll use this story with each person you meet, so you can make a good first impression and they'll understand the salient points quickly. Just be sure to talk naturally without using jargon – your pitch is pointless if people don't remember any of it.
And no, this isn't just for event attendees. Event hosts, you should be twice as prepared with an elevator speech or positioning statement because you know you'll be talking to more people than anyone else. With everything else going, this is an easy thing to forget, so add it to your event checklist.
Prepare Some Conversation Starters
It's good to also prepare some conversation starters. After your elevator speech, if you hit it off with a person you've met, you'll want to keep the interaction going. The best conversation starters are focused on your industry, your or their work, or the topic of the event. Prepare conversation starters that focus on the other person and give them the opportunity to talk about themselves.
Recommended: These Conversation Starters Are Hurting Your Networking
Brush up Your Online Presence
Check out your online presence before you go, as people will look you up if they're interested in getting to know you better. Make sure your social media profiles are up to date. See what comes up when someone Google searches your name.
Recommended: Personal Branding Tips for Chambers To Impress Members
Have a Plan for Following up
While you're preparing for the event itself, you should also have a plan for following up with people you've met afterward. You should send an email after the event, reminding them of who you are and making some offer to extend your relationship with them. Just remember to focus on the benefits for them – not just yourself.
Recommended: Forgot Your Business Cards? Here's Why It's Not a Big Deal.
Consider Your Presentation
Finally, before the event starts, take a moment to think about how you present yourself. Even though you're meeting virtually, wear appropriate clothes. Check your surroundings and what people will see through your camera. Attend from a room in the house where you won't be distracted so you can give it your fullest attention.
Recommended: How to introduce yourself at a networking event
Where to Find Virtual Networking Events
In addition to your local chamber of commerce (yes, some of us will still offer some virtual opportunities post-pandemic), my favorite website to find events are Blitzr and Meet Up. I recommend searching those sites for a topic you're interested in. Even if you're planning to host a virtual networking event, attend one first so you have some first-hand experience & expectations.
Recommended: What to Do When Your Chamber Networking Events Stink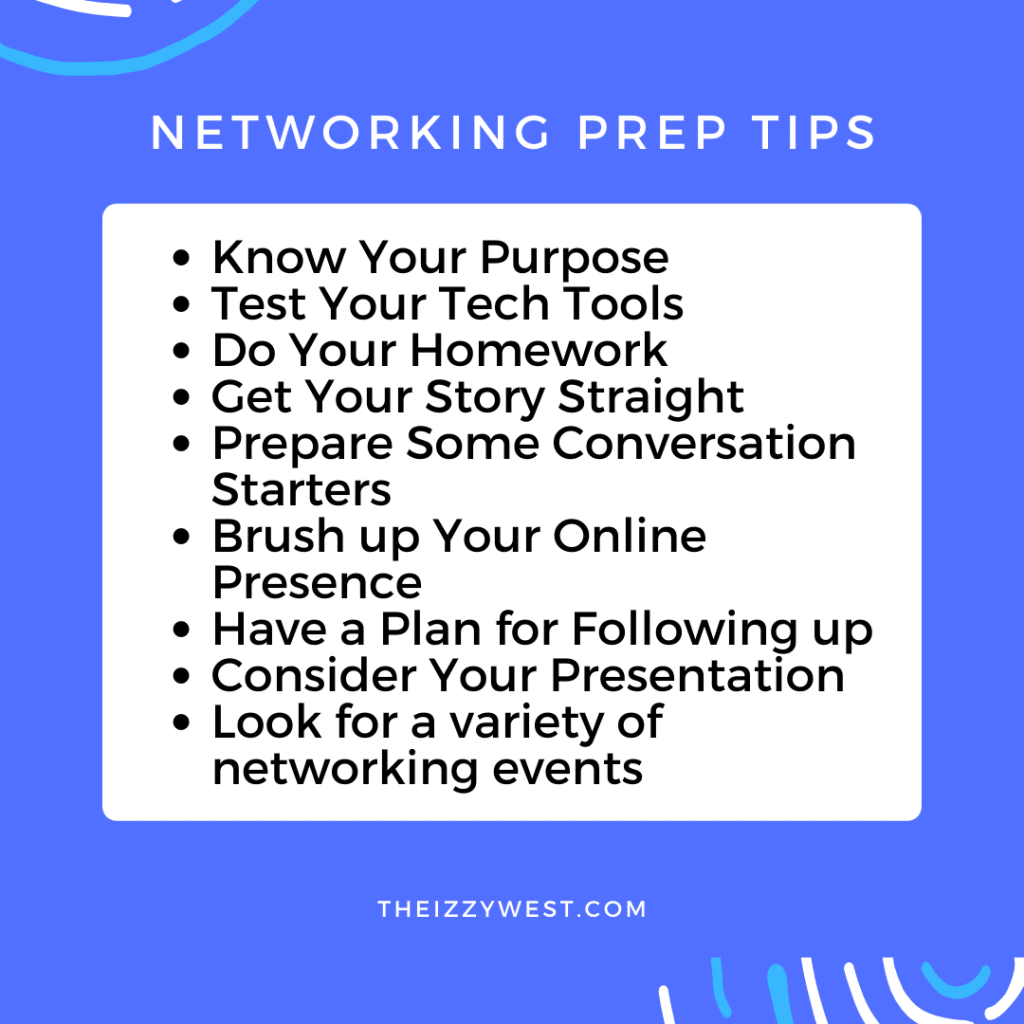 Next: