Many chambers were quick to adapt and move to virtual events, but a few of us are lagging behind. If you're like me, you're indecisive about what your members would like, what would go well, and basically just what's worth the effort.
While it's still up to you to decide, here's some examples of what some chambers are making happen.
On this page:
FAQ: Yes, people are still networking, and yes, chambers are still getting sponsors for virtual events.
Yes, We're Still Networking Online
Many chambers have moved networking events to online through tools like Zoom.
Gina Grone from Northside/Northshore Chamber of Commerce recommends you facilitate more engagement by: asking polls, ice breaker questions, set time limits for info sharing, utilizing breakrooms (paid feature), and sharing follow-up notes.
Examples:
Sponsor tip: I forget which chamber i was talking to, but they created a zoom background that tiled the chamber logo and a sponsor logo. When ever the chamber pro used Zoom for chamber events, they used this as their background.
Recommended: Improving Virtual Chamber Business After Hours
The Obvious: Virtual Meetings
Membership 101, Small Groups
This should be pretty easy, and most likely a smaller group so a lower-tier Zoom will likely work. For your powerpoint you would simply use the built-in "Share Your Screen" option.
Examples:
Public Meetings, Large Groups
For a larger or more public meeting you might want to consider the advanced Zoom/etc plan options.
You might want to be able to hold more participants. Or you might want to live stream from zoom to social media so people can ask live comments, but not necessarily be have access to the Zoom meeting.
Examples:
Webinars instead of Seminars
Again, the easiest transition for you is probably moving your regular events to digital. This can help you get familiar with some of the technology before trying totally new events.
Examples:
Lunch & Learns
Some people are modifying their event name, but yep, we're basically moving our regular events online.
You can also encourage attendees to order takeout from a local business to enjoy during the meeting.
Examples:
Note: Leadercast can be a good annual fundraiser.
Hybrid Webinar/Seminar
If your community is somewhere in the middle and not totally digital or in-person, consider trying out hybrids. For example, we hosted an in-person seminar but streamed it live to Facebook so more people could learn from it.
Tip: here's the equipment I use to Facebook live.
Summits & Conferences
Business & Community Expo
Miramar Pembroke Pines Chamber of Commerce
This was free attendance, so I snuck in for you.
One thing that I liked was the clear layout, so it was easy to navigate to the different sections. However, not all the sections were 'live,' so you had to pay attention to the agenda and click over when ready.
Here's what the Vendor Booths looked like: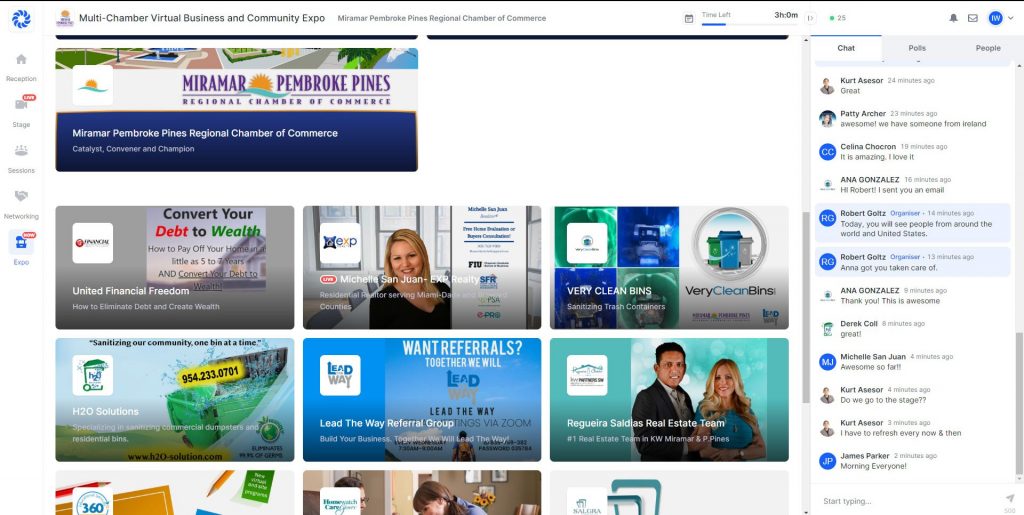 When I visited a vendor booth, I was either shown a promotional YouTube video or a representative was live & chat one on one with them.
As many were new to this platform, the chamber provided detailed information to the vendors. But like everything, it's up to people to read the directions…
Software/Platform: Hopin
Diversity Summit
"'Leadership that Transcends: Diversity, Unity and Shared Prosperity.' This event drills down on specific actionable topics, including the impact and importance of leadership."
They also made recorded content available to paid attendees.
Politics & Government
Political Hob Nob
Lakeland Chamber's Virtual Political HobNob provided the an occasion to meet and greet local, state and federal candidates and learn their views on the year's hot topics. Each candidate paid to participate and had their own "booth" where they could directly interact with their constitutions.
Software/Platform: AccelEvents
Meet the Candidates
Weston Florida Chamber & Partners held a series of Meet the Candidates (by area) in Zoom, and then posted the recording online.
Eggs & Issues
Montgomery Area Chamber's Eggs & Issues paid virtual event with Senator Doug Jones discussed the issues impacting our region from a local, national and international perspective.
Recommended: Tools, Tips & Tech to Know of for Chamber Virtual Conferences
Shop/Support Local
Shop Where I Live – Pierre Area Chamber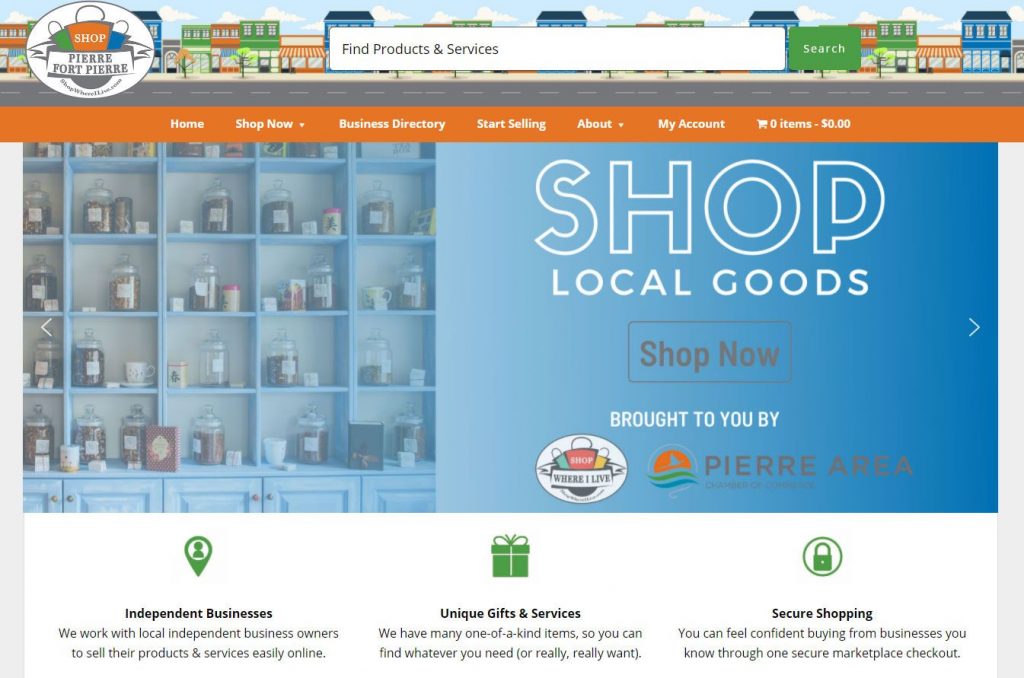 At pierrearea.shopwhereilive.com, people can purchase products, services, and gift cards from businesses that are a part of their community.
Software/platform: Member Marketplace
Others:
Virtual Flash Mob Sale
Los Altos Chamber reworked their Flash Mob to do a video interview of a local business, including specific product descriptions.
Virtual Tip Jar
Greater West Chester Chamber of Commerce – Facebook Post | Webpage
This wasn't quite an event, but I wanted to include it since it's topical.
Basically, they set up a webpage detailing the program, with links to a online form service workers could fill out, and a spreadsheet with the answers (and paypal links) to those individuals so that the community could go through & support them.
You could also livestream some local entertainment acts and have people donated directly to them.
Virtual Awards Show
Virtual: 2020 Best Places to Work® Winners
Huntsville/Madison County Chamber
Okay, so they had a nice production studio for the host part of the ceremony.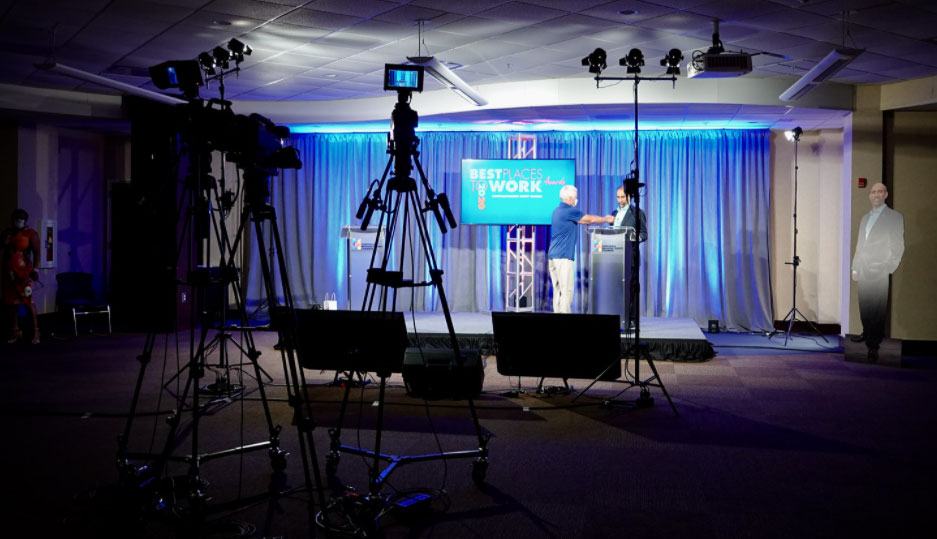 The nominees were waiting live in a zoom room to hear who won. Then when the announced the winner, the chamber live stream switched a full screen view of the winners finding out.
This is really cool because this really helped build & maintain energy if you were watching.
The had winners pick up their award from the chamber office, and to promote physical distancing, they had winners pose with a life size cutout of the chamber's representative.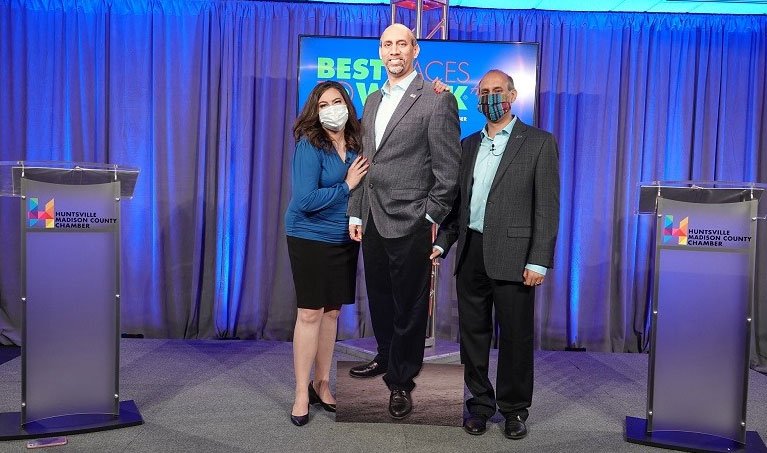 I love it – equal parts funny and smart.
Hybrid: Small Business Leader Awards
Greenville Pitt County Chamber of Commerce
While winners were physically distanced & present in person, the event was live-streamed to "attendees."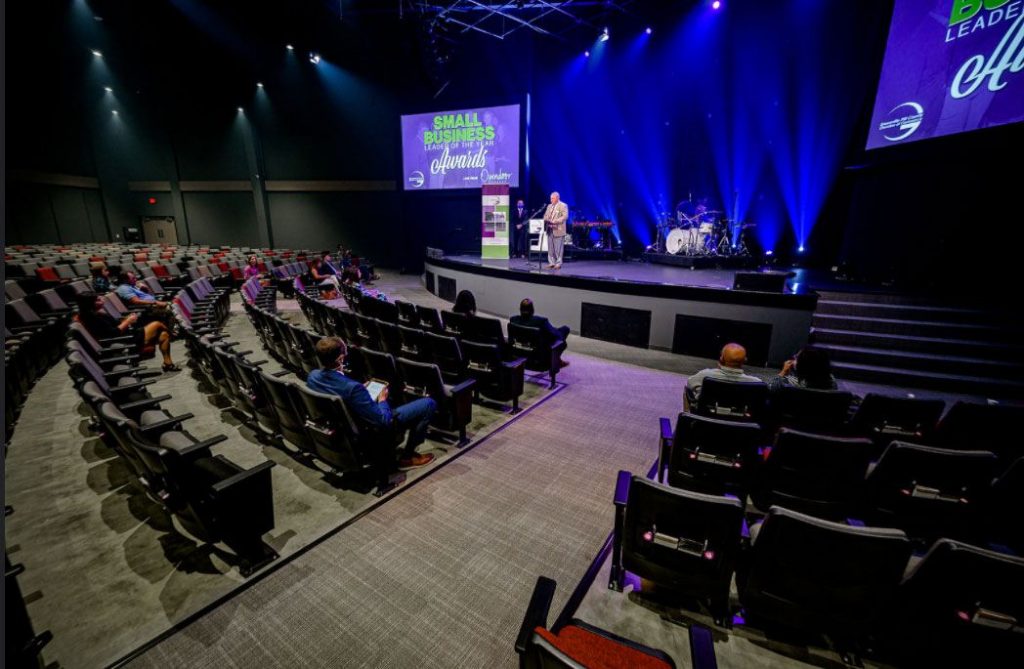 The event was still sponsored, and they had a member that already had practice & equipment for livestreaming do it for them.
Recommended: Are Your Events Truly Hybrid? (It's More Than Adding a Camera)
2020 Sunrise Pinnacle Awards
Rochester Regional Chamber of Commerce
They held a Livestream Premiere that a business ran for them. They still created an event program and hosted the PDF online.
2021 Annual Chamber Banquet
60th Annual Awards
Reidsville Chamber of Commerce
Auctions & Raffles
Tool recommendation: YourCharityAuction.com
Let's Band Together
Maple Valley – Black Diamond Chamber
To be held over 5 days in late October, this event has a few components: online auction open for 5 days, donations from members as auction items, short videos showcasing auction items, and ends with a "Post Auction Virtual Happy Hour."
My favorite excerpt: "We will BAND TOGETHER as a force of strength within our community and help promote a shop local narrative. Funds from the auction will help the Chamber 'Amp Up Opportunities For Our Local Businesses'."
Chamber Raffle
They're selling 1,000 tickets at $100/each via phone or mail-in form. They have some really cool prizes from members, and they're drawing winners weekly on Facebook Live.
Social Media Contests
Social media contests are a great way to engage with the community & get some user-generated content for your area. For more results, offer prizes to winners and/or participants.
Examples:
Physical Fitness
Run Scottsville Run! Virtual 5K
Scottsville – Allen County Chamber
They still charged for participation & had a sponsor. Participants recieved a themed t-shirt and were told to track their own distance/time & upload with a sweaty selfie.
Move-A-Thon
Usually Peters Township Chamber of Commerce hosts a 5k & Bowling Fundraiser, but they pivoted to a new virtual event in light of COVID.
This was a fundraiser, but they probably increased their audience by opening up the sport part to encouraging people to try an new activity or share a photo of them doing their favorite physical hobby. They were also able to extend the event dates to the entire month of September. These likely also increased reach & visibility for their sponsors.
Most of the action occurred in their Facebook Event.
CASA Superhero Run
This 8-week fundraiser has several parts:
Virtual kick-off about the event & about the benefiting nonprofit
Participants got to choose their own distance & location & log info online
Team Fundraising Competition
Prizes based on fundraising levels, distances, and/or participation
Photo contest
Additions & corrections welcome! Please comment below w/ info & links.
Next: