Disclaimer: This page may contain affiliate links, meaning I earn a small commission on direct purchases through them. You do not pay any more because of it. Please see my Privacy Policy, etc. page for more information. Thanks for your support!

Things to consider:
Here's a few things to have in the back of your mind as you're planning your event:
Webpages

Landing page (or PDF) for speakers

For smaller events, this might just be checklist of things you need from them & other reminders.

Landing page (or PDF) for sponsors
Landing page for attendees

Sales page/checkout for Event

Contracts & partners needed
What does your attendees journey look like?
How & where will you promote your event?
What equipment do you need to make the event happen?
What data will your sponsors want post-event and how will you collect it?
And of course, who's doing what?
What does your attendees journey look like?
Pretend you're attracting an event attendee that has never seen or heard of your chamber before.
How & where would they find out about your event?
What part of the landing or sales page really resonates with this individual & why?
Is it easy for them to register and/or pay for the event?
What happens after they register? Hint: do they go to a new webpage or recieve an email with instructions about how to access the virtual event? Do they immediately receive a freebie or other quick win?
Make sure your attendees receive an email or notification with a timely and/or daily reminder about the event, with direct links to access the content.
When they click the day-of links, is it easy to follow or jump in? Are any supporting materials (ie: slides, speaker gifts, etc.) in a nearby, obvious location?
How will you make the event and/or content engaging? Why do attendees want to watch live or at the scheduled time? Why are they excited?
How will attendees naturally learn about event sponsors?
What should your attendee do after the event ends? Your speakers/sponsors?
Technology Involved for Hosting Virtual Summits
Software
Are you hosting on a separate website? You'll need to pay for a domain & hosting. My site is hosted by Surfside Web and I manage the content in WordPress.
How will people pay you? We use ChamberMaster & people can register & pay for events online.

I believe you can also do this in ConstantContact, but there are a ton of options out there.

Software for virtual events:
Video

For video editing, don't forget to check for default software on your computer. My chamber has the Adobe Creative Cloud.

Tools like StreamYard & OBS allow you to add banners & logos live.
If you're going to pre-record videos, you can host them on YouTube and list them as "unlisted" but Vimeo is also very popular for private videos.

Marketing & promotion

You can use your mail marketing provider like Constant Contact or Mailchimp to schedule emails attendees (don't forget to segment!)
I use Canva.com (or photoshop) to create ads, logo, video covers, overlays, etc. You can also create visual presentation videos in Canva.
Hosting a contest or giveaway? Check out WooBox
You can use bitly not only to shorten links, but to track the number of clicks they get (hint: great for sponsors & speakers).

You'll likely need to share files. Giving those that need it access to a Google Drive or DropBox folder is probably a smart move.
You may need to schedule times to meet with your presenters or other partners. Use an tool like Calendly to eliminate the back-and-forth emails.
Physical Equipment
There's a million ways you can set up technology for virtual events. Here's just a few ways, using examples from big productions to small & cheap one-person Zooms. Your investment and set-up depends on your goals & events.
Here's an example of a techy, professional set-up for a one-man personal studio:
Here's an example of a high-level professional set up for a really involved virtual experience:
I would venture to guess if your chamber is going to do a similar set up to this one, you'll probably contract it out for a business to run for you.
For the rest of us, that's probably a bit overwhelming, but I thought it was really cool to see what all can be involved.
Recommended: Examples of Virtual Events Chambers are Hosting
At the very least you can setup a laptop beside your work computer & connect it with an HDMI cord. This will allow to have a two-screen set up to give you more space to oversee the different parts of your event.
Sometimes I don't connect dual-screen, and instead use my laptop to login as an attendee. This allows me to quickly realize any problems on my end so I can fix them before other people notice.
For smaller events like mine, you can likely work with minimal equipment. For video, I usually use my phone or with my webcam. But if you're investing in better video, you can look for an external HD webcam.
You may want to improve your lighting. Sometimes simply setting up a lamp can make your video quality much better.
I also beg you to invest in some sort of microphone. Sound quality is huge. People will sit through so-so video quality, but you can't keep our attention if you have bad sound. I use a headset microphone just as a personal preference, but there are multiple options out there.
Here's a roundup of what some popular YouTubers recommend:
Keep in mind: lavaliers allow you to move around, handheld microphones need to be close to you, and the shotgun microphone wants you to not move around a lot, but can be further away so as not to be in your shot.
Last but not least, the internet. Many people recommend a wired connection over wifi. If you have an IT department, I would also pre-warn them not to test stuff on the day of your event.
Recently, our phone/internet provider was here (unbeknownst to me) and they accidentally restarted our internet while I was in the middle of a Blitzr event. Very embarrassing
Do You Need a Website for Virtual Events?
It depends on the event. For 1-topic webinars, no. You just need an event webpage. But if you're hosting a multi-day event with many presenters & topics, a separate event website may be worth the investment.
If you are creating a separate site, here's a few tips.
On your landing page or event homepage, lead with what's in it for the attendees. What are the benefits of the sessions you'll be offering? If you can, offer a quick win. This might be a freebie provided by a sponsor, a swag bag, or an early bird discount.
While you shouldn't lead with your speakers, have a webpage where people can see the agenda, session topics, and speakers. This isn't an initial selling point so you don't want it first, but it's still important information to have access to.
And just because it's a separate site, doesn't mean you can't give yourself credit. You can use your logo or branding in the sidebar or on the footer. You might simply say 'Event Hosted by Your Chamber' that links to your chamber website.
If you like you can also link to this separate event website in the 'menu' of your chamber's website.
Menu Example
This depends on the goal of your summit and the tools or tech you're using to deliver it. If you are going to have pre-recorded videos or multiple links, one idea is to create webpages for each day and/or session.
For example, this might be what your menu or page list looks like:
Home
Agenda
Speakers
Sponsors
Content
You don't have to actually list each page publicly on the website.
That means you can get the day of pages ready ahead of time, but you'll need to make any pages you don't want public to be either password protect or hidden from search engines. You would also just not add those pages to your menu.
You can create your own internal structure like above and just provide the specific links to registrants via email.
Even if you don't do daily or session pages, I still recommend having separate pages for your Agenda/Schedule, Speakers, and Sponsors.
As a busy professional, I simply won't register for any conference that can't provide an agenda specifically stating what the presentations are.
Daily Webpage
For the multi-day events I recently registered for, there was a webpage with the links for that day's sessions that we were emailed the day of the event.
Keep in mind your attendee will never be as knowledgeable and excited about your event as you are. Remind them of the day's schedule, including times and topics.
In this particular example, they recorded shorter videos (a minute or less) where attendees could preview the topic before they clicked through to watch the full session.
As an attendee I love it as it saved me time, as I skipped the topics that didn't interest me – but because of that, the sessions that did interest had my full attention.
If you decide to do this, I recommend getting them done early so you can also use them to help tease/promote the event in advance.
Single Session Web Page Example
Obviously you need to provide the actual content you promised.
But after that, you have the opportunity to promote your speaker (and their slides or free gift if they have one), an upsell or advertising space, and/or your sponsor logos.
This is a great location to get sponsors in front of your attendees. You can help them increase their their click-throughs (aka leads) by having them provide details for their lead magnet as opposed to a generic ad.
In this particular example, their sponsor logos were used in a 'footer,' which is automatically included on all pages on their site.
Sponsor Webpage
I would include your sponsor logos on other pages, and promote event sponsorship on this page – or at least at the top.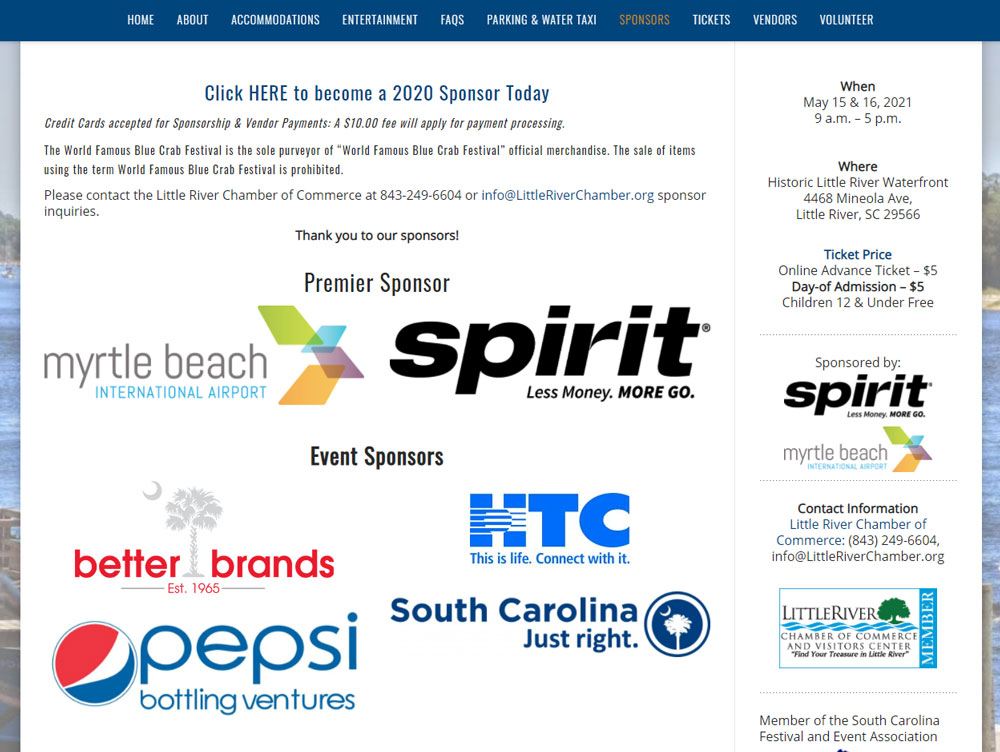 Generally you won't have many attendees check out your sponsor page. While this page can still be useful for those working on SEO and want the backlinks, consider ways you can put their logo in front of attendees.
Recommended: Benefits You Can Still Offer to Virtual Event Sponsors
Girl, we're doing everything in Zoom!
If you're simply going to use a single Zoom link for your event, creating all these webpages is may be unnecessary for you. And that's okay.
For CACCE's virtual Staff & Leadership Conference, they simply provided a single web-page about the event. After we registered, we got a handful of email updates with the schedule attached as a doc/PDF. The event was held in Zoom with everyone's video on, and it was a good event.
Recommended: 2020 Technology Trends via the CACCE Conference
Marketing Your Conference
I realize this may feel little off-topic, but marketing tends to overlap with my technology needs for events.
Make a Plan
Marketing needs to be a part of your planning. The deadlines for having marketing pieces ready often affects when I need certain event details finalized. For example, our 'sponsor deadline' for festivals is actually 6 weeks prior to the event so that the higher tier sponsors can be included in print advertisements.
Or, if you're promising your speakers each an individual Facebook post, consider how many speakers you have, and therefore the number of posts you need to schedule. Chances are you would want to do these prior to the registration deadline, which pushes your calendar even further out.
What I like to do print a monthly calendar and actually plan what emails, posts, paid advertisements, and other content I want to publish. It not only helps with not feeling like I'm making it up as I go, but also later serves as a checklist.
Have a sticky note that lists the type of content you want to plan for and keep it with the calendar until it's finalized. Mine might read something like:
Emails

sponsors – solicit, thank, reminder, after
speakers – solicit, thank + needs, reminder, reminder, after
attendees – solicit, solicit, newsletter ad, last chance, confirmation, reminder, day of, after

Social

Speakers (8)
Sponsors – all, big (3), all top in tiers
topic/content tease (4)
Testimonial(s) from previous year(s)
Contest?
Themed / similar content
Filter?
Twitter list?
tickets now available, last chance
FAQs, other reminders

Live/day-of posts list
Recap(s)
etc

Paid platforms & deadlines
For a smaller event, you can adapt my free Ribbon Cutting Checklist and go from there.
Create a Hashtag
Choose a hashtag to use for your event. Include it all your online promotions so that during the event people are more likely to use the same hashtag (as opposed to each making up their own).
For larger events you probably want something like #EventName2021. But for smaller events, or those with attendees that don't obsess over them, at least use your branded hashtag (like #ChamberName).
Recommended: How To Use Hashtags For Your Chamber
Have Partners Promote
Encourage your partners to help promote the event.
One way is to create a media kit. For me, I have a DropBox link that I make public that includes our event logo, any press releases, a copy-paste-able article about our event, photos from past events, etc.
Another thing I like to do for my bigger events is create a branded graphic for my speakers and/or sponsors. This is usually something that I create just for them so it's exclusive in that it's different from the things I will be posting.
For example, I made this image in Canva & included it in one of my planned sponsors emails:
Conclusion
That was likely a lot of varied information, but all of depends on what you want to do. Your short list of what to plan for is:
How will people find out about our event?
How can they register for the event?
How do we deliver the event?
I've seen conferences use just a single webpage and hosted the entire thing live in Zoom. I've seen others pre-record everything and schedule out the release of videos. It's totally up to you.
Next: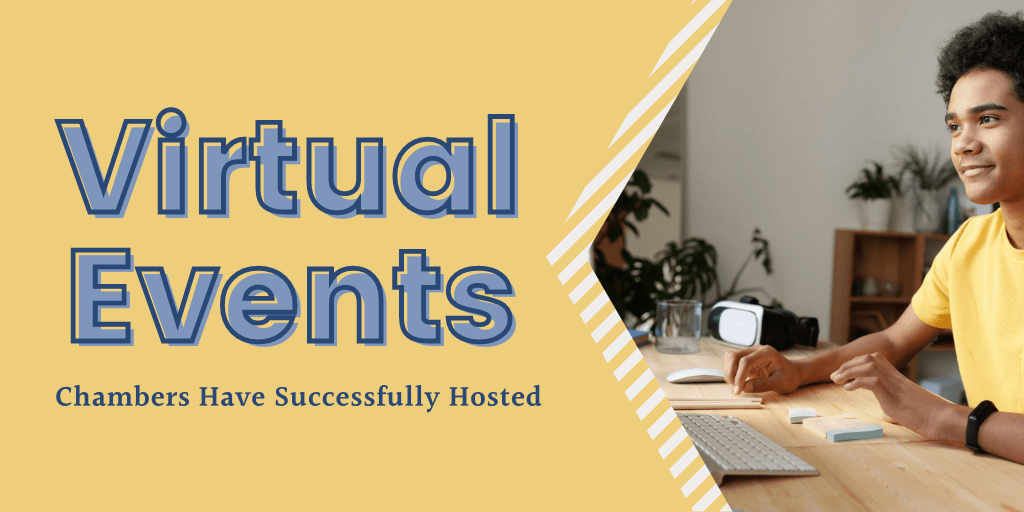 This includes examples of Awards Shows.