As we're transitioning to virtual or hybrid events, I thought it would be good to remind you that you can still charge for events, and you can still charge for sponsorships.
Many of us are trying to figure how to retain sponsors at their current level while still providing value. I hope that these ideas help.
First, don't forget that some things haven't changed for you! Much of this list should sound familiar, we're just tweaking them to fit your online event.
Using Sponsor Logos
You're still placing their logo in various places to increase brand awareness for them – some of the locations have just changed slightly.
In addition to your sponsor webpage, think of different places you can stick sponsors. This might be:
at the bottom of event emails (example)
on transition slides in between speakers
list all sponsors on a slide at end of video (example)
single sponsor logo on video (example)
on event ads – depending on ad size + sponsor level (example)
programs (if you're still mailing or otherwise providing)
Thank you "ads" – we've literally taken out an ad in our newspaper, but it could be in an email, social media cover, post, etc (example)
Name mentioned in press release
Name mentioned in video title or description (example)
You can also have your event host(s) promote them Nascar-style. This might be wearing a shirt or hat with sponsor's logo, or using a Zoom background that has the chamber/event logo and big sponsors' logo(s).
Event spotlight: The NC Black Bear Festival did an amazing job of moving their many events online.
PA/Emcee Announcements
PA announcements can still be done – you're just not physically standing on a stage.
You can still announce/thank sponsors:
when transitioning to another speaker
at the beginning/end of videos or presentations (example)
during planned interruptions (think radio or podcast ads)
Activity Naming
You may have been to conferences and before a scheduled break they'll invite a sponsor to speak for 5 minutes. This is a similar idea.
If you have smaller activities that are a part of your event, name them after a sponsor (like "Morning Yoga sponsored by Business") and let them briefly talk about their business before it.
If it makes sense, you can still include their logo on part of the video, background, activity webpage, etc.
Recommended: Sponsorship Level Ideas and Names for Virtual Events
Chamber Ad Spaces
I regularly offer ad spaces on different sponsor tiers. You can keep the ones that are still feasible, and offer new options of similar value to replace other benefits that are no longer possible.
See my marketing services list for more ideas.
Sponsor Spotlight
This involves some work on their part, but it could be anything from a blog post about them or video interview posted on your social media prior to the event.
Examples:
Attendee Interaction
Depending on your software, you might be able to offer face-to-face or chat based interactions.
Live video streaming (like YouTube or Facebook) allows attendees to chat with each other or event reps. You can promote scheduled times for speakers and/or sponsors to be 'available' in the chat.
Zoom & similar services now offers break-out rooms. You could set up a limited time frame for people to meet & greet event sponsors at different times.
Remo has a table-style set up where participants can relocate themselves. Name tables after your sponsors and either set a limited time for them to meet with everyone, or create a speed networking opportunity where you have everyone pick a new table after a few minutes..
Offering Virtual Swag Bags
For some events, some chambers are actually mailing a small box that includes the event program and some logo swag.
However, you can create a "virtual swag bag" by creating a unique webpage that isn't public (or at least harder to find) that has:
free lead magnets from your sponsors (win-win!)
digital downloads like zoom backgrounds, phone/desktop wallpapers
exclusive coupon codes
free digital gift cards
sweepstakes/contests entries
handouts, printables, workbooks, etc.
Most of these would be supplied by your sponsors, vendors, speakers, etc. You would compile them on to the "secret" web page and include the link in your email to attendees.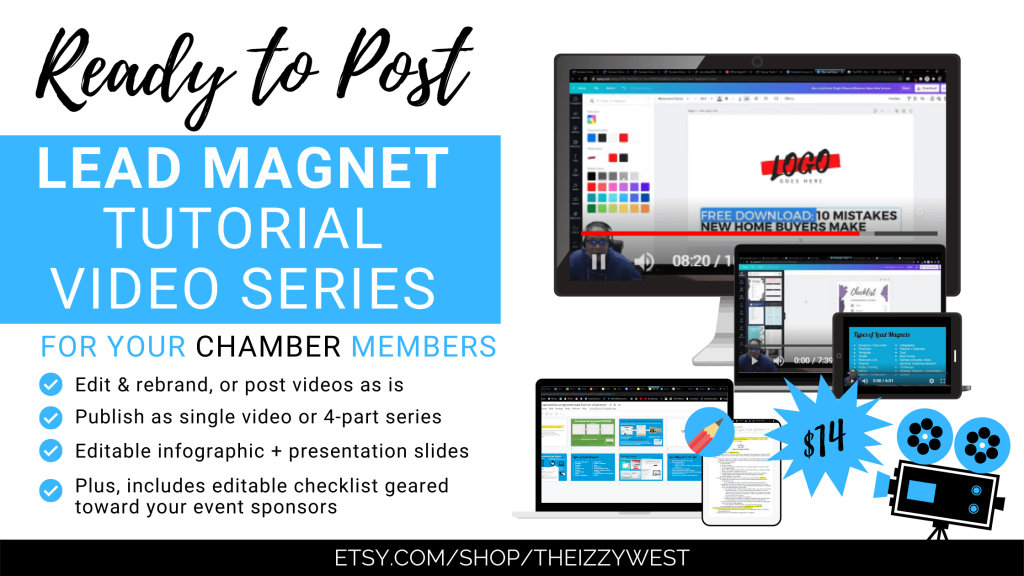 I hope this gave you some good ideas and some confidence to keep moving forward!
How are your events & sponsorship levels changing? Leave a comment below!