Disclaimer: This page may contain affiliate links, meaning I earn a small commission on direct purchases through them. You do not pay any more because of it. Please see my Privacy Policy, etc. page for more information. Thanks for your support!

If you've been in the chamber world for more than a month then you know membership fees just don't cut it.
Offering marketing services that you've already learned to do can be a good way to start making a little extra money for your chamber.
While most of these won't make a big change to your bottom line, it's good to have multiple streams of income. Plus it can you pay for smaller things or one-off purchases like, office upgrades, new supplies, professional development, etc.
But First, Disclosure
You've probably heard something about ad disclosure, but haven't really figured out how or when to do it.
Basically anytime you share something by a paid advertiser, sponsor, affiliate program, etc. you should include a disclosure that isn't hidden or after what you've posted.
For example, if you scroll to the top of this article, you'll see my affiliate disclosure I include on almost every blog post.
On websites you can simply add the text "advertisement" above ads, especially when it's not obvious they're a paid ad.
On Facebook there is now a specific option to tag a sponsor. On Instagram, many influencers use "Sponsored by X" as their location. Otherwise, you can include #ad in your post.
Non-Member Pricing
For everything you do for members – free or paid – have a non-member pricing tier.
Website
website banner ads

include side bar, chamber master directory, etc.

job postings
deal or market place postings
premium member directory listing
sponsored blog posts
Get your business online – if you regularly work with new businesses, create an add-on package for chamber staff to set up their directory listings, google my business account, yelp, Facebook page, etc.
Email
Note: If you say you "don't sell or rent" your list or give out their information – then don't. 'Renting' an email list could include giving your members emails to another. Instead, offer to send stuff on their behalf.
email blasts
newsletter ads
Get started package – You already offer a ConstantContact discount. But what if all they had to do was login and go? Your package might include: create email list, create branded landing page, create branded welcome letter, and create branded sales template.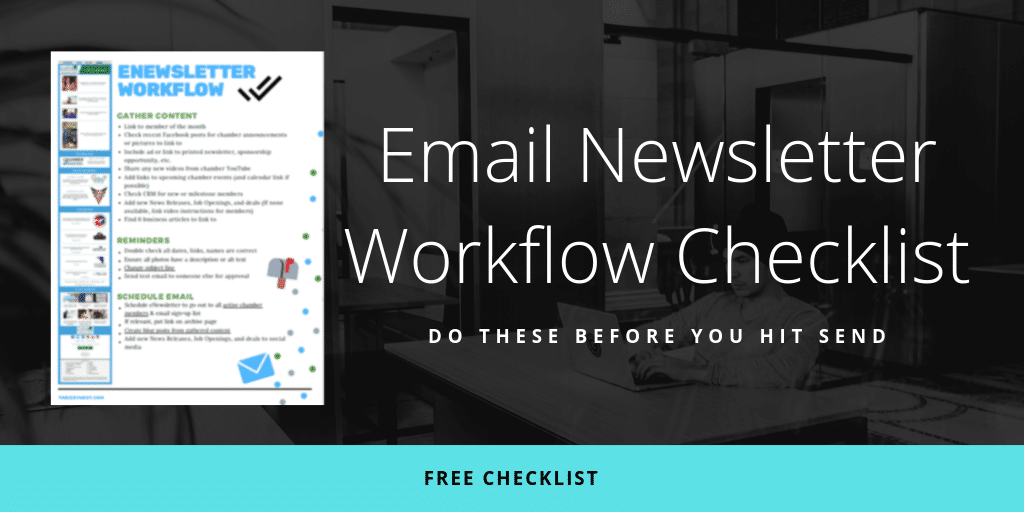 Video
You can get a sponsor for a single video or a series of videos.
You can sell pre-, mid-, and post-ads in your videos. In the Small Business Success Video Series, I used the sponsors logo at the beginning of the video & included them in the text description/post (sponsorship info). But like tv and many professional podcasts, you can 'interrupt' the middle of your content to thank a sponsor.
Create a ribbon cutting package tier that includes a live ribbon cutting, or a staff produced video.
Audio
Similar what I said under video, you can get sponsors for your podcasts, alexa flash briefings, etc.
Social Media
Personally, I don't like charging for a social media post. However, I do like to tie it into sponsorship levels a 'bonus,' or a listed promotional benefit in some packages or partnerships.
Recommended: Importance of Social Media
Print
Generally this is going to be advertising space in chamber publications (newsletters, visitors guides, street maps, relocation guides, etc.).
However, consider looking into splitting the cost of your ads.
If you take out a large ad space with a local publisher, you could sublease part of the space to members. This would help you pay the cost of your ad, plus it probably gives them a discounted rate and the credibility of being listed beside the chamber.
Around the Office
Offer premium rack card or poster spaces
Get portions of your office upgrades sponsored and recognize them with a plaque near what they sponsored.
Big Brain Services
Sorry, I couldn't figure out what to call this section, lol
Marketing plan or strategy – If you've recently made a marketing plan [or any other kind of report, really], create a deal or sale to offering doing this service for others while it's fresh in your mind.
Analysis – I prefer small projects, so I recommend picking a specific marketing platform at a time. For example, it might be analyzing their social media and seeing what's working and what they need to work on. Pick platforms you're good at, or subcontract it to a member.
Consultations – this might be a harder sell as many members expect everything to be part of membership. However, try offering general advice, but if they need more say something like "that would be a much more in-depth conversation. I don't have time at the moment, but if you like we can schedule a consultation meeting, which is [rate]."
Take a hard look at all the different ways you distribute chamber information. Which of those could have room for your members?

Email is an easy play, but even if you're taking around your own rack cards to give out, can you charge a fee to also distribute your members or sponsors?

Package their process. Business owners are good at getting stuff done, but many of them don't have plans in place for when they're gone (or just out of town). This will still take some time on their part, but you can turn their conversation with you into a formated, "real" process that they can put in their business book or give to new staff.
Add-Ons
Add-ons are generally a la carte options in addition the main offering. While the above can also be considered a la carte, don't be afraid to tack on additional fees for requests you didn't offer. This is a common practice for many service businesses, why not chambers?
Before you agree to anything, make sure the request is worth your time. Keep in mind not only what your staff time is worth, but the fact that you have to stop working on chamber stuff to prioritize this new need. With this in mind, I recommend charging at least twice what your individual hourly rate is. And if you really don't want to do it, charge even more.
Design fee – I'm only selling ad space. If a member has their ad available, I don't charge them this.
Content creation, copyrighting, etc.

We are happy to host sponsored content on our blog, but if they want us to write something that would promote them, then that's a higher fee.

First one free. If you already offer something free to your members but need to limit it, charge a fee for the second one.

For example, we have offer free ad space in our printed newsletter that's a small size. If they want a bigger space they can pay the difference, or if they want to be in it again, they pay for the additional space.

Create templates – do members love your newsletter, recent ad, etc.? Find a way to sell it.
Anything else you're good at that you do for the chamber.
Samples
I hope this got your ideas flowings. But again, don't forget to keep in mind:
include paid disclosures
look for easy opportunities
charge enough that it's worth it
don't be afraid to say no
What's your favorite marketing service that your chamber offers? Comment below!
Next: