Repurposing your live videos or pieces of your webinars is a great way to quickly create more content without starting from scratch. Repurposing also allows you to reengage your interested audience, and reach people on different platforms.
Repurposing your live video content increases the consistency & productivity required to gain sustainable success in that it makes content easier to produce, and provides regular, valuable content to your viewers. I've talked about this similarly in my video, 5 Ways to Repurpose a Webinar, though I've made some changes for this article.
Blog Post
Many live videos – particularly webinars or those with information that won't be outdated too quickly – are a perfect for blog posts. Embed your video on a blog post with a transcript or edited article.
This will increase the chances of your content being found online (SEO) and being consumed beyond just the people that watched live. Of course, you should also promote your new blog post wherever you usually do – like social media, your newsletter, etc.
Recommended: 22 Blog Posts You Didn't Know You Already Have
Create Infographics, GIFs, or Other Images
Use screenshots and information you shared during the webinar or live stream and post them to your website, Instagram, Facebook, and any other pages you know your audience will value.
Even though you're creating a new piece of content, it's a lot quicker to do as opposed to staring a blank page and wondering what to use.
You can even use these images in an e-mail or use it as supporting material for future videos. You can also use these graphics to get their attention as a teaser for the main content and drive traffic back to the main video.
Recommended: What to Include on Your Chamber's Annual Report Infographic
Trim Short Clips
Take powerful moments from your live videos and edit them into short clips that you can then share across social media. Example:
Pay attention to moments where you shared some fun facts, solved a common problem, or the audience just found particularly interesting or entertaining. In addition to being stand-alone content, you can use them as teasers or intros so viewers can get a feel for what to expect from you in the future.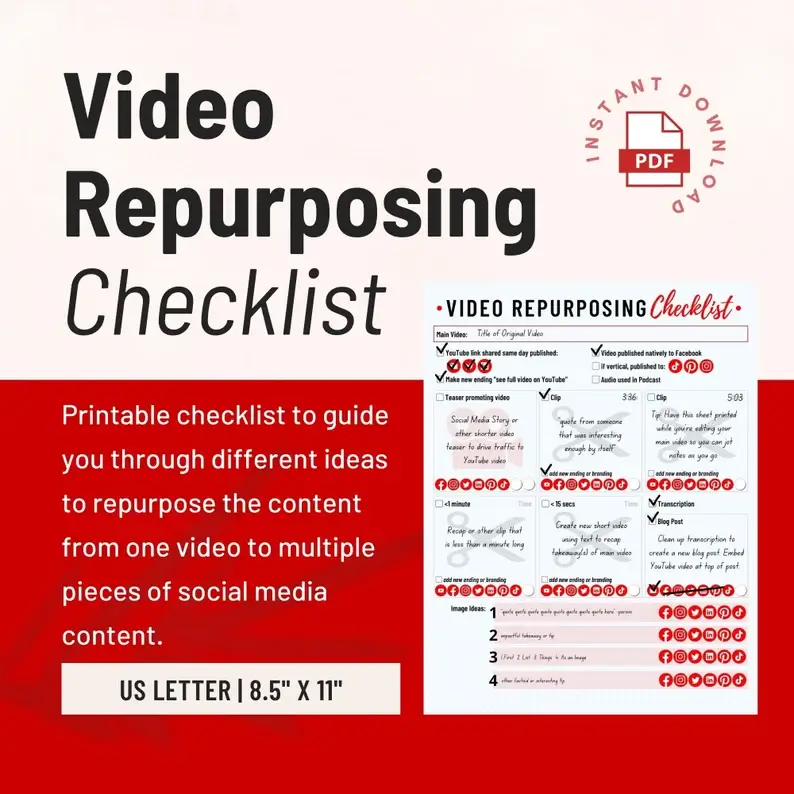 If you want to spend less time on video editing & uploading, you can use a tool like Repurpose.io which allows you easily to clip videos into either square or vertical video templates, and schedule the new clips to multiple social media platforms.
How-to or Advice Videos
You can also do the opposite and combine some smaller videos into longer, in-depth video. This can be done using multiple past videos edited together that all share a similar topic.
Something many professional YouTubers also do well is just knowing their library of relevant content. So during a live video, they might refer you to a highly relevant video they already have published so viewers can still learn the content from them, without having to rehash all the details. The viewers get more useful information, and you get more video views.
Recommended: How to Create a Video Member Orientation
Audio-Based Content
While you likely want to be able to use video more often, if you have any audio-based content like a podcast, repurposing live videos can be a great way to add to your episodes and stay consistent.
Recommended: 15 Examples of Podcasts By Chambers of Commerce
Any content you share in your live videos can be repurposed and used to promote your videos further. Think outside of the box, ask your viewers, and take advantage of the many other social media platforms such as TikTok and YouTube shorts to get your creativity flowing. Repurposing your content saves you time while further building your audience.