Many of us are at least aware of automated email marketing technology that uses autoresponders now that most email marketing providers have this option. Email autoresponders will send out messages to your list members based on either your schedule or a behavioral trigger that you set up and define. You can set up numerous autoresponders (automatic emails) to go to only the most relevant people.
As a quick example of relevancy, you might send different welcome emails to different email lists. Your members probably get more business-focused content, and your public subscribers or locals email list should likely receive more community information.
Welcome emails are one easy example of automated emails, but you might find other reasons to send automated emails.
The 2 Technical Types of Email Automations
To start with, there are two ways to automate your email marketing:
Drip-Fed Scheduled Messages
Trigger Based Email Messages
A drip-fed email campaign is simply a series of emails set up to deliver based on the schedule you choose in a specific order. Usually, the messages are a sequence and often referred to as your "autoresponder sequence." The most common example is a welcome email series.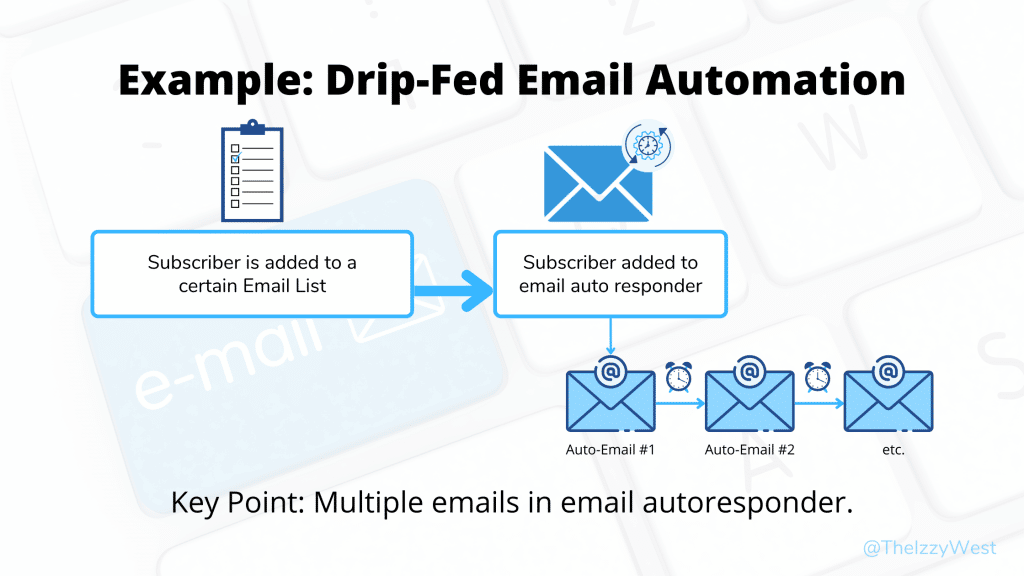 Online Course: How to Automate Your Member Onboarding
Here's what a drip campaign email autoresponder looks like in Constant Contact: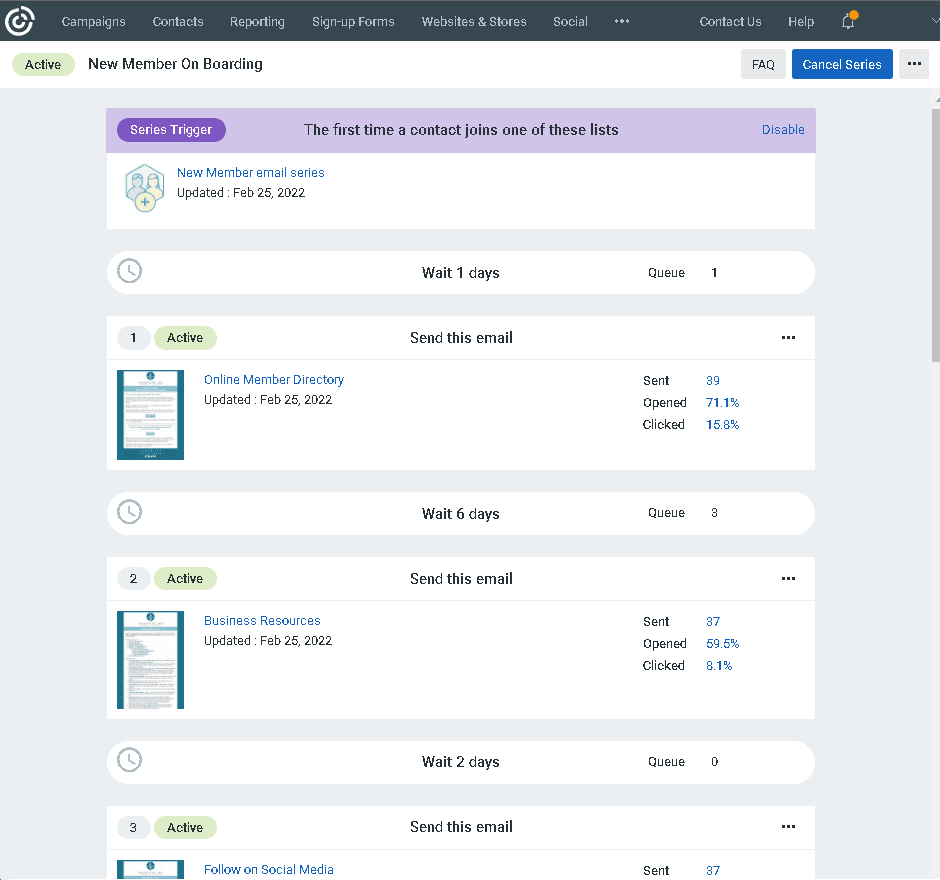 You can include as many or as few emails as you desire, and schedule the emails to go out hours, days, or weeks after each other. This spacing of time is usually referred to as a 'drip campaign.'
A trigger-based email is a single message set up to be sent to the subscriber based on something they do. For example, your email marketing provider likely provides triggers like: if some signs up for a free lead magnet, clicks a certain link in your newsletter, or even if they simply open a particular email, you can set up your autoresponder to automatically deliver specific messages to them based on what they did. Here's an example using the free lead magnet: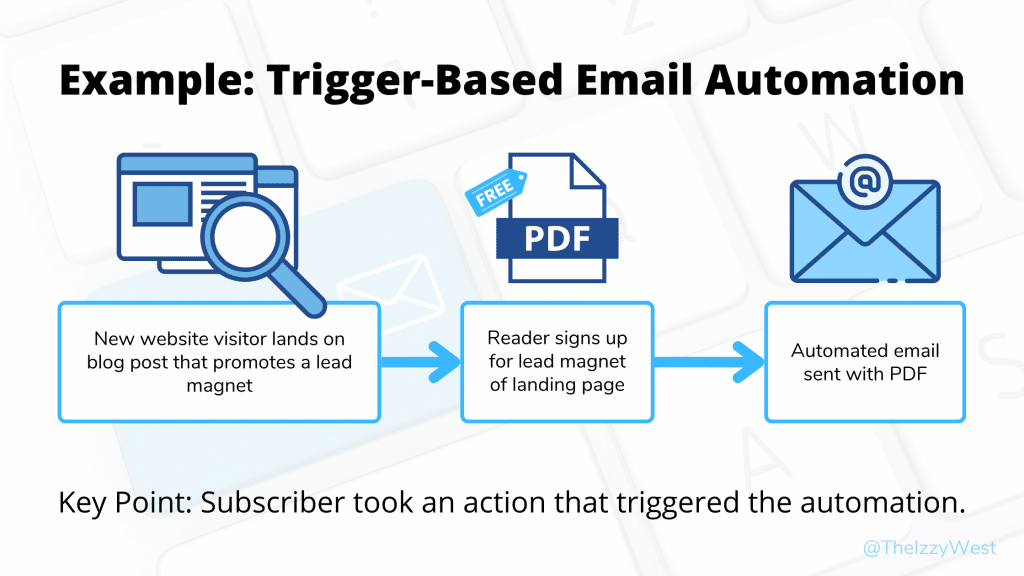 Recommended: Lead Magnet Ideas for Chambers of Commerce
And yes, trigger-based automations can funnel subscribers into an autoresponder series like a drip campaign. If it has multiple emails instead of a single message, then it is technically a drip campaign. There can be a lot of overlap, but my main point here is just being aware of the different possibilities. Personally I don't worry about the technical names – if it's easier you can just refer to them as email autoresponders or automatic emails.
Another example is to create an email list called something like "Clicked: Sponsorships." If your email marketing provider allows it, then when you're linking to your sponsorship packet in emails you can set it to where when someone clicks the link they get added to this list of potential sponsors. You might set up an autoresponder triggered by being added to the list that drips out more details about the sponsorship opportunities & benefits. (Or, while it's not an autoresponder, you might only send out your 'last chance' email about the deadline only to this list.)
Automations & Segment Options Depends on the Tools You Use
Other types of trigger-based emails that your CRM or other tools offer might be: automatically emailing someone when they pay their invoice, abandoned cart emails, 'you haven't opened our emails in 6 months' email, birthday emails, automated event reminders, etc.
Depending on the different tools you use, there are infinite possibilities to create new segmentations & automations. Your email marketing provider is just one tool, your CRM may have additional capabilities, and some businesses invest in additional automation tools like Zapier or IFTTT.
Segment Your Audience for Best Results
When you automate your email marketing in this way, you can create more targeted and personalized messaging, create customized landing pages, and even use split testing for your emails to create better results from your email marketing.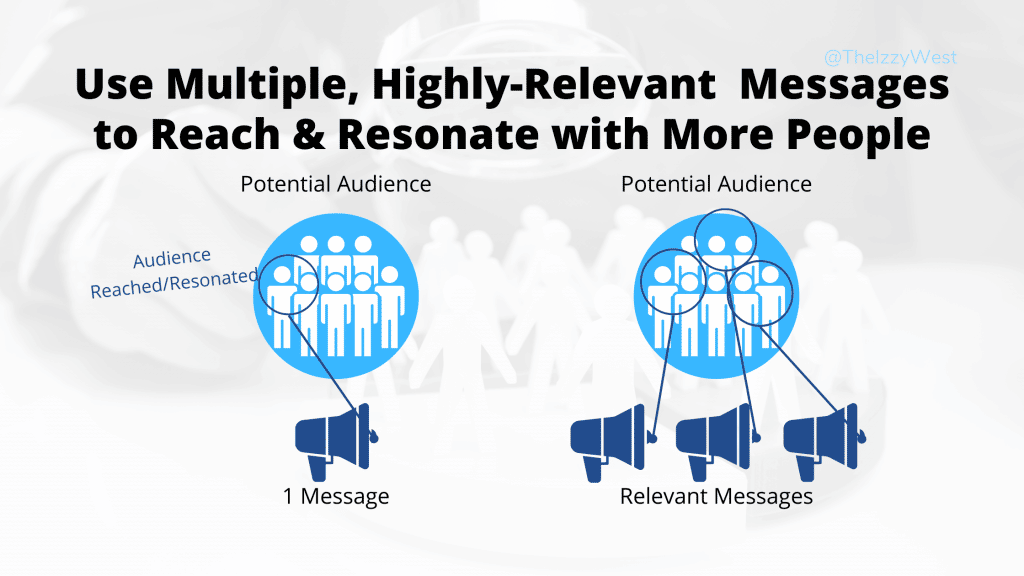 Recommended: Segmenting Your Audience
The trick for getting this right is to choose the right software for your needs and testing both the functionality and your message.
To get started, start thinking about the different segments of people you might want to contact with a specific message.
Then take a look inside the different tools you use to see if there's already a function to segment & message just that audience.
Also look at what is available so you know what additional segments are easily available and how you might use them. For example, your CRM likely makes it easy to message members based on their industry. If you have news or opportunities that's more relevant that others, you can send a standalone email just to them to reduce the number of total emails you're sending out to everyone.
If there's not already a ready function to create your segments, start thinking about how you can create your segment either using your current tools, or considering if you need a new tool.
Once you have your email segments set up you can start creating highly-specific email autoresponders to benefit those segments. For example, you likely have 4 different member avatars interested in different benefits of membership. You could set up an autoresponder for each category that focus on the most relevant benefits of membership. This would increase your relevancy to their business, making them more engaged with membership and improving retention.
---
Not enough time to DIY? Consider Hiring Me!
Next: