Disclaimer: This page may contain affiliate links, meaning I earn a small commission on direct purchases through them. You do not pay any more because of it. Please see my Privacy Policy, etc. page for more information. Thanks for your support!

What if I told you could attract potential members, 'automatically' while you're busy doing other stuff? And what if those potential members were businesses you might not ever have otherwise met?
By creating a lead magnet geared towards businesses – like "Grand Opening Ideas for New Businesses in City" – you will start to collect email address of people specifically interested in owning a business in your area.
In this video + article I'll take you step-by-step, showing you how to actually create & deliver your lead magnet. I will specifically be using Canva & ConstantContact for this demonstration.
Simple Look at How it Works
I've already mentioned that by setting up a lead magnet on your chamber website, you can collect the email addresses for either potential members, visitors, locals, or other demographics on my list of lead magnet ideas for chamber websites.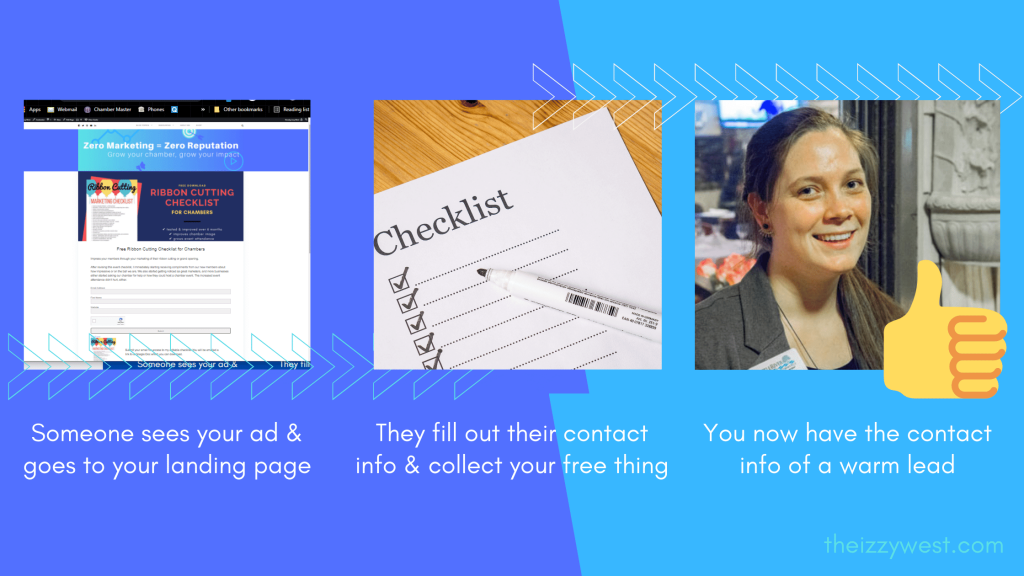 Create Your Actual Lead Magnet
First – don't over think it.
You can create a simple Word document. You can create a video on your phone. (Again see lead magnet ideas article). I would venture to say use the program that easiest for you to get it started or done.
You don't have to make your freebie 'pretty.' If you want, just slap your logo on it and get it out there. Otherwise you can make it nicer and design it in whatever's easiest for you – like Canva or PowerPoint.
It's the quality of the content that is most important. You want your lead magnet to be good & useful. In fact, Digital Marketer says you want your lead magnet to:
Be ultra-specific
Be one specific thing
Speak to a known desired end result
Provide immediate gratification
Shift your relationship
Have a high perceived value
Have a high actual value
Be able to consumed/used quickly
So with that, a good example might be "Grand Opening Checklist for New Businesses to Open in City in 2 Weeks" where as a bad example might be "300-page Case Study on Hosting a Ribbon Cutting." You might still get a few contacts, but not as many and they will be very different people.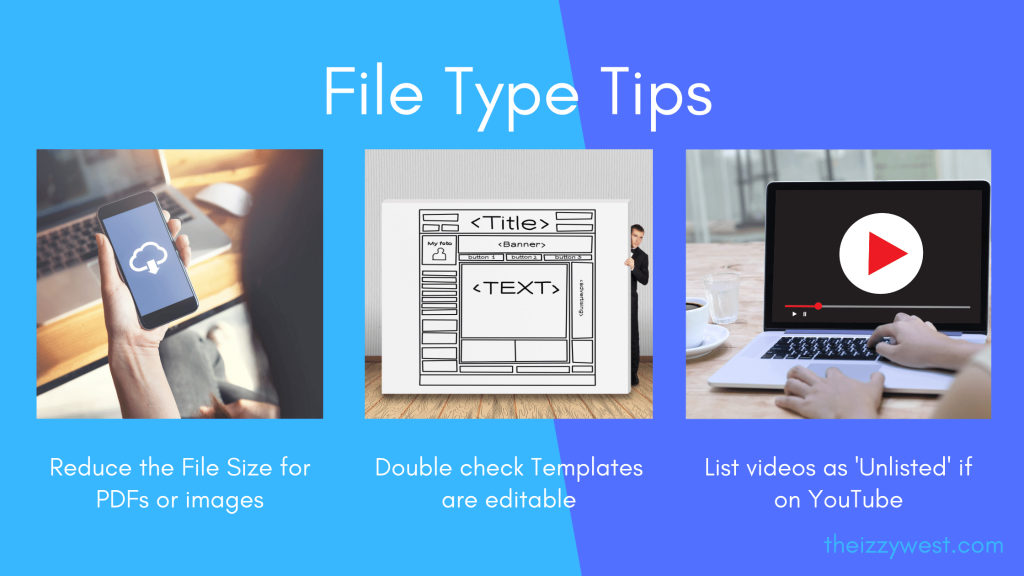 Depending on the type of lead magnet you're giving away, you'll probably want to save it as a .pdf or image (.png or .jpg). You'll also want to make the file smaller with a tool like SmallPDF or TinyPNG.
Upload your lead magnet to your Constant Contact Library, website media, or DropBox. Your goal with this part is to get a link for your actual freebie.
Create Your Email List & Landing Page
At my chamber, I use ConstantContact to create the landing page deliver the lead magnet. It may feel backwards, but I recommend working in this order:
Create Lead Magnet (check)
Create new email list, group, or tag
Create landing page
Create email auto-responder
Create a New Email List in Constant Contact
If you're using ConstantContact, I recommend creating a new 'Email List.' For some other providers, you might want to research Groups & Tags.
Make sure you name it something that will make sense to future you or staff. I tend put something like 'Opt-in: Ribbon Cutting freebie.'
Create a Landing Page in Constant Contact
Next, you'll create the landing page. I do this in Constant Contact, but there are a number of niche services out there.
This is a great example of a landing page from the Allen Fairview Chamber of Commerce using Click Funnels (the same tool that Frank Kenny uses). It's a good tool, but most small chambers wouldn't look twice at the price tag. Give it a look if you have dedicated marketing staff/budget.
However, there are elements of it we can recreate in Constant Contact. It's a short contact form & follows their branding.
Additionally, notice there is no sidebar and menu – this photo isn't cropped, that's how the page is designed. This keeps people focused on the task at hand – giving up their email address. Ours will also automatically be that way be design.
In Constant Contact, navigate to Sign-Up Forms and Lead Generation Landing Pages OR Campaigns and Create and Lead Generation Landing Page.
Follow the video prompts & set up your landing page to match your branding and freebie. Be sure it goes to your new email list.
Constant Contact's new Lead Generation Landing Pages are great in that users can immediately download the document right on-page.
Deliver Your Lead Magnet
Once those are in place, you want to create an email Auto-Responder to deliver your lead magnet for you. When we set this up, it will ensure that anyone who fills out our landing page will automatically receive an email with your lead magnet.
In Constant Contact, go to Campaigns and Create and then Email Automation. Then select Automated Series. Make sure the 'trigger' is when someone is added to your new list and that the first email is sent immediately.
Where to Promote Your Lead Magnets
This is not a one-and-done tool. You want this to be always working for you in the background.
Like I mentioned with promoting your affinity programs, you should find multiple places within your own mediums to promote it. You could put your opt-in ad at the bottom of future, relevant blog posts (like I did here) or web pages, on your website side bar, on social media, or even as an ad in your email newsletter.
Next: