Disclaimer: This page may contain affiliate links, meaning I earn a small commission on direct purchases through them. You do not pay any more because of it. Please see my Privacy Policy, etc. page for more information. Thanks for your support!

To stay afloat, chambers can't rely on just membership – they need different sources of non-dues revenue.
I did the math the other day, and for my chamber to solely run on membership, we would need to raise membership dues to $550/business without cutting benefits or staff (aka me). Right now our range (fair share, not tiered) is $235-$385.
So yeah, not gonna happen.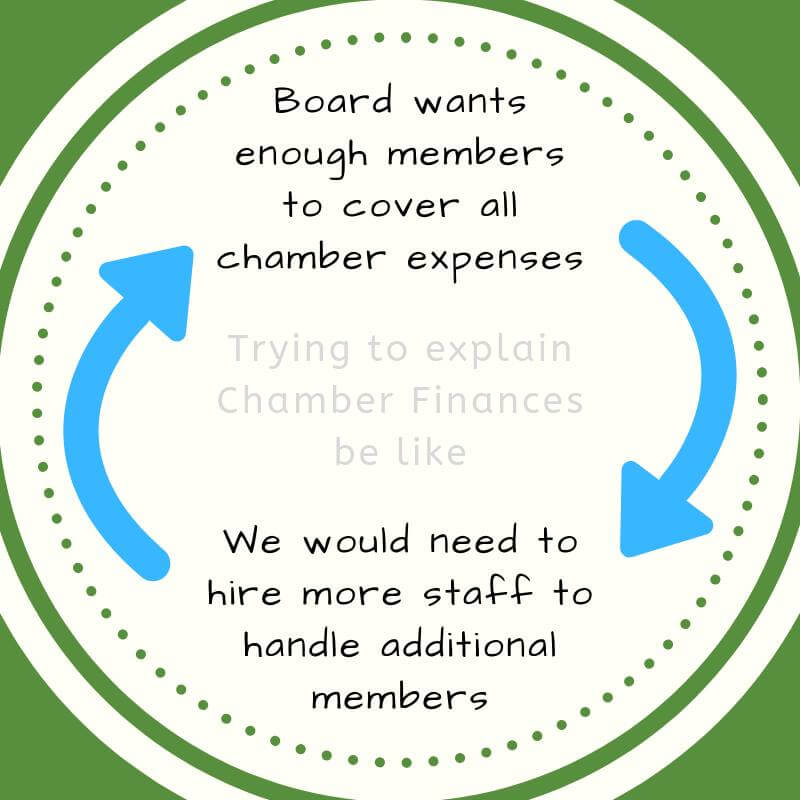 Like many chambers we like to have multiple income streams. Currently our top one is event sponsorships, but having multiple sources of non-dues revenue can help bring more stability.
That being said, here a list of the most common types of non-dues revenue at chambers of commerce.
Affinity or Affiliate Programs
Generally these are products or services that you promote, and if you help make a sale then your chamber receives a portion of the sale at no additional charge to the customer. Common chamber affinity programs include: Health Insurance, Office Depot, Workers Comp, and Chamber Travel.
Recommended: 14+ Affiliate Programs for Chamber Non-Dues Revenue
Certificates of Origin
"For chambers, the key task is not to find where the products were made, but to check that the documents are correctly completed, the certificate of origin matches the commercial invoice, and the document is signed by a designated person from the exporter" (via ACCE)
Carolina Chamber Export Assistance Center – designed to assist businesses by streamlining the processing of electronic export documents for international trade. These documents include Certificates of Origin, Commercial Invoices, and Packing Lists, which are used to verify that goods originated in or were processed in a particular country. The documents are processed electronically through a technology called essCert, eliminating courier costs, the need for paper processing, and reducing turnaround time (the average turnaround is less than an hour).
eCertify – For Chambers of Commerce, exporters and freight forwarders, eCertify is a user friendly tool that enables them to process electronic Certificates of Origin from their desktops – saving them time and money, while increasing compliance and productivity.
Chamber Foundations
Some chambers have started foundations with 501(c)(3) non-profit status to further support their communities.
Events & Programs
You can charge for attendance & sponsorship at many chamber events. Types of events can include: award banquet, networking event, business advancement, educational and training, diversity & inclusion, community events, fundraisers, golf tournaments, city visits, government relations, lead and referral groups, expos, leadership programs, tournaments, etc.
Fundraising Campaigns
Capital Campaigns
A campaign to raise a substantial amount of money in a certain period of time for a specific project. Basically, the original GoFundMe.
Economic Development Campaigns
These are multi-year fundraiser to support a specific economic development project. In some cases, this might include a Feasibility Study.
Membership Drives
My least favorite, membership drives can sometimes be like telethons. Basically, you're making a big push to get a bunch of people to join at once. Personally, I'd prefer to focus on improving retention first.
Total Resource Campaigns
These are a sort of fundraising effort done in a short, scheduled time frame by mass soliciting (with the help of volunteers) your bundle of sponsorship + membership.
Gift Certificate Programs
Chambers can create a 'local gift card' that can promote local businesses, but requires real buy-in from participating members.
Grants & Contracts
These can can be good chamber income, but can be time consuming & require a lot of paperwork. For example, you may have a contract from your local government to run Economic Development or Convention & Visitors Bureau.
Marketing Services
Many chambers raise funds at once through print advertising opportunities (maps, visitors guides, print directories). However, don't forget to consider advertising spaces on chamber assets. Create a la carte options for your emails, website, and more.
Recommended: Practical Marketing Services for Chambers to Offer
Office services
While offering notary, copies, fax, and other services won't make you much money, it can help offset some of your costs and get more people in your office and in front of you.
Sales
Not quite as common, some chambers sell Christmas ornaments, pins, t-shirts and other locally branded items in their visitors center.
However, have you considered selling eBooks? The chamber is a wealth of information, and I think a low-cost branded eBook could be a fairly easy project. Plus, the businesses that buy from you would become warm leads – because it's easier to sell to existing customers than attract new ones! Consider taking this eCourse to help: Ebook Bestseller Bootcamp
Sponsor Recruitment
Sponsorship doesn't have to be limited to events. I've seen chambers manage to get sponsors for office upgrades where they named rooms after a sponsor. I've gotten a technology sponsor for Facebook Live.
If you've had Pat McGaughey as an instructor at IOM, you know that if you get creative you can get sponsors for anything – from limo rides to port-a-potties.
---
I hope this helped, but don't forget it's not all-inclusive. Don't be afraid to get scrappy & creative.
Flush out any income ideas with your staff, board, or other mentors. While it may seem like it at times – you're not alone. ?
Recommended: The Ultimate Chamber Non-Dues Revenue List
Next: