OneSpartanburg, Inc. (previously Spartanburg Chamber of Commerce + CVB + Economic Futures Group) was named the 2021 Chamber of the Year by the Association of Chamber of Commerce Executives, received the Communications Excellence Award from ACCE in 2022 for their Remember Your Favorites campaign, won the Carolinas Association of Chamber of Commerce Executives Communication Excellence Award in 2021 for their By The Numbers report, and named Outstanding Chamber of the Year by CACCE in 2020. Basically, they're definitely a great chamber to learn from. Fortunately, they recently shared some great information in a CACCE webinar about their award winning By the Numbers report & Remember Your Favorites campaign.
By the Numbers Report
One of the reasons this report stands out is because it doesn't share just 'vanity metrics' – instead it focuses on Key Performance Indicators that tie by to the chamber's mission, like capital investment, housing units, and unemployment rate.
This report was well-received by stakeholders, community leaders, and regional media. It does a great job of showcasing the impact of their work, particularly around economic & tourism development. That makes it an invaluable tool to show 'proof of performance' to mission-drive companies, investors, and attracting new businesses.
New to economic development? Some tools they mentioned in the webinar & demographics/data webpage include:
Your local regional economic development organization and/or alliances
Local/regional port authority, airport, etc.
State departments: health & environmental control, law enforcement, works/labor, etc.
While this piece is outstanding by itself, it's just one part of their overall vision (also check out their interactive The ONE publication highlighting the business, economic and tourism development pushing Spartanburg County forward).
Remember Your Favorites Campaign
The Remember Your Favorites campaign incentivized residents to dine at local restaurants to combat a lack of tourism revenue stemming from COVID-19, particularly a loss in business from visiting groups, meeting and conference attendees.
The effort featured a restaurant pass rewarding passholders with locally-branded prizes for checking into 3, 6, or 10 participating restaurants during the duration of the campaign, April – June 2021. The campaign featured digital and print advertising to drive users to the pass download link, including graphics and videos created by the OneSpartanburg, Inc. team. The app/software they used is Bandwango.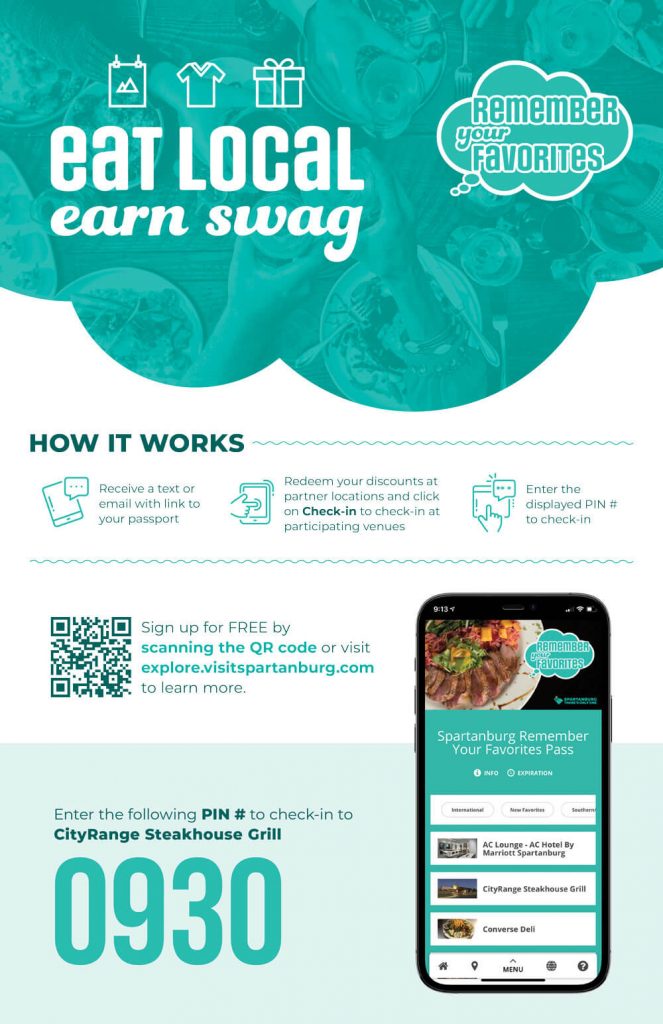 The restaurant pass proved successful, having been downloaded 1,003 times and utilized for 615 unique restaurant visits, for an estimated $12,300-24,600 injection into their local economy.
Next: