Pinterest is a social media platform that's surprisingly ideal for business. Currently, Pinterest has 431 million monthly users who love sharing imagery and links to relevant content. These users are ready to buy goods and services and they use Pinterest as a means to gather information, be inspired, and make buying decisions. And setting up your Pinterest account right can set your website up for success.
Pinterest is different from social media in that it's actually a visual search engine. People can search for ideas & products, and while most engagement comes from saving pins to boards, it generates a lot of website clicks to the linked Pins.
In fact, Pinterest is consistently my 2nd highest source of website traffic from social media.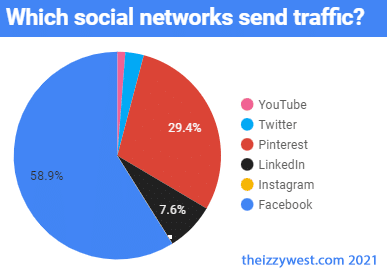 While the above is from this website's Google Analytics account, I actually had very similar rankings at my Chamber. While Facebook drove the bulk of social traffic as that's where more of our audience engages with us, Pinterest was almost always #2 – beating out both Twitter and LinkedIn.
What are Pins?
If you use Pinterest personally, you know that it is an image-based platform that uses pictures to represent ideas. These images are called Pins. A Pin is an image offered to a user generated by Pinterest based on a search or algorithm that gets to know the user over time. The images link back to websites which make it ideal for driving traffic and sales.
Users are able to save Pins to boards and collect them for use later or to share with their followers. The potential for exponential sharing is mind blowing as user after user collects and shares Pins with their tribes and followers.
Convert or Create a Business Account on Pinterest
I recommend having a Business Account on Pinterest. This give you access to additional features like analytics & scheduling posts.
If you started a 'personal' or regular Pinterest account for your chamber, you can easily covert your account type to a business profile by simply converting your existing account. Navigate to your settings and look under 'Account Management.'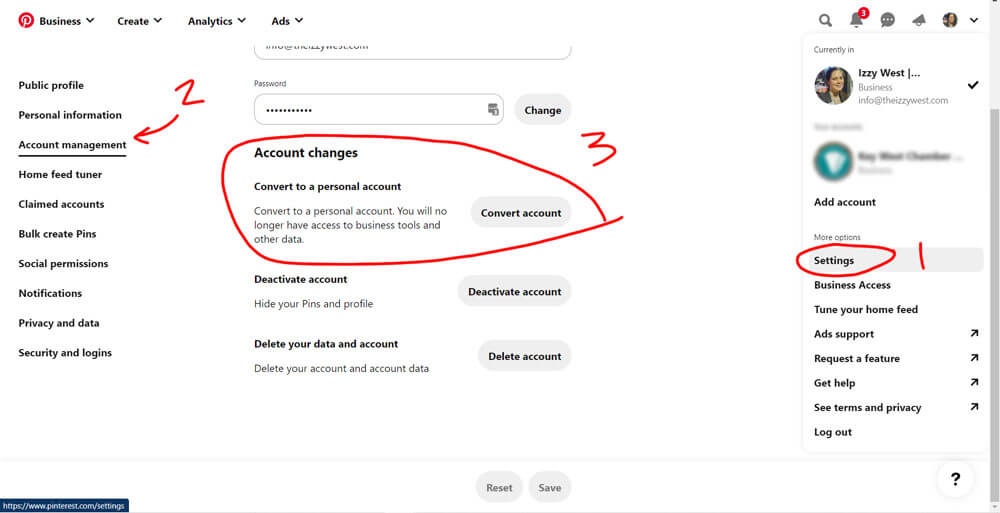 If you don't already have a personal account, head to Pinterest for Business and click 'join as a business.' Complete the onboarding process and you're ready.
Edit Your Pinterest Bio
While you're in your settings, click on "Public profile."
This is where you edit your profile. It's very short, so might copy/paste your Twitter Bio. You likely want to describe what you post on your Pinterest account – this will help people decide if they want to follow you. And of course include your website.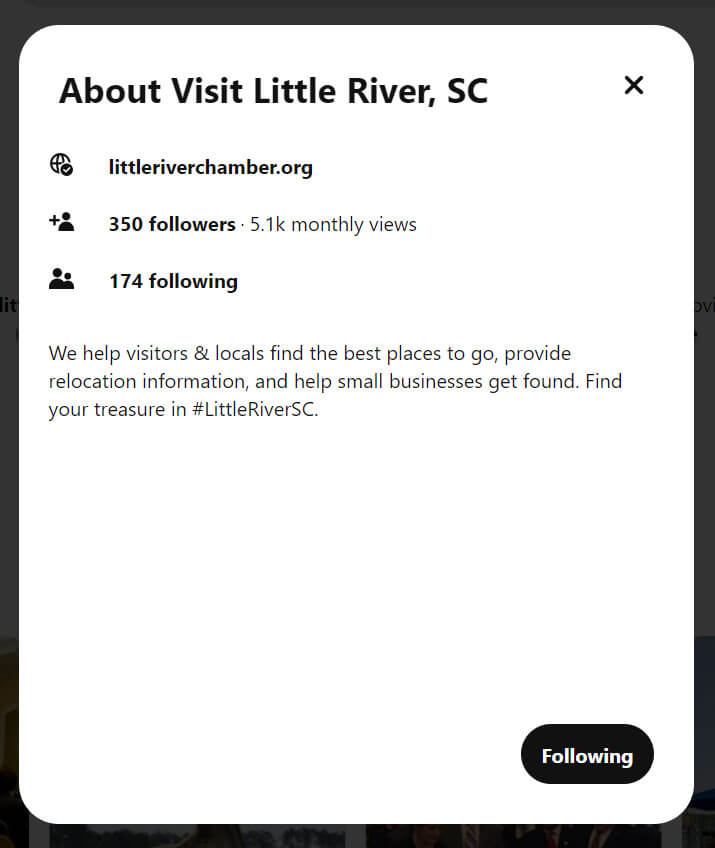 Claim Your Website on Pinterest
Next I recommend you go ahead & claim your website on Pinterest. This will start collecting data so you'll have somewhere to start if you ever want to look at your analytics inside Pinterest or run ads. Under settings, click on "Claimed Accounts."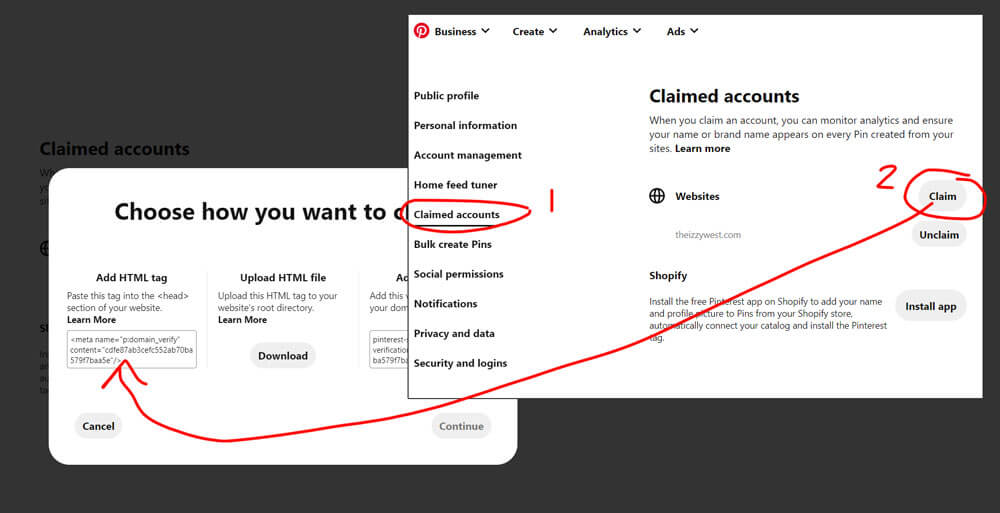 They provide 3 different ways to prove you 'own' the chamber website. I recommend 'Add HTML tag' and adding it to Google Tag Manager. (How To Store Pixels And Code Snippets On Your Website)
Pinterest Boards
Once you've started your business account you have the options to create boards where you can collect or create relative pins. Over time, people who are interested in similar topics can choose to follow your boards or collect pins from you and save for their boards as well.
Your boards should be a reflection of your chamber, local businesses, and/or your community. You also want to name your Boards something somebody might search, as Pinterest Boards can also show up in Pinterest & Google searches.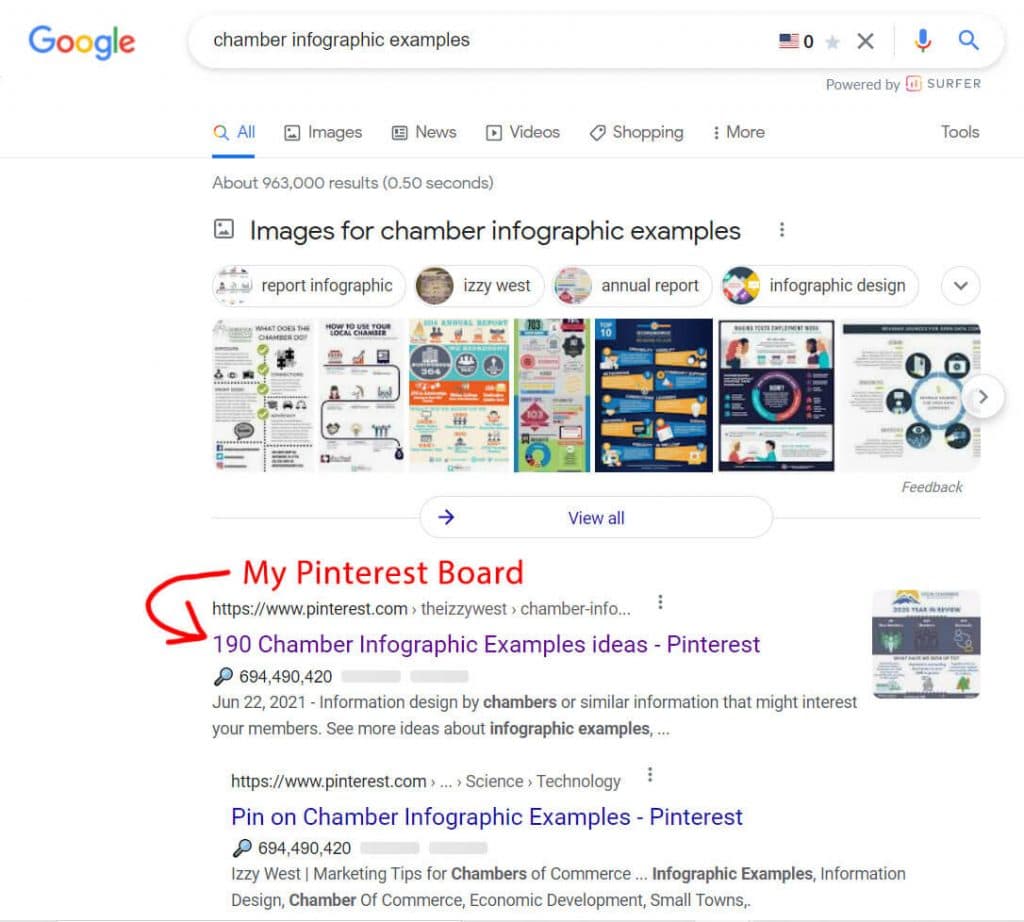 For example, instead of "Our City" you would call it "Little River, SC" or instead of "business tips" try "Tips for SC businesses". Feel free to be as specific as possible!
And of course, make certain your boards are 'public' so anyone can see them and Pin your content.
Save Pins and Generate Pins for Optimal Engagement
The marketing strategy for Pinterest is show up & search with a thumb-stopping image/video that drives website clicks.
You want content that is relevant & helpful. Some content should be unique to your organization & location (ex: local photos), and other content can be a compliment to your business or an asset to your ideal customer (ex: business tips).
Pinterest users and content creators tend to get lost in the never-ending options provided by a simple search or always-changing home feed. Creating relevant boards and pins are both excellent ways to engage customers and increase traffic to your chamber's website.
In this post I share a video walking you through creating images promote your members & your website. You can also download the Pinterest browser button so you can quickly create Pins from images on websites. Finally, you can also upload images from your site to create Pins.
Similar to your boards, you'll want to add a description & hashtags to increase the likelihood of your Pin showing up in a search.
Having the right account and profile is important to creating a business presence on Pinterest and driving traffic to your website and content. Creating an experience online for Pinterest-minded people to find your community is a great way to have your website working for you & your members 24/7/365.
Next: