Disclaimer: This page may contain affiliate links, meaning I earn a small commission on direct purchases through them. You do not pay any more because of it. Please see my Privacy Policy, etc. page for more information. Thanks for your support!

Chamber staff have a lot of hats and little help, so we have to learn to do it all. Here's my equipment setup that I use to record videos of myself, without any help.
Gear Setup
The key is in the equipment. Mine is lightweight & easy for me to carry and set up by myself, and it's affordable. Excluding my phone, this cost me about $80 and has been well worth it (keep reading for $30 option).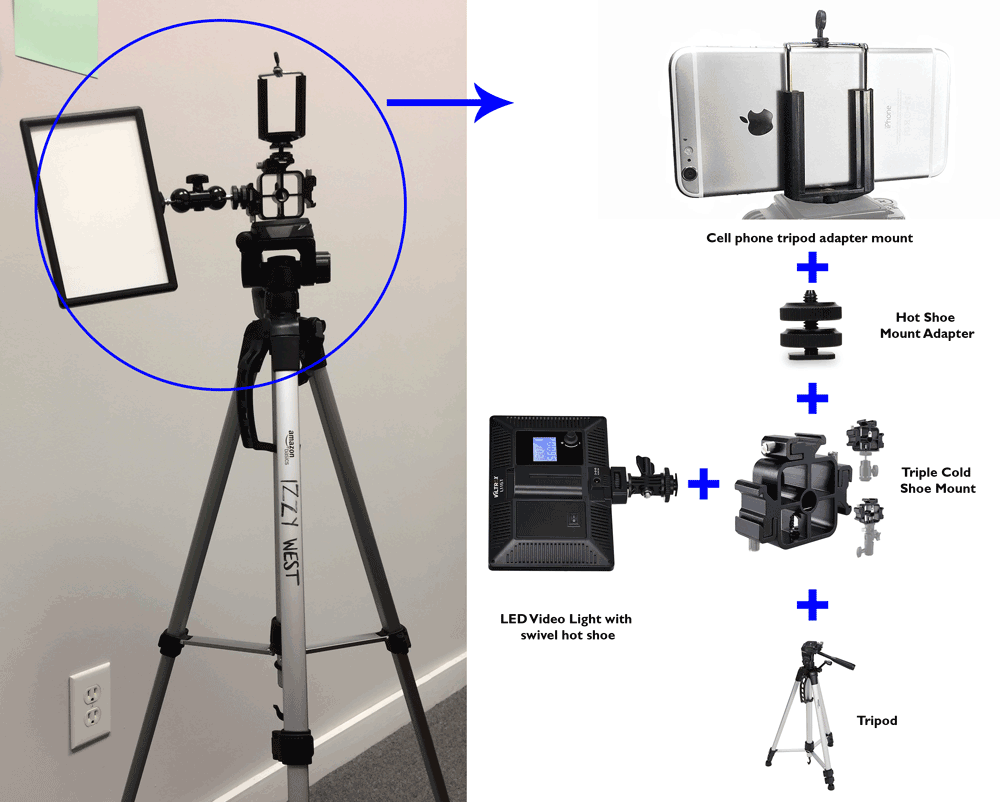 I prefer to record videos in a quiet room when I know I won't be interrupted. But if that's not an option, you can get a smartphone lavalier or microphone for around $20. This will make your talking clearer, and help reduce background noise.
For events, or other videos where the camera isn't very close to the speaker, I don't bother with the lighting. If that's the case for you, you only need the tripod and smartphone attachment. You can probably find these bundled together on Amazon for less than $30.
Also, if you're looking to implement more advanced software, like to add sponsor banners on your live videos, make sure your phone is compatible. In this example, I purchased an iPad Pro which requires a bigger tripod attachment.
Recording
After setting up my gear I use the default camera on my cell phone to record my video. (Tip: record a quick test video to check for anything weird, technical or visual.)
Then you can record your video just using your default camera app, or go live on social media.
Save & Edit
On your computer
After recording the video, I go to my Dropbox or Google Drive app on my phone to upload it to the cloud. Then when I get to my computer I can download it and edit or use it as needed.
Or, you can also record a video (up to 10 minutes) directly in the Google Drive app on a phone. This can take a few minutes to update online, but saves you an extra step.
On your phone
If you prefer to use it immediately, that's fine too. You can post it immediately to social media or there's a number of free & paid video editors in the store. Here's an example of one I shot, edited, and posted all from my cell phone.
Once you have some practice, you can record & edit a video on your smart phone in about half an hour. Or if you can get good at doing it all in one take, you may not even need to edit!