So you don't have a graphic designer on staff and out-sourced the new design of your logo. It's been a long journey through the re-branding process, but you've finally approved a design you like. Awesome. But before your pay the final invoice, there's a few things to ask for now that will save you some time (and money) later.
Especially if you aren't or don't have a designer.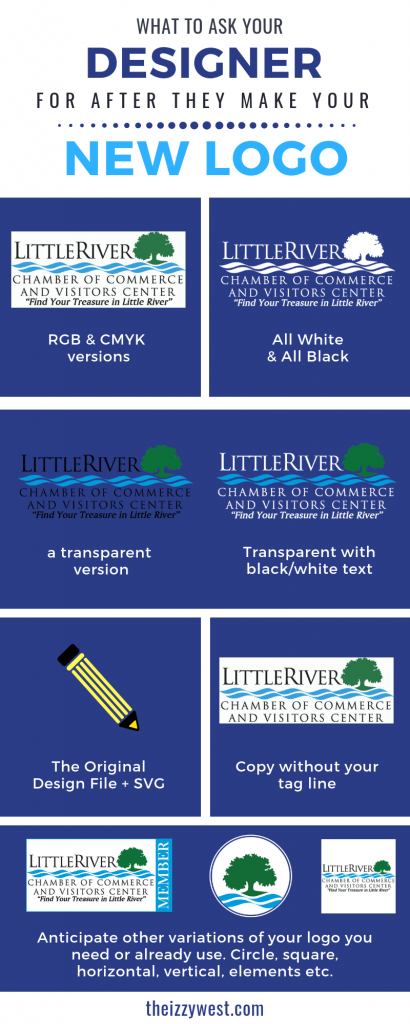 RGB & CMYK versions
These will mostly like be the same file type (like .jpg), but an RGB is what you will use on anything digital (like your website), and CMYK is what you will use in things that will be printed.
These may images may look the same to you now, but don't skip it. Other wise, otherwise you'll upload it one day and the colors will look just a little off and you won't know how to fix it.
Transparent version
If you only have .JPG versions then your logo will always have a white box around it. Go ahead and as for a transparent (probably .PNG) copy to have on hand.
Note: PNG can still have the white box. You should specifically ask for a transparent copy.
You may also want transparent versions as a .svg. While you may not be able to open these, it's what many printers ask for.
Black & White copies
You don't know what projects or changes you'll make in the future, so go ahead and get a (transparent) copy that is all black, and one that is all white.
Without a tag line
I know, I know. So many people just cringed. "But, we just went through all this branding!" I'm not saying you have to use it, but if you don't know how to crop your logo, just go ahead and have it done for you, just in case.
Misc. Versions
Anticipate other variations of your logo that you might need. Most social platforms are square or circle, so go ahead and ask for those resizes so it's not cut off.
Some people even have both vertical and horizontal versions of their logo:

Ask for the elements or icons from your logo. In the below example, I've used the oak tree as a badge on our website, and the river as an email divider.

Do you want people to promote that they're a member? Make an 'ebadge.' We literally just wrote 'Member" vertically on the side of our logo and sent that out.
SVG
This is a funny file type that you probably won't be able to see on your computer, but if you send your logo to be printed on promo items, this is probably what they'll ask for (and if you don't, they'll charge you a fee). Be sure to ask for a .svg of all the types of your logo (example: color, all black, all white, tall, etc.)
Original Design File
Finally, go ahead and ask for the original design file. Even if you don't have the program to open it yourself. Just keep it somewhere safe in case your organization makes a small change in the future.
It sounds easy to change a tagline or a color, but it's way easier when you have this file. Then, if you aren't able to contact or use the original designer, you can send this file to the new person (and probably save a bit of money). The design file is easier for you to get now, than it would be to edit later and lose quality.
Text & Colors
This probably won't be a file (unless they're super awesome like in this example), but go ahead and ask what font was used and what colors. For colors you'll want both hexadecimal and RGB. Having these notes will help your branding, so you can create multiple pieces of literature with the same look & feel.
Recommended: 13 Things You Need to Know Before Hosting a Chamber Logo Design Contest
Communicating What You Need With the Designer
If you have a designer or someone with similar capabilities on staff, they may be able to do much of this for you. But if not, you'll need to let the designer you've contracted with know what all you need.
Ideally, it can help to get these written in the contract ahead of time. This sets expectations for both sides on what you need. By being more clear on what the end needs are, you reduce surprises on both sides later on, as some designers may charge more for the extra service of preparing all of these for you. Or depending on their skill level (or chosen medium), they may not be able to provide everything.
Sample email to your designer – If your in the middle of the project
This is looking great. I've also been told we will need these additional files once the project is done: original design file, cmyk & rgb .jpgs, a transparent .png, and an .svg, transparent all-back & all-white versions in both .png and .svg, and some of the individual elements elements. If possible we'd also like a simple style guide with a list of fonts & colors used.

Please let me know if this will result in an additional charge so I can budget for it. Thanks again for your hard work!
Sample email to your designer – If it's been a while.
Thanks again for designing our logo, we still love it.

It's recently come to my attention that we need some additional file types for some of our marketing projects. Please let me know what the fee would be for you to provide these additional files: original design file, cmyk & rgb .jpgs, a transparent .png, and an .svg, transparent all-back & all-white versions in both .png and .svg, and some of the individual elements elements. If possible we'd also like a simple style guide with a list of fonts & colors used.
While all of this can seem like a headache, it really is worth the time (and money).
Having these on hand can save you additional fees from printers later or the staff time of having to do it unexpectedly. When I first learned about .svg it was because a printer we were using for logoed promo items needed it by the end of day… If I hadn't have been available, then my CEO would've been in a pinch or had to pay even more to get it done.
I've also found most businesses will need a one-color (black or white) for a number of things from t-shirts to billboards, but it's often overlooked when you're excited about your new color logo.
So make it easy on yourself, and get everything all at once.
Next: Is Your Chamber Making These 8 Rookie Branding Mistakes?