Most chambers of commerce flock to ConstantContact as they give us free access their Pro Plan (if you have less than 5,000 contacts) in exchange for promoting their services to members.
If you're looking elsewhere, I have also found Mailchimp to be very affordable and still compatible with ChamberMaster.
In fact, my chamber has gone over the free chamber tier for ConstantContact (mostly thanks to festival vendors), so I have considered moving.
Because of this I considered moving to a fancier option that had more behavioral options to create triggered emails, but ultimately decided against it. Mostly I wanted it to sync to Chamber Master – and ConstantContact & MailChimp have been growing their abilities. So I can still do at least some triggered actions in both.
I also think either of these are relatively easy to use, but whatever you're currently used to will always be easier. Anytime you have to change any software, there will be a learning curve, but there is help & tutorials for both on their respective sites.
So since I wanted to stick to what I know – ConstantContact or MailChimp, I wanted to see how comparable they were.
---
Please note this chart does not include basic or free tiers – I'm including the cheapest tier that includes Automation options, like an on-boarding series.
Also, this is not a full list of all features of either platform (see more: ConstantContact | Mailchimp).
Features
Constant Contact
MailChimp
Price
$45 (up to 500 subscribers)
$70 (501-2,500 subscribers)
$15 (up to 100,000 subscribers)
Audience/List max
unlimited
5
List-Building Tools & Welcome Email
✔
✔
Pop-Up Forms
✔
✔
Stock photos
✔
✔
Apps & Integrations
✔
✔
Tracking & Reporting
✔
✔
Resend to Non-openers
✔
✔

Single-Step Automations (ie: welcome email)
✔
✔
Multi-Step Custom Workflows (ie: nurture campaigns, onboarding series, etc)
✔
✔
Event Marketing
✔
❌
Subject Line A/B Testing
✔
✔
Dynamic Content
✔
✔
Surveys
✔
❌
Audience Dashboard
❌
✔
Tags & segments
✔
✔
Contact Profiles
✔
✔
Retargeting Ads
❌
✔
Support & Knowledge Base
✔
✔
*prices updated July 2020. Email me at [email protected] to alert me of changes.
Biggest Differences
Again, this is just one opinion. Some people like being able to do all the things in one system.
Audience/List Max
Mailchimp limits the number email lists to 5 on this tier, but you can add tags or groups within a list to segment a smaller portion of your list.
Example: on my "Active Members" email list I could have tags for industry or job role. This still leaves your 4 lists for: potential members, generic community members, event vendors, etc.
Event Marketing
ConstantContact has long advertised that they offer event marketing, but this really shouldn't matter unless you don't have a CRM (like ChamberMaster) that allows you to create events that allows your members to register online.
Retargeting Ads
MailChimp wants to be known for more than just email marketing, so they offer a larger variety of other options, including direct mail, retargeting, and more. While this can be a nice one stop shop, my chamber is not going to pay MailChimp for these services.
Surveys
I don't store my surveys in ConstantContact anyways. I like using Google Forms to create & house my surveys. You can use the share link in any email provider.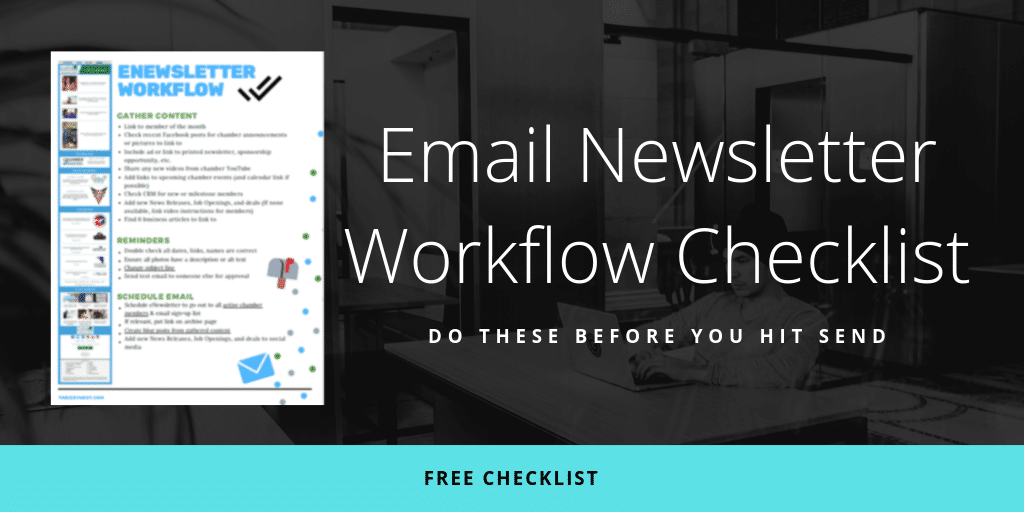 Okay, but which one should I use?!
Sorry, but I've personally used & liked both. If you already use one, it's probably not worth switching. Both are big enough that they should integrate with your Account Management Software.
Again many chambers likes Constant Contact for the partner benefits they can provide to members, but I've heard that their deliverability is not always the best. Honestly, it's a bit of a toss-up either way.
If you're not a chamber, then starting with MailChimp might be your best bet since it's free when you're first starting out (if you have less than 2,000 contacts).
Ultimately, I stuck with ConstantContact for my chamber, even though it was more expensive, since I thought it was worth the cost of not having to rebuild my funnels & other changes by switching to a new platform.
Personal Disclaimer
ConstantContact will always have a special place in my heart (and at my chamber), but it's good to know what my options are.
As a blogger, I'm using MailChimp because I'm cheap and only have 20 contacts.