Disclaimer: This page may contain affiliate links, meaning I earn a small commission on direct purchases through them. You do not pay any more because of it. Please see my Privacy Policy, etc. page for more information. Thanks for your support!

My favorite free cash back app is Ibotta. Not only do I get money back from grocery brands I know, but they even have any brand offers such as "bananas," "iced tea – any brand," "dog treats – any brand," and more! I've also found they have more any brand offers and more often than similar free cash back apps.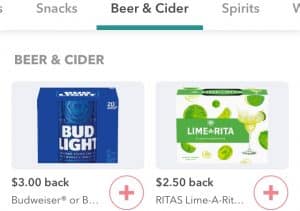 Plus, I know 90% of my chamber peeps enjoy the hospitality room, so get this: They give me cash back on alcohol. You heard me. How many other places can say that? Never have I seen a coupon for beer, wine, or liquor, but I've gotten $1-2 back on a few of these purchases.
I have personally gotten $282.80 back so far!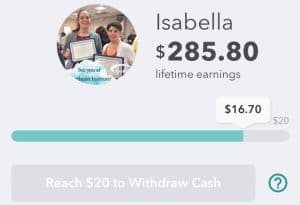 Once you've earned at least $20 it will allow you to pick a gift card of your choice or send it directly to Paypal. In 3 years I've gotten back $282.80 into my Paypal account. This averages to $94/year or $7.83/month. That's like a free meal every month!
How to use
To start earning, download Ibotta and use my affiliate code "aikbkif" and we'll both immediately get $5 free. You heard me! Fo'. Free.
Once you're in, choose Find Offers, pick a store, and start browsing the offers. Offers do vary by store. (I've found Walmart usually has the most available.) You'll have to "unlock" an offer before you can redeem it. Usually you answer an easy question, but sometimes you have to watch an ad.

The bigger earnings are with name brands, but I love this app because they also offer $0.25 on any brand items. If you only buy off brands it will take you a little longer to reach your $20 goal, but it will still happen – I promise.

Make your purchases in store. If you're not sure if a rebate will count, you can actually open the offer and scan the product in-store and it will tell you immediately if it's valid.
Next you'll choose Redeem. You may have to scan the products you bought before you can scan your receipt, so I do this as I'm unloading groceries. Then you take pictures of the receipt while still in the app under Redeem.

There a few exceptions. For WalMart, you just scan the QR code on the bottom which is easier. For Food Lion, it actually process automatically after your connect your savings card. Easiest.
So download the best free cash back app now to start earning cash back on groceries (and hospitality supplies ?) . If you use my code "aikbkif" we'll both immediately get $5 free. Win-win!
While this is more for personal use, I'm interested to know how you save your business/chamber/organization money? Please comment below!