Have you ever been so busy you wish you could clone yourself to send to events on your behalf? The Greater CWC Chamber did [almost] just that and turned it into an award winning social media campaign that their members loved.
The "Where's Tim" program was initiated to promote the Chamber of Commerce members, as well as tourism and events via a social media platform. While Chamber staff or Board members cannot attend all functions, the fun twist to the program is having a "stand up cut out" of the CEO to "stand in" when needed.
Tim himself cautions other organizations from doing the same program focused around one person, as you never know how long that person will be around, and he doesn't want the chamber brand focused around one person. Instead, he recommends considering a mascot. However, he's glad his staff talked him into allowing this to happen as it helped the chamber serve their members.
Like you, he asked himself, "How do we do things a little differently? How do we promote those members we serve? How do we serve the people that work local, connect local, and explore local?" In his own words: "To do that we need to make sure people know who & what we are. I wasn't excited about it at first, but we needed a familiar face in the community, and this campaign has exceeded our goals."
This award winning concept was staff generated, with the assistance of Sun Solutions who made the stand-up and marketing contractor Outside the Box Promotions, LLC, touched an average of 800 local business leaders each week, and was so popular that members started reaching out to the chamber to borrow 'Tim' as a photo-opp for their customers & staff.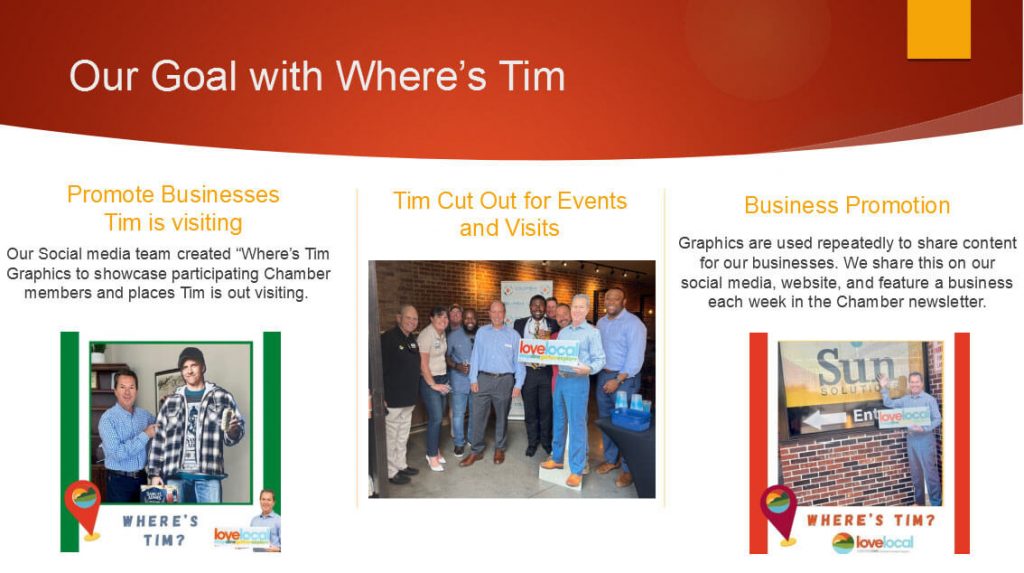 While the chamber saw this as just a bit of fun and weren't expected a hard ROI, they found it positively impacted member relations and generated additional member promotions.
Tim's cut out was taken to participating locations for photo-opportunities, but the staff also built a great habit of taking pictures at member businesses any time they just happened to be there. These pictures were also used to create social media images for the campaign.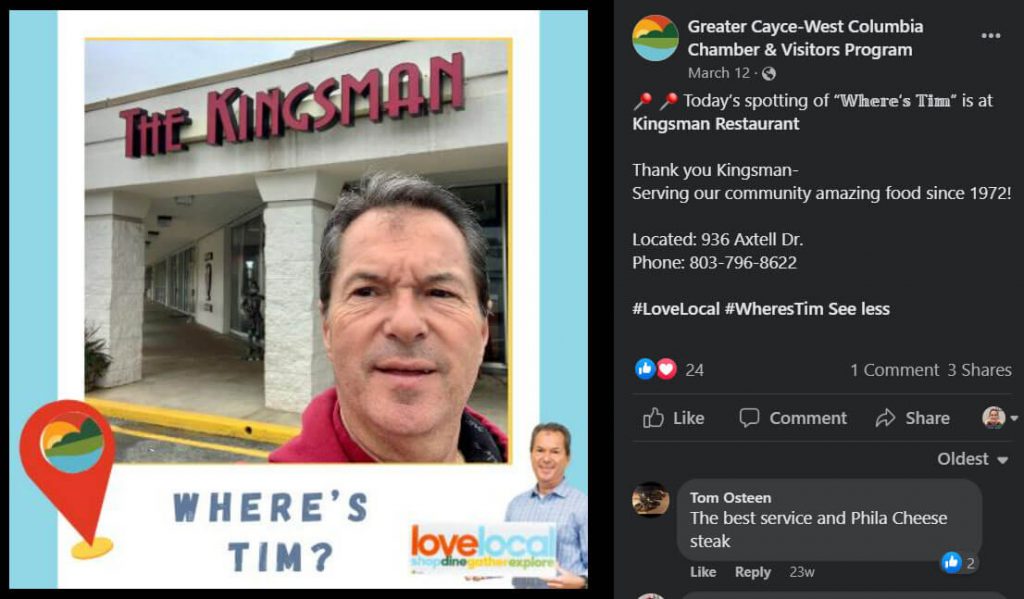 Each 'Where's Tim?' image created multiple touch points as it would be used on: social media posts, TV in the chamber lobby, in their email newsletter, and on their website.
During this campaign, the chamber saw a 61% increase in new members and grew their Facebook following 174% (which is extra impressive due to the time frame this occurred, when most Facebook Pages are seeing a decreased in reach & engagement).
The chamber doesn't see this as a win for themselves, instead they see "these results are huge for our small businesses and nonprofit organizations to grow their reach and community engagement."
Next: