Most chambers of commerce give a ribbon cutting checklist to the host, but have you made one for yourself? Here's how to promote a grand opening or ribbon cutting, and related task reminders. Using this exact framework, I increased our networking event attendance by 27% after my first two years at the chamber.
Before the Event
✂️ Confirm details with the host! This is such an easy step, and skipping it can cause miscommunication or missed opportunities.
Confirm date, time, and place (get the specific address).
Send them a Ribbon Cutting Checklist.
Ask for their logo and press release blurb ("About Us").
Get event details to promote. Details could be food, entertainment, deals, whatever. This will vary greatly from member to member.
✂️ List the event on your website's calendar. I also double-check that I:
Put their logo at the top.
Linked to their directory listing on the chamber website.
Used a ribbon cutting or other chamber-branded photo where desired.
Set up an email reminder (Chamber Master option).
Enabled the map link (Chamber Master option).
✂️ If necessary, update your ribbon cutting web page or front page of your site.
✂️ Create a press release (most businesses can't or don't do this).
List on your website (mine are also auto-tweeted via Chamber Master).
Email to your press list.
✂️ Create an ad. I recommend making a template and just changing the info for each event. You could skip this if they gave you a flyer you can use.
✂️ Update your communications calendar:
Calendar invite to board (per my board's request) or ambassadors.
Facebook posts – 2 weeks out and day before
LinkedIn – post 2 weeks out or in monthly Upcoming Events post
Twitter (day of – My Facebook posts already go to Twitter)
Invitation email – 2 weeks out

You could also schedule an email reminder, but this is where I cut one of my "extra" emails. Instead I only auto-send reminders to those that RSVP'd to the event (through Chamber Master).

Include upcoming events in all possible newsletters.
While advance notice is good for chamber staff, I've found that attendees forget if I email a month before the event.
✂️ Create a Facebook Event (here's why you shouldn't skip this).
Make the cover photo a fun photo from their biz or from a past event.

I've found this to greatly impact the reach of the event, so don't post an ad or anything boring!

Add the business as co-host (and utilize their audience to get new followers).

I also add the local Young Professional group as a co-host to encourage them to share.

Invite relevant Facebook friends to the event.
Post in the discussion with the ad + link to event on your website.
Bonus: create an "event frame."
✂️ List event on outside sites. Examples:
TownPlanner.com
EventBrite.com
Local YP group
News station community calendar
Google "(your city) events" and see what comes up. Click through the first few and see if you can add a free listing.
✂️ Personal phone calls:
Invite your newest members. This a great way to reach out to your new members and make them feel welcome.
Invite important community figures.
✂️ Update your phone message or voicemail if you think it's relevant. (We have a phone extension you can select to listen to upcoming events.)
✂️ Change your email signature. This is such a quick and passive way to promote your events to people you're already engaging with.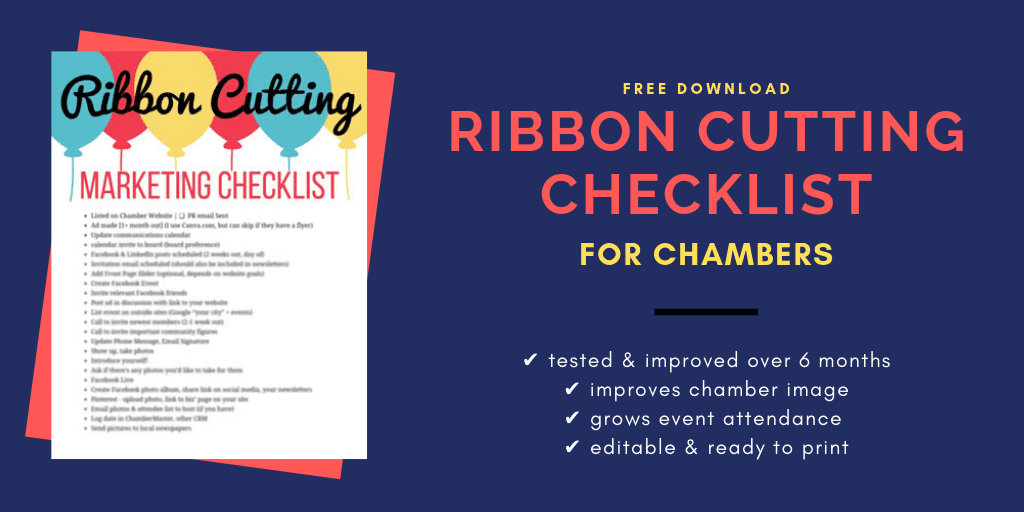 During the Event
Show up, take photos
Introduce yourself! This is an obvious time to get out of the office and meet your members all in one place.
Ask the host if there's any photos they'd like you to take. They don't take me up on it often, but it's such an easy way to create good will.
Do a Facebook Live video. You can film the ribbon cutting itself or a behind-the-scenes tour.
Collect business cards to track attendance (if possible)
After the Event
Create Facebook photo album, share link on: Create Facebook photo album, share link on:

Twitter, LinkedIn, other chamber social platforms
Chamber blog
and in your newsletters

Pinterest – upload a photo you took of the business or staff, link to their directory listing on your site
Email photos & attendee list to host (if you have or promised)
Log date hosted under member's file in Chamber Master, other CRM
Log # of attendees (for use in your annual report infographic)

Update your:

Website – ribbon cutting page, front page, or other web page if needed
Phone message or voicemail
Email signature

Send pictures to local newspapers

Bonus: Write a press release about the event.