I regularly remove inactive chamber members from Constant Contact. The thought process for this first clicked for me when checking the unsubscribed emails and I realized that they were past clients that had dropped their membership a long time ago. Obviously, if they don't want membership, they don't want my emails (or at least the same ones they were getting). Or they're not even in business.
Either way, I'm hurting my own email open rate.
How to: Remove inactive chamber members from Constant Contact
You might want to this whole page before you try this to make sure this is right for you.
In this section, I'm going to walk you through purging your email list in Constant Contact. This is a task I do maybe 1 or 2 times a year, just in case my more regular tasks slip through the cracks (see notes below).
In this example I have a group called "Active Members" that syncs between Chamber Master (my CRM) and Constant Contact (email marketing).
Step 1: Please read the full article BEFORE doing this to make sure your accounts are set up the same way.
Step 2: Actual step 1 – clear your Active Members list in Constant Contact. Yep, you read that right. Make sure you're "Removing From List," NOT deleting the contacts or the list itself.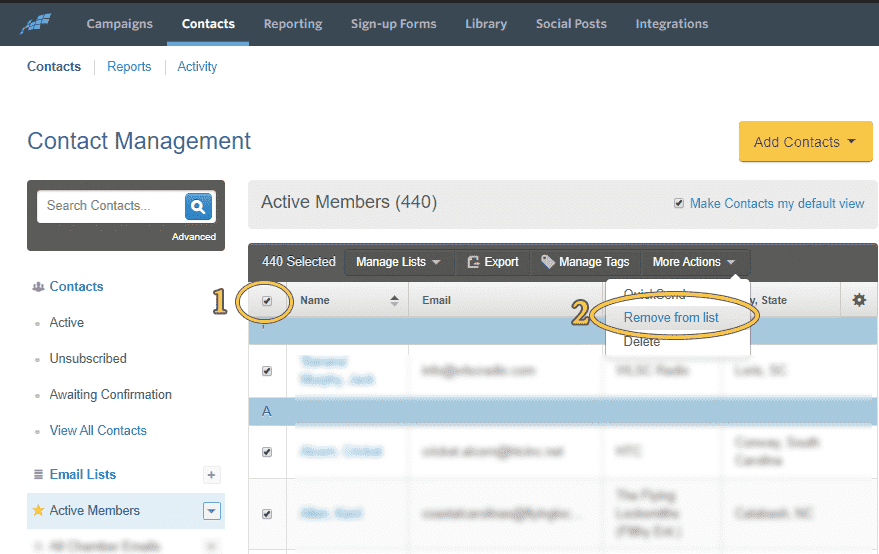 Step 3: Login to Chamber Master and go to Groups> Sync > find your list and click Sync Now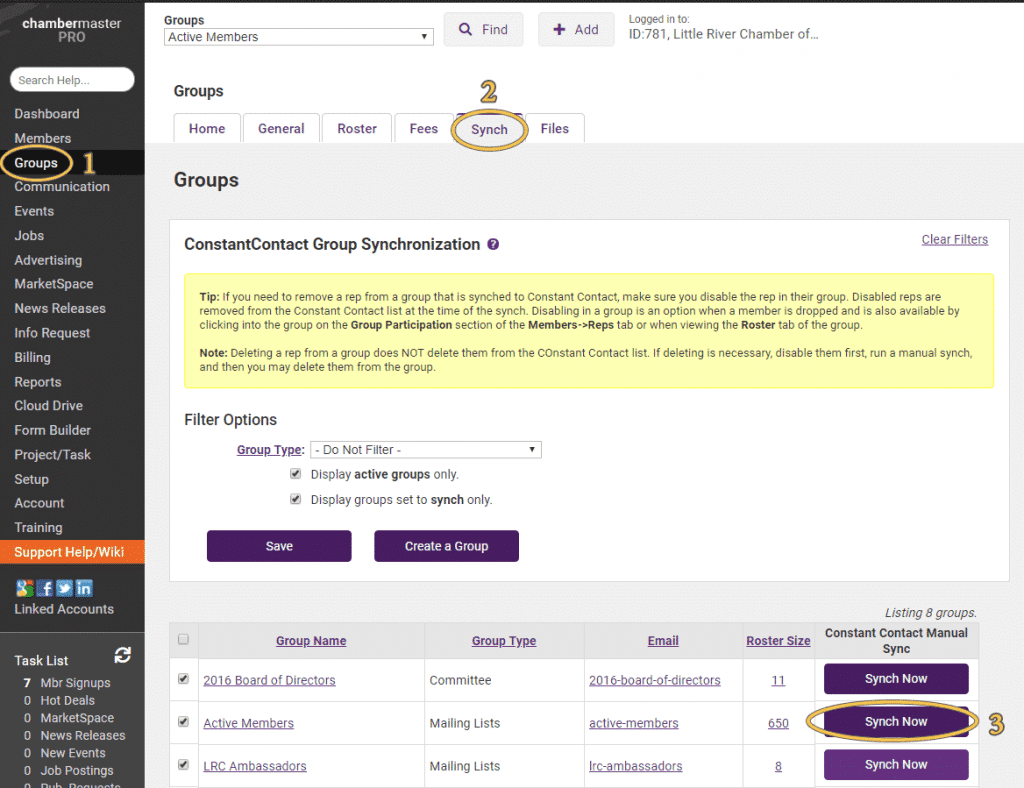 Step 4: That's it! If you want, you can check the progress in Constant Contact under Contacts > Activity. In my screenshot you can see where I first deleted the contacts from the list and then where they were re-imported when I clicked Sync Now.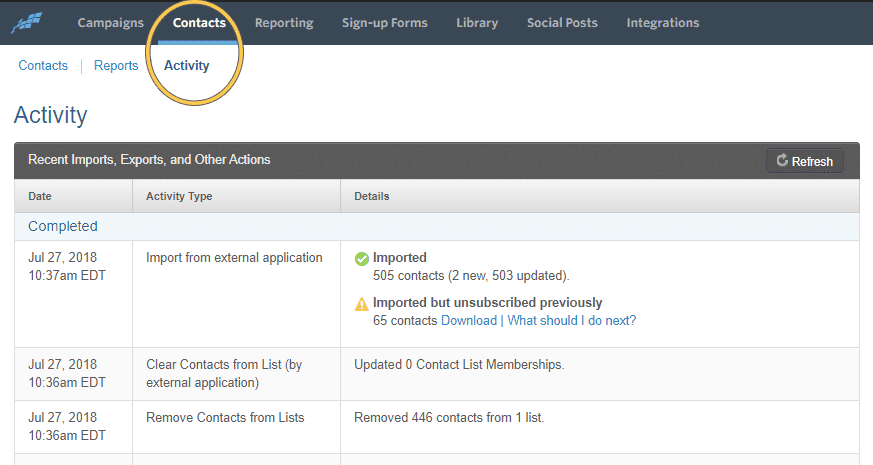 Chamber Master tips + Regular Tasks
Clearly, you need to have your members set up in a group for this to work. If you don't already, this would be very time-consuming up front, but now this is just normal procedure for us as it's part of our New Member Checklist.
Every time we get a new representative, we go into the Member > Rep > Click on the rep's name > and "Add to Group" to the Active Members list. ("Active Members" is just what we named our list. Obviously, you can do this for any group you might have.)
Update Your Dropped Member Checklist: If you remove/inactive a representative in Chamber Master and delete from group, they will be left on the Constant Contact list (this is where we went wrong and why I started doing this). To remove them from the Constant Contact list, select "inactive in groups" instead.
If you don't have these platforms, you can still reach out to your email marketing and CRM (customer relationship management) providers to see if they sync together like this.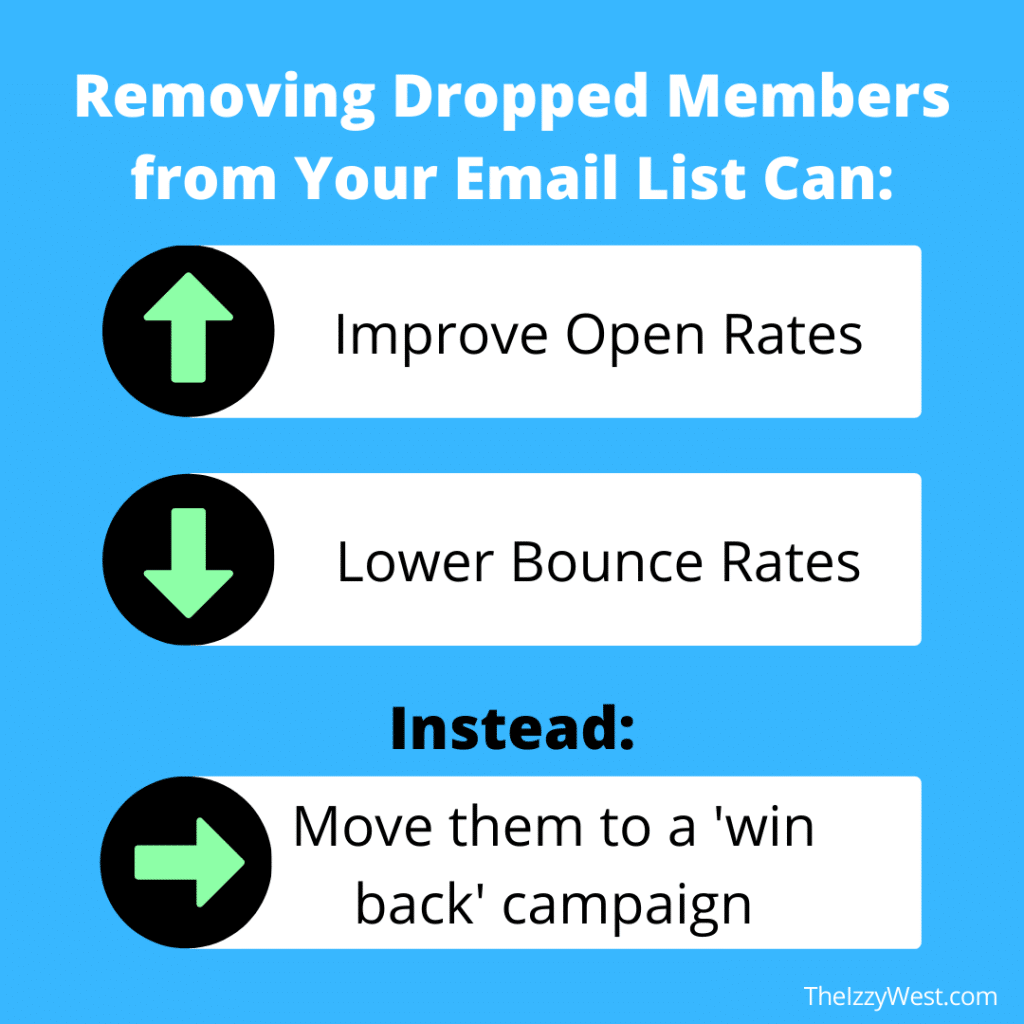 Additionally, you can create a 'win back' campaign in Constant Contact as an automated email series. Add emails to this list manually either as they drop, or create a monthly task/reminder for yourself.
Too Long, Don't Read
Basically, you should remove inactive chamber members from Constant Contact or where ever your email subscriber list is. If you haven't been doing this, go ahead and purge your list. This should help your open rates stay high and keep your unsubscribe rates low.